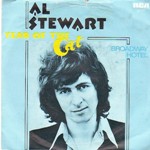 "I'm a somewhat reclusive person I suppose. I don't mix very much with the music business or anyone in it," Al Stewart once said in an interview with Q magazine. "When I've finished a tour it's almost like I crawl back into a dark corner. In recent years I could have died or moved to Zanzibar as far as the world is concerned." Al's signature tune was 1977's Year of the Cat, but different sources will tell different stories and they probably all play a part as a few different scenarios inspired the song.
Al was born in Glasgow in 1945 and moved a few times eventually ending up in Bournemouth via Warwickshire. He decided when he was nine years old that he wanted to make music and record for the same label as Lonnie Donegan. When he announced this to his parents, they were quite startled. "I left school just when the Beatles broke and Love Me Do was released. I was 17 and joined a band called The Sabres as lead guitarist for three months." The lead singer with that band was Tony Blackburn.
At 19 he moved to London and was turned on to Bob Dylan by the sheer poetry of his music which was introduced to him by Paul Simon, whom he shared a flat in London's East End. When asked if they ever played together, he replied, "No, I only knew him slightly. In fact the most extensive conversation we ever had was a three-hour argument about the merits of the American poet Lawrence Ferlinghetti!"
He embarked on a solo career in 1967 with his debut album Bedsitter Images which allegedly sold less than 500 copies. He followed in a couple of years later Love Chronicles which was well received and many critics favouring the title track which was an autobiography of Al's sexual prowess. The track featured Richard Thompson and Jimmy Page on guitar, but the 18-minute epic, in certain circles, is best remembered for being the first ever commercial release to use the f-word.
In 1970, he released his third album, Zero She Flies, and became his first chart album in the UK where it crept to number 40. That same year he and his friend (Jethro Tull's) Ian Anderson headed to the town of Pilton in Somerset where the first ever Glastonbury festival was taking place and he managed to blag a slot playing to a field of about 1000 hippies.
Al really made his name with the 1976 album Year of the Cat. The title track became the first of five American hit singles and his only UK entry the following year. Despite only reaching number 31 here, it got, and still gets extensive airplay on the few radio stations who are not restricted to playing the same 50-odd songs, telling us how they're playing today's better music mix!
It was co-written by Peter Wood who played piano on the track. "Peter had this riff that he kept playing over and over again all the way through a tour I was doing in 1975 with Linda Ronstadt," Al recalled. "I was the opening act and we went all over the southern States of America and when we got to Cincinnati I went up to Peter and said, I love that riff and I really think it could be a song. I asked him if he would like me to put words to it. He said 'Sure'. So he taught me vaguely how to play it and when we came off tour I went home sat at my piano and remembering some of the chords tried to add some words, but for the life of me I could not write, nothing came. I had a girlfriend at the time who had a book of Vietnamese astrology and it was open at a chapter called The Year of the Cat. So then I had the title."
Stewart says he usually writes the music first, even before he comes up with the song's title, often writing four or five different sets of lyrics per song. "I tried to write it about the year of the cat but got nowhere so gave up and then tried to write a whole set of lyrics about Tony Hancock. The working title was called Foot of the Stage and began writing the song after seeing the British comedian in Bournemouth in 1966. Hancock was very depressed, and the show was a disaster, with Tony going to the front of the stage and addressing the audience directly and pouring out his soul. In his autobiography, Al Stewart: The True Life Adventures of a Folk Rock Troubadour, Stewart wrote 'He came on stage and he said 'I don't want to be here. I'm just totally pissed off with my life. I'm a complete loser, this is stupid. I don't know why I don't just end it all right here.' And they all laughed; because it was the character he played… this sort of down-and-out character. And I looked at him and I thought, oh my god, He means it. This is for real.'
He wasn't overly happy with the Hancock-inspired words, and he didn't want to take advantage of the man's tragic circumstances so he gave up on. Also, he figured it wouldn't work in the States as no one in America had heard of him." Hancock killed himself in 1968 by taking a drug overdose.
Al says the final version of the song is about a love affair taking place in North Africa and the 1942 film Casablanca was also an inspiration, hence the opening line, 'On a morning from a Bogart movie in a country where they turn back time.' In his mind he headed off to Morocco and when he arrived they crowded about 25 people in the back of this bus. One of the guys gets off in this little medium sized North African town and decides that he's going to leave the rest of the party and walk around the bazaar, because he might see more that way. At the bazaar this girl comes up to him in this long flowing robe with sunlight bouncing off it in all directions and says, 'Hey man, you know what year it is?' He says, 'No, I don't know. I just don't know. What year is it?' She says, 'Come back with me and I'll tell you all about it.' So she takes him back to her bivouac for the night and when he wakes up it's already afternoon and the bus is gone and all the other 24 people have gone with it. So he's stranded there with just this strange girl. She lights a couple of joss sticks and makes him some tea, and eventually he gets used to the idea that he's got to stay there for a while, because he's got no money, so he sits down and he thinks, Well, if God intended me to be here, there's nothing I can do about it, I've got to make the most of it, I won't attempt to get away, and just for this year, I'll stay with this girl and see what we can do. See how we can work it out. This is what Al called his North African love song.
The album was recorded at Abbey Road Studios with engineer and producer Alan Parsons who had recently worked on Pink Floyd's Dark Side of the Moon. There was also a rumour at the time that Parsons played the sax solo on Year of the Cat, but that's not true, that honour went to Phil Kenzie who also played on The Eagles' The Long Run on the Eagles live album and on Poco's 1979 American hit Heart of the Night.
The mixing was done in Hollywood where Al was then living. He explained what he thought, "I thought it was pretty good. We had finished it at 9 o'clock in the morning and I was living in an apartment in West Hollywood and I had been in the studio all night with Alan Parsons mixing this thing. I brought it back but I couldn't go to bed. I had not heard it on my home system; it's one thing to listen to a record in a studio because everything sounds great through big speakers, but I wanted to listen to it through tiny little speakers. I remember putting it on at nine in the morning and after and hour, I thought this sounds pretty damn good and I went to sleep."
In America the album reached the top five and spent almost a year on the chart, but it didn't change his life. "The record was so expensive to make, and because of all the promo tours we did, I think it personally cost me a quarter of a million dollars," Al explained, "You had to pay the record company back, you had to pay the producer. It worked out that during the period when I was having successful records, I basically broke even on the entire thing. Whereas years later, when I was just going out with an acoustic guitar and wasn't really making records anymore, I finally began to make money."