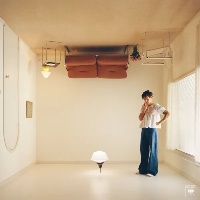 Not too many members of boy bands breakaway for an equally, if not more successful solo career, Ronan Keating, Justin Timberlake are good examples and Michael Jackson is arguably the best example, but former One Direction member, Harry Styles is heading in that (one) direction.
As a member of One Direction he racked up 28 hits between 2011 and 2015 this included 14 top 10 hits and four number ones, but he began his solo career in April 2017 with the chart-topping Sign Of The Times and has followed that with 14 more hits singles.
Exactly five years after his debut number one came his second in the shape of this week's suggestion, As It Was. You can tell his popularity has grown and so too has the quality of his songs because Sign Of The Times managed just one week at the top whereas As It Was did 10 and became the best-selling UK single in 2022. In the States, its status is even more impressive as it topped the Billboard Singles chart for 15 weeks becoming the longest-running US number one by a British act. It also topped the chart in 33 countries around the world including, Australia, Belgium, Canada, Croatia, El Salvador, France, Germany, Greece, India, Lithuania, Malaysia, Mexico, New Zealand, Singapore and Switzerland. There aren't too many songs in the 21st century that have that kind of appeal, so what is its appeal, let's find out.
The song is about a relationship, but many of Styles' fans were confused as to whether it was a relationship with another person, or his relationship with fame believing he sings about how things were (as it was) before he hit the big time.
The song opens with a child's voice saying, "Come on Harry, we want to say goodnight to you", that voice belongs to Ruby Winston – his five-year-old Goddaughter whose father, Ben, the British TV producer and director who, in 2014, was the executive producer of The X-Factor and is co-executive producer of James Cordon's Late Late Show. Ruby would call Harry every night before going to bed to say goodnight and one particular night, Harry didn't answer the phone and so Ruby left a voice message expressing her dismay that her Godfather hadn't been there to talk to her. Harry told Radio 2, "I dug it out one day when I was in the studio, put it at the start of the song and I loved it so it stuck and I hope when she's older she will enjoy looking back on it."
Harry has often stated in interviews that he likes to keep his private and professional life separate, don't they all? But in another interview, he did reveal that it was about a personal relationship. He explained what happened following One Direction's demise, "I try and write from personal experience for almost everything, so, I think over the last couple of years with the forced pause that happened for a long time for all of us. I think I had a lot of time to kind of think about and work out who I was, away from music and get a little more comfortable with that. I think that allowed me to make this album from a very liberated place."
In 2021, Styles was cast as Jack in the movie Don't Worry Darling which was directed by Olivia Wilde who also played Bunny in the film. Wilde had been in a relationship with the actor Jason Sudeikis but they had split and within three months of that split, Styles and Wilde began dating. The relationship was never going to be easy what with their own independent work schedules, but also because she had two children aged five and seven with Sudeikis. In the last verse of the song, there a line that goes, 'Leave America, two kids follow her' which adds up a bit more. He did actually say in a Guardian interview in 2019, "If a song's about someone, is that fine? Or is that gonna get annoying for them, if people try to decipher it?"
There was also suggestions made that some of the inspiration is about his parent's divorce when he was a child with the lines, 'Ringin' the bell, and nobody's coming to help your daddy lives by himself'. Looking at it in reality, it is likely to be a combination of both elements.
As It was became the first track released from the album Harry's House. It was written by Thomas Hull and Tyler Johnson who had already written his four previous hits Watermelon Sugar, Adore You, Golden and Falling. They had also produced 10 of the album's 12 tracks.
The song's sound is very retro having an early 80s synth sound akin to Erasure or OMD giving it added appeal as that pop sound has never gone away.
As It Was has also entered the Guinness Book of World Records for being the most-streamed track worldwide on Spotify in 24 hours by a male artist after accumulating 16,103,849 streams in its first day. It probably won't be long before that record is broken though and not a record that many will remember either.