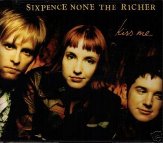 So many myths that too many believe; Rod Stewart played harmonica on My Boy Lollipop. Rubbish! It was Pete Hogman. Mama Cass choked to death on a ham sandwich. Rubbish! She died of heart failure brought on by the effects of obesity and crash dieting. Roy Orbison was blind. Rubbish! His eyesight was fine, he just preferred dark glasses. Sixpence none The Richer's hit Kiss Me is about two lesbians. Rubbish. Read on.
Sixpence None The Richer, who took their name from the C.S. Lewis story Mere Christianity, were based in Austin, Texas and comprised lead singer Leigh Nash, bassist Justin Cary, guitarist Sean Kelly, guitarist Matt Slocum and Dale Barker on drums. Their beginnings came in 1991 after Nash and Slocum met at a church the two attended in New Braunfels, Texas. Nash grew up listening to Patsy Cline and other country music, and started singing in church as a youth. Whilst en route to church, Slocum gave Nash a tape of a song he had written. Nash recalled in a 1994 interview with The Light-house magazine, "We were on this church bus, and he came back and asked me to listen to Trust which was on this little demo tape, with this other person singing on it, and he just wanted to know what I thought of it. And, of course, I loved it."
They originally made music for the Christian market. Their debut album, The Fatherless and the Widow, won the group a Dove Award which is the Christian equivalent of a Grammy.
They changed labels a couple of times and in 1997 signed with Squint records and after a year of focused promotion and touring, they released a track from the album called Kiss Me. "It's pretty crazy," recalled Leigh on the song's origins. "Matt wrote that song overseas. At the time he was reading some Dylan Thomas poetry, and I think he just started writing that song, and the words were a little different, the song was a little bit darker, but it was basically the same song, and we performed it the very night he wrote it."
The song was a slow burner showing little sign of life for a few weeks until, in 1998, the producer of Dawson's Creek plucked the song and had it used at a pivotal moment during a passionate scene in the TV show. That was enough for the song to make an appearance at the lower end of the Billboard Hot 100, but dropped off after only one week. In January 1999, the song was heard again this time in the romantic comedy film She's All That which saw a cameo appearance by Usher. With the exposure in the film and another appearance in Dawson's Creek  the following April, radio typically jumped on the bandwagon and the song climbed the US and the UK charts where it spent six weeks at number two there, kept off by TLC's No Scrubs, Cher's Believe and Ricky Martin's Livin' La Vida Loca, and number four over here. During 1999 it was the most-played song on the radio in 11 different countries including the UK, Canada, Japan, Australia and even Israel. In June of 1999 the BBC used the song as a closing theme during its broadcast coverage of Prince Edward's Royal wedding.
Where the myth about the song being about two lesbians is anyone's guess! It's a simple love song about a couple meeting for the first time and starting a lovey dovey relationship. However, the video is a pastiche of a 1962 film by François Truffaut called Jules et Jim which tells the story of a tortured relationship between two mates and a woman they meet and it is set in Paris, so even that should have put paid to the rumours. If it had been written by a woman, then it would be more of a possibility.
After all that effort, things got harder for the band. They didn't know what to do for a follow up. They'd ridden on the success of that single for so long and they didn't feel that any other track on the album would make an appropriate follow-up, so instead they went with a cover of a song they'd been using for ages on tour and it was a lightweight version of the LA's 1989 hit There She Goes. So what did Leigh make of it all? "It feels kind of surreal," she explained in Billboard in 2000. "We've been together so long and have worked so hard for this, and now, I don't really know what to think about it all, it just all happened so fast." The album was re-issued to include the track which earned them some more money, but enough was enough and the band split in 2004.
Leigh Nash released some really good solo singles with Angel Tonight being one of her best, but lack of promotion failed to make it chart. Matt formed a new band, The Choir and guested as a guitarist and/or cellist with a number of up and coming American acts including Julie Miller, Wes King, Plumb, Switchfoot, Hammock, and Dividing the Plunder.
In 2007 they reunited albeit just Matt, Leigh and Justin, and released the My Dear Machine EP. They toured Europe and a Christmas-themed track entitled The Dawn of Grace arrived in time for Christmas 2008. The following year they signed with Credential Records and the album Strange Conversation was scheduled for the 2010, but the label had problems and the album was delayed until August 2012 when appeared under its new title, Lost in Transition.