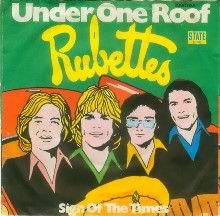 So many actors who play the same role in a long-running television show get pigeon-holed and some are unable to shake it off. It's a similar story with the Rubettes, one of the biggest glam rock bands of the day, but when glam passed, the Rubettes were unable to sustain a healthy chart career even though their post-glam songs were far better. This week's suggestion is called Under One Roof, the title, of which, gives nothing away, tells a sad story, but went almost unnoticed sadly peaking at a lowly number 40.
The Rubettes' first hit, their biggest, was Sugar Baby Love after the Liverpool musicians, Wayne Bickerton and Tony Waddington who had toured the world in The Pete Best Four, hired session men, in 1973, to play the song. It was a rock 'n' roll pastiche which owed something to Phil Spector, The Four Seasons and The Diamonds. "We had Paul Da Vinci singing in that incredibly high falsetto voice," says Wayne, "and then a vocal group sings 'bop-shu-waddy' over and over for about three minutes. Da Vinci was one of four 'real' Rubettes on the track, John Richardson was one of two drummers and also supplied the 'talking bit' towards the end of the recording, the piano player was Pete Arnesen and the other was Alan Williams who was part of the ensemble singing the bop showaddy harmonies.
On the back of that successful number one, Da Vinci turned down the offer to become a full time member and left so the new line up became, Alan Williams (lead vocals, guitar), Bill Hurd and Peter Arnisson (keyboards), Tony J. Thorpe (guitar), Mick Clarke (bass) and John Richardson (bass).
Under One Roof was the group's penultimate hit and was written by group members Williams and Richardson and dealt with the subject of homophobia. Now, before you start thinking it wasn't a big hit because of that subject matter, you'd be wrong because exactly one month earlier there was another song in the chart dealing with the same subject and was a much bigger hit, reaching number two. That song was The Killing of Georgie by Rod Stewart. In a nutshell, the song is about a teenage boy called Billy who runs away from home, gets taken in by a gay man and later killed by his father, for being gay. Hash but true. But you have to remember that prior to 1967, homosexuality was illegal, something teenagers and young people almost definitely would not understand.
We learn a little of Billy's background in the song as he explains that 'his mother didn't give a damn about him and his Papa's on the run from the Police.' The dawn of reality come in the last line of the first verse, 'When Billy hit the city – the city hit Billy.' Then we learn of one kind man who takes him in and how they share their lives under one roof.
The BBC and their policies certainly didn't help matters; they had begun playing the song as a new release but soon dropped it when a handful of complaint letters came in, but they continued playing Rod Stewart's then-current hit. Television was no better, John Richardson remembered, "We were booked to play our new single on Top of the Pops, only to have the billing cancelled when producers got wind of the song's theme."
If proof were needed that the band still had what it takes, their follow-up, Baby I Know, which was written by the same two songwriters, became their last hit and made the top 10.
After a couple of years with no hits, Tony Thorpe left the group but later cropped up at the voice of Arthur Daley on the The Firm's 1982 hit Arthur Daley E's Alright. Soon after the whole group disbanded but reconvened in 1983 and toured Germany but then fell silent again.
In 2002, various ex-members wanted to tour again and then arose the old hurdle of who owned and who could use the band name. A court case ensued and the judge ruled that both members, who were fighting over the name, could called themselves The Rubettes as long as it was made clear who was fronting which, in other words it could be John Richardson's Rubettes which had both Clarke and Williams present or it was Bill Hurd's Rubettes with Bill being the only original member. Within a few short years, both bands had broken the rules with Williams piping up first. Eventually a high court judge ruled in favour of Williams as Hurd's breaches were more severe. Naturally, Hurd appealed but lost the appeal and subsequently went bankrupt.
But for all their success and attempts at trying to change their image, the band will forever be remembered wearing trademark white suits and cloth caps on stage.