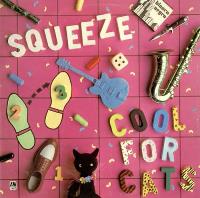 Here's a good pop music quiz connection, what do Bruce Springsteen and the E-Street Band, Guns N' Roses, Duran Duran, U2, Joan Jett & the Blackhearts, The Killers, Kiss, Metallica, The Lumineers, Mötley Crüe and Roxy Music all have in common? I'll tell you at the end but this week's suggestion of Cool for Cats by Squeeze is another act that can be added to that list.
It all began back in 1972, "I put an ad in a sweet shop window saying I was looking for a guitarist to join a band," Chris Difford explained. "I didn't really have a band; I just wanted to meet other people who played guitar and hang out with people and, luckily, Glenn Tilbrook answered the advert." Apparently he was the only one, but it paid off. "We got on and started writing songs together, and that became our passion and our life."
They had a swift meeting in a local pub and the roots of a quintessentially English writing partnership had begun. Chris had been playing guitar for three years and writing lyrics for about six. Glenn had wanted to be a rock star ever since he'd seen the film Summer Holiday in 1963. Within 18 months, the pair were playing pubs and small festivals. The photographer, Ron Reid, had befriended Glenn and had taken them under his wing. "We went around in Ron's van and we played gigs like the Windsor Free Festival at two o'clock in the afternoon", recalled Glenn.
Glenn's friend, Julian Holland, then a dishevelled looking man who often 'stunk of piss' as Chris recalled years later, was recruited because of his impressive boogie woogie piano playing. Glenn and Julian, now known as Jools, began concentrating on their own instruments and in 1974 Harry Kakoulli was poached from a band called England's Glory. Another friend of Glenn's, Paul Gunn joined as drummer but he was soon sacked for bad time keeping. Whether is bad time-keeping as a drummer or always late for sessions is unclear. The name Squeeze was picked out of a hat by Glenn's girlfriend, Maxine. The other choices were The Hubcaps, Skyco and Cum, but at the last minute the name Squeeze was thrown in from the title of a 1972 album by The Velvet Underground, Difford's favourite band.
In January 1977, they released their first single, Take Me I'm Yours, but they weren't happy and it was soon withdrawn. Gilson Lavis also saw an ad Melody Maker for a drummer and he soon replaced Gunn. Take Me I'm Yours was re-recorded along with a new track, Bang Bang, and both were released in 1978 reaching number 19 and 49 respectively. A year later the eponymous album followed but it failed to excite the record buying public. John Bentley took over from Kakoulli to form the permanent Squeeze line-up and work began on their next album, Cool For Cats.
Difford and Tilbrook always managed to come up with a unique formula of a catchy tune and a 'story' song. Glenn tends to write the music and Difford focuses on the words so which comes first? Glenn revealed to Songfacts, "It's always in response to the lyrics. I always write to Chris's lyrics. And what's more, I made a habit pretty early on of never reading lyrics he gave to me until I sat down with the guitar or piano. So first response is what interests me."
Tilbrook was predominantly the band's lead singer, but on Cool for Cats, Difford sang lead in a half narrated and half sung cockney accent with a couple of television references thrown in for good measure, the song's title being one of them, "I don't know if you're familiar with the phrase Cool For Cats, but it was the first rock 'n' roll television show in England during 1959, [1956 to 1961 actually]. That's where the album and single title originated," Difford explained in an interview with the New Music Express in 1979." I just worked it into some personal experiences within the lyrical content," he added. The second was The Sweeney in the second verse was a police drama series in the mid-70s that starred John Thaw and Dennis Waterman.
So how did the story develop? "We'd recorded the track sometime earlier with a completely different lyric", Glenn told Jim Drury in his book, Squeeze Song By Song. "It had a tune that was a lot slower and not that exciting. Both John Wood, the producer, and I suggested that Chris take the track home without the vocal and come up with a different lyric." Difford continued, "I went back to my flat in Greenwich and sat on the sofa, but my mind was blank. So I gave up turned on the telly and started watching The Benny Hill Show. I know it sounds bizarre, but I was inspired by listening to Benny Hill songs that night. I turned the telly off and within a few minutes I'd written 12 verses. I sang them into a tape machine and the next morning back in the studio we cut it straight away." In a different interview, Glenn recalled, "I wasn't trying to get across anything [with the lyric] other than to try to fill the gap in the music, by putting some words to it. I don't remember there being anything other than a situation of wanting to have a bit of fun with the backing track. We were young and enthusiastic, and anything went, so I suppose the lyric was perfect for that song. There was no ambition for it, it was kind of what it was, thankfully. It was easy. I can't say that there was any blood and sweat, it just happened. When those things occur in your life they're the best things."
The Difford/Tilbrook combination continued for over 15 years, "I think we evolved with each song we wrote and with each album that we made," Tilbrook told  Songwriting's Aaron Slater. "They're all different. The evolution of Squeeze has taken many turns because we've had different musicians in the band over the years, different producers, different record labels, and we've been fortunate to be surrounded by good people, most of the time, who've cared about Squeeze and made it a success. It's not just the combination of myself and Glenn writing songs, it's the combination of musicianship and good spirit."
Squeeze never did hit number one but both Cool for Cats and the follow-up, Up The Junction both peaked at number two. The band broke up, first time round, in 1982 then reformed three years later where they had a further nine medium-sizes hits until collapsing again in 1999. Then in 2007, Difford and Tilbrook were back together with a new set of musicians and remain so to this day. In 1992, Cool For Cats  got a new breath of life when it was used in a UK TV commercial for milk, the record company re-issued it and it stalled at number 62.
Back in 1979, Cool For Cats, which was initially released on bright pink vinyl, came with two accompanying videos; The commercial one with Chris singing to the camera and the band in the background. The other had the band constantly changing hats, which was fine, but there was one shot where Gilson Lavis downed a pint of beer in two seconds flat, and that would never be allowed on Top Of The Pops.
Oh, the answer to the connection was that all those had come together as a result of a classified ad. By the time you've read this, I will already have used it in my quiz.