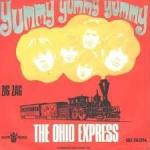 Bubblegum pop is term that gets bandied around occasionally and when it does, it's usually applying to something a bit cheesy, but it was actually a recognised, albeit very short-lived, genre in around 1968 and there were only really four commercial hit songs which are Quick Joey Small (Run Joey Run) by Kasenetz Katz, Simon Says by the 1910 Fruitgum Company, Gimme Gimme Good Lovin' by Crazy Elephant and, this week's subject, Yummy Yummy Yummy by the Ohio Express.
The term bubblegum was first coined by New York record producers Jerry Kasenetz and Jeff Katz who jointly worked under the moniker Super K. The pair met at the University of Arizona whilst Jerry was on a football scholarship and Jeff was his coach. Neither of them had any musical background, but they saw an opportunity to do something where no formal training and, for that matter, a lack of talent was no impediment for making them loads of money as long as it was organised properly.
They teamed up with a teen whiz singer called Joey Levine and had him singing lead vocals on Simon Says which was written by a Jewish New York-born composer called Elliot Chiprut and produced by Super K. Jeff saw the words 1910 Fruitgum Company on a bubblegum wrapper and decided to put the song out under that group name. But there was no group, it was just Joey but when the song picked up airplay they brought in a group of rock musicians to tour.
Jerry and Jeff then met a songwriter called Arthur Resnick, a former graduate of John Hopkins University who had become a travelling salesman, but hated it, remembering, "I kept getting fired and I was spending all my free time writing poetry, so for three years I bummed around in and out of jobs writing more and more poetry." His talents were soon recognised and his first success was as co-writer Tony Sheveton's minor hit, Million Drums and then the more well known Under the Boardwalk. He and Joey got together and were soon turning out commercially packaged songs aimed specifically at the pre-teen market. It was very popular with the kids who had no interest in the more sophisticated music of day like Bob Dylan, The Byrds or The Doors, and who sought out music that was basically meaningless, but fun.
Levine and Resnick then had success with Keep the Ball Rollin' as recorded by Jay & The Techniques but Resnick later confessed. "I couldn't stand that song; it was one of the most stupidest songs I'd ever written. One day we were trying to find another stupid song that we could write and were tossing titles back and forth it just so happened that we were eating lunch in a Chinese restaurant called King Yum and I came up with the title Yummy Yummy Yummy which Joey hated and rejected it immediately."
The next day, Joey called Arthur and said, "Remember that title you came up with last night? Well I've started writing something," The pair recorded a demo and, as Joey recalled, "We took it to Jerry Ross who was Jay & The Techniques' producer but he turned it down, he hated it. He absolutely hated it, which, I suppose, was understandable."
They then took it to Jerry and Jeff who, as Arthur recalled, "Went nuts over, they loved it. They told us to go back into the studio and fine-tune it and record it as a proper demo for The Ohio Express to record." Once they'd done that they headed for the studio only for Joey to learn that The Ohio Express were out of town. "So we got a session crew together and I sang lead vocals," recalled Joey. "The producers said that the group could learn the song when they got back, but then Neil Bogart, the head of Buddah records, heard the demo and said, 'Get it out and put the Ohio Express name on the label because it sounds great as it is.'"
Floyd Marcus was the session drummer on the track and remembered this, "Joey had brought in a demo of the song and often back then the demos were not nearly as sophisticated as what you can do at your house today with Pro Tools – they want much more finished product these days. Jeff and Jerry said, 'Yeah, we're going to take you to the studio and do this.' And before they knew it, the demo as out on the market. So it became a big hit, but you know, The Ohio Express wasn't really happy with it going out that way. They never had meant it to go out in the form it did. So it just shows you that often people don't really know what they have, and they don't really understand the business as well as some of these guys who are producing or managing."
Some listeners believed the lyric I got love in my tummy was about pregnancy. Floyd explains, "There's that whole story about 1, 2, 3 Red Light (1910 Fruitgum Company's next top five hit) being this underlying date rape song. But you know that just goes along with people wanting to make more out of things than they really are. I mean, it's like saying when John Lennon said Lucy In The Sky With Diamonds wasn't about LSD, or Little Susie's Dream by The Tradewinds, because of the initials, LSD, people read into those things. Hey, it's good for promo. People often want to give more meaning to things than they really have."
The flip side of Yummy Yummy Yummy was an old instrumental backing track of the 1910 Fruitgum Company's (Poor Old) Mr. Jensen recorded backwards which was common practice of producers Kasenetz & Katz to discourage double-sided hits. They also renamed it Zig-Zag.
The first time the Ohio Express actually heard 'their' song was when it was played on the radio and then started climbing the Hot 100. The group's drummer, Doug Grassel recalled, "When we first heard it, it was such a different sound that we all looked at each other and said, 'What?!' When we confronted the producers, they just said, 'Don't worry, play this and you'll be stars,' so we did and that's what happened."
You can't imagine anyone wanting to cover this song, but a few did including Baccara who recorded it on their eponymous debut album in 1978, and it was performed live by the all-female punk rock band L7 for the 1990 SST Records compilation The Melting Plot.