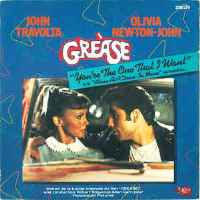 This week's request comes from one of the members of my top pop quiz teams, Richard Hunter who emailed to say, "I watched Grease over Xmas for the umpteenth time but wondered how John Farrar came up with such a huge selling worldwide smash hit single with You're the One That I Want? Well, Richard, the short answer is I don't know, but I wondered too. How does anyone come up with at least one song that will leave them comfortable for the rest of their life? Some people never say and some just don't know. The famous quote from Don McLean was after he was asked about the meaning behind American Pie and his reply was, "It means I never have to work again." Let's see if we can find out.
Olivia's career began when she was 15, John's when he was 18. "I entered a gong show contest when I was 15", recalled Olivia. "You show up early in the morning and perform something. I performed Summertime and I got three gongs." On that show she met songwriter, John Farrar. Her performance got her noticed by a host of talent agencies, but her mother refused to let any of them handle her, insisting that if anyone was going to be her manager, she was.
Born in 1948 in Cambridge, Olivia had grown up in Melbourne, Australia and returned to Britain in the mid-sixties. Her solo recording career took off in 1971 and through her then-boyfriend, The Shadows' Bruce Welch, she met Cliff Richard and they soon began singing together. For her first UK release, John Farrar suggested that she covered Bob Dylan's If Not for You. Olivia said, "I wasn't keen on that song at all, but I'm so glad John chose it because it's not one that I would have picked."
John was born in New Jersey in 1954 and after dropping out of school early he travelled north to New York and landed a part in the Broadway musical Over Here! followed by an extra in the touring version of Grease in 1972.
The original Grease was a book by Jim Jacobs and Warren Casey who later wrote lyrics and songs for the show and John Farrar was asked to provide a few extra songs. The title got its name from the nickname of the working-class youngsters who were known as greasers. The film was set in 1959 and follows the lives of 10 teenagers who all attended the fictional Rydell High School which was named after the American teen idol singer Bobby Rydell. It showed how they grew up and dealt the usual teenager culture of violence, sex and love.
John Farrar, who was born in Melbourne in 1945, was not only a songwriter, but he was a musician as well as a producer and arranger and had been in a couple of groups between 1963 and 1970. In 1970, he joined The Shadows' Hank Marvin and Bruce Welch to form the trio Marvin, Welch & Farrar. They released a couple of albums and four singles and made four appearances on Top of the Pops in 1971 and 72 but none of their songs charted and by 1973 they went back to what they were doing before.
John (Farrar) had come to England and began working with Olivia by producing her first US number one, I Honestly Love You and then writing and producing her next, Have You Never Been Mellow the following year. She had also begun a romance with Bruce Welch. By the mid-seventies, Olivia was having more success in America, so ended her relationship with Bruce and decided to move there. It was whilst out to dinner one evening with singer Helen Reddy she met Allan Carr. He talked about his new film version of the stage musical, Grease. "I've seen the London stage version with Richard Gere as Danny", Olivia told Carr. Carr asked her if she fancied playing the lead role of Sandy. Olivia's reply of "Are you serious?" was acknowledged in the affirmative and the part was hers. The film's director, Randal Kleiser agreed, "Olivia was always first choice for Sandy." Olivia was really nervous about the role initially especially as she was nearly 30, but having a familiar face in the shape of John Farrar certainly made her feel at ease. Travolta, however, was not the first choice as Allan Carr remembered, "We originally offered the role of Danny Zuko to Henry Winkler because of his phenomenal success as The Fonz in Happy Days. Henry turned us down because he felt he had played the ultimate greaser on TV for too long to repeat himself in our movie."
Farrar was then approached to write some more songs for the film version, John recalled, Hopelessly Devoted to You was the first one I did and they liked that so they gave me a chance to write others. Writing for both John and Olivia was really easy because the situation was already there in the script and for the song it was pretty obviously what they needed."
You're the One That I Want topped the UK singles chart for nine weeks and the Billboard Hot 100 for one week. Another Olivia and John duet from the film, Summer Nights, was written by Jim Jacobs and Warren Casey and was a UK number one seven weeks, both tracks are in the top 30 all-time best-selling singles in the UK with the latter selling 1.6m and is the 27th best-seller and the former at number five having sold just over two million copies.
The filming for the fairground scene where they sung You're the One That I Want' took the best part of a day and the skin-tight outfit Olivia wore restricted her. As she recalled, "It was a hot day, and I wasn't allowed to drink because I wasn't allowed to go to the toilet and as they had to sew me into that outfit, it would take too long to get in and out of."
With 14.4m sales, Grease the soundtrack album is the third biggest selling soundtrack of all time behind Saturday Night Fever with 21.6m and The Bodyguard with 28.4m sales.
Farrar and his wife Carroll have a son called Sam Farrar who is a bass guitarist in the American rock band Phantom Planet. They scored a UK top 10 hit in 1995 with the song California. Farrar also contributed a number of songs for Olivia's next film Xanadu, which many will agree had a rubbish plot, but the music was fantastic. More recently in 1995, Farrar wrote with Tim Rice on the score for Cliff Richard's musical, Heathcliff which was based on Emily Brontë's Wuthering Heights.
There have been a number of cover versions including the one that was in the chart at the same time as John and Olivia by Hylda Baker & Arthur Mullard, a purposely done bad version by two people who really couldn't sing and were never going to threaten to steal the limelight of the real version. In 1993, Craig McLachlan and Debbie Gibson, who played Danny and Sandy in London's West End took their version to number 13 and another cover by Julia Stone stalled at number 72 in 2012. Other versions worth checking out are, Leslie Gore (1982), Less Than Jake (1997), Brotherhood of Man (2002), The Beautiful South (2004), McFly (2007) and, naturally, The Glee Cast (2012)