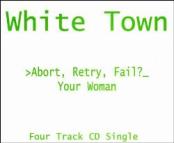 Who would have guessed that an Al Bowlly song called My Woman from 1932 would eventually end up on a number one hit. A total of 64 years elapsed from first being recorded and White Town using it as a sample on his number one making it the longest gap in history.
White Town is essentially Jyoti Mishra who was born in Rourkela, India in 1966 but raised in Derby. He began playing the keyboard when he was 12 and learned to play guitar soon after. He and a group of friends formed White Town in 1989 but one by one his friends moved on and Jyoti was left as a one-man band. "The name White Town was taken from my childhood experiences of being raised in mostly white populated cities," he said.
Jyoti spent a lot of time experimenting with music in his bedroom using a sequencer and various samples. "Your Woman was inspired by a 1932 song called My Woman by Al Bowlly," Jyoti recalled, "And played by Lew Stone and the Monseigneur Band which I heard it on the Pennies from Heaven soundtrack."
Bowlly was such an extravagant person that he once sent his clothes to the pawnshop to raise money for his hotel bill. He was stuck in his room with no clothes and no money and had a recording session to attend some three miles away. He realised that the only way to get there was to pretend to be an athlete and run through the streets in his vest and underpants. He recorded the songs, collected his session fee and ran to the pawnshop to redeem his clothes.
Rumours circulated that Bowlly died whilst visiting a 'lady of the night' in London when a doodlebug stopped overhead and dropped onto her room causing death on the job. This is totally false. What actually happened was on the night of the 17 April 1941, Bowlly had been appearing at the Rex Cinema in High Wycombe and because of the World War bombing in London he was offered a hotel room for the night which he declined and decided to take the last train home to his flat on Duke Street in St James, London. That night he was killed by a Luftwaffe parachute mine that detonated outside his flat during the night causing him a fatal head injury.
Mishra recorded the track using the organ sample from Al Bowlly and played it to his girlfriend who suggested he do something with it. "The lyrics are very nasty and, from a certain perspective, misogynist," Joyti revealed. "I thought it might be an interesting twist to sample the spooky part and write a song around it that had different perspectives. The music was done fairly quickly – the lyrics took bloody ages!"
With little money, he could only afford to press up five copies. "I used the internet a lot and met Anthony Chapman from the band Collapsed Lung in a music group. We started e-mailing each other and I sent him a copy and he offered to do a remix of it. A copy was also sent to Simon Mayo at Radio One who started playing it and it became the most requested song that week. I also sent a copy to a bloke in America who I met through net conversations. He owned the Parasol label but only wanted to press up 500 copies. I said "We need much more than that, like 20,000, but he disagreed."
Suddenly, Jyoti landed a deal with EMI in December 1996 and the following month had released Your Woman as a single. It sold 165,000 copies in one week and shot to number one. Jyoti had no real aspirations to be a pop star. "Not many are interested in an Asian bloke who makes records in his bedroom". There was no video and he refused to appear on Top Of the Pops. "I knew then I would be a one-hit wonder," he said.
He did make a video which was produced in black-and-white silent film style. Most of the outdoor scenes were filmed in Derby. In the video there are numerous elements of acting, cinematography, and editing that suggest an old-fashioned film style. The exaggerated gestures of the hat-wearing woman, helpless and fearful, and those of her quick-tempered lover hint at the acting style from 1920s expressionist films. There were ostensive metaphors, such as the hypnotising of the woman by the man or the recurring shots of crossroad signs bearing names of romantic relationship-related attitudes and the use of circular masks to emphasize a mere elegant look. Mishra can be seen for brief moments on television screens in the background. There is also a scene where the woman closes the door on the man's arm, as she tries to escape from his advances. This is a direct reference to a very similar scene from Salvador Dali and Luis Bunuel's 1928 surrealist film Un chien Andalou.
The week he was number one, the tabloid press gave him a hard time. They printed some very unflattering pictures they had got hold of and one carried the headline 'The Nerd from Nowhere' as well as making jibes about his sexuality. A possible reason for this was that he sang the song wholly from a woman's perspective, hence making it the first chart topper with a gender reversal. It did no harm to Joan Baez when she tried it in 1971 assuming the role of Virgil Cain in a cover of The Band's The Night They Drove Old Dixie Down.
After falling out with EMI, he was dropped from the label in 1997 and went back to working with Parasol Records. In 2000, his album Peek & Poke, received moderate reviews and didn't sell well.
In 2005, He contributed the song The PNAC Cabal to the charity album, Voyces United for UNHCR. The following year a new Surprise EP was released and was followed up with the album Don't Mention the War, which launched Mishra's own Bzangy Records label.
"I think my success annoyed the music industry because they don't like people having hits without their permission. Their tactic is to recruit pretty faces and combine them with million-pound studios, so when there's this fat Indian bloke having a hit with a song they rejected, it doesn't make them look good," said Jyoti in 2003.