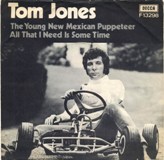 Tom Jones, like Elvis Presley, was not a songwriter, but both were masters of showcasing other people's tunes because they carefully picked and chose what songs they wanted to sing. They put their own stamp on those songs and they will forever be associated with them regardless of any cover versions. This week's choice is one of Tom's more unusual songs and one he wasn't initially keen on.
Virtually everything Tom released in the UK in the 1960s made the top 10 and he was riding on cloud nine with a powerful, yet smooth voice which he's always acknowledged he was blessed with and earning an absolute fortune via his many appearance in Las Vegas it seemed nothing could go wrong, and to be fair, in over 50 years, it never really has. But for the first couple of years in the 1970s he was falling short; I (Who Have Nothing) peaked at number 16, She's a Lady climbed to 13 and Puppet Man disastrously stalled at number 49 but towards the end of 1971 he was back on track with Till reaching number two and, the follow-up, this week's choice, The Young New Mexican Puppeteer making number six.
The Young New Mexican Puppeteer was written by two people from a previous generation – Pennsylvania-born Leon Carr (1910-1976) who was also a conductor, arranger and pianist who initially made his name writing jingles for television commercials and Earl Shuman who was born in 1923 in Boston, Massachusetts and who will be 94 later this year. Carr moved to New York and began writing songs, including some parodies, his first UK hit, as a co-writer, was Alma Cogan's 1954, number four hit, Bell Bottom Blues which he penned with Hal David. Shuman had written Seven Lonely Days which was a 1953 hit for Giselle McKenzie and then, a couple of years later, The Banjo's Back in Town also for Alma Cogan. In 1965 he wrote the English lyric to Ken Dodd's The River, then the pair teamed up to write Des O'Connor's I'll Go on Hoping in 1970 followed by The Young New Mexican Puppeteer.
Tom is of the opinion that music and current affairs/politics should be kept separate from each other. In a 1972 interview with Melody Maker he was asked how he felt about songs that convey a social commentary to which he replied, "I don't believe in it. I don't think popular singers should use their influence to convey political messages when they probably don't know enough about a situation." So, having said that, in early 1972 he was preparing to head out on tour and so recorded the song to showcase as his new single whilst on tour. That song was The Young New Mexican Puppeteer which was all about a puppeteer from New Mexico telling the story of a young boy from Albuquerque who noticed changes in his city and how people were becoming restless and fed up with change and thus decided to used puppets to highlight political changes and making references to Abraham Lincoln and Martin Luther King. What changed Tom's mind as it was a far cry from his usual material? In an interview with the TV Times a few years later he said, "I liked the song at the times but it didn't work, and then I thought 'Hell, there's no sex in this!' Like all his songs, he made this one his own and said, "I didn't see why I had to be sexy all the time, but it didn't make women twitch, see, and that's what works. You can't bite the hand that feeds you." The main melody of the song was inspired by Disney's 1940 film Pinocchio.
Although Carr died in 1976, both Tom's and Earl's careers have long since continued. I don't think I need to say much about Tom, but Earl, well, he continued writing songs that have been recorded by Gene Pitney, Barbra Streisand, Ella Fitzgerald, B.B. King and many others, but he also wrote the Broadway show (later a film) The Secret Life of Walter Mitty, and, in 2014 he published a book called Songs for Sale. Later the same year he wrote a song called Let Children Just Be Children which Michael Feinstein recorded and tells the story of how Earl thinks that children are growing up too fast these days and too much is by-passing them.
If we didn't live in such a PC era, I'm sure The Young New Mexican Puppeteer would be used to today to convey the same message it did back then, but you just know it's going to offend someone!