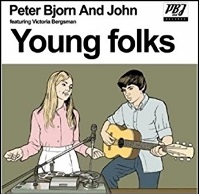 When this song first came out in 2006, the credit of Peter Bjorn and John seemed a little confusing to many people. Initially you think it must be a duet between Peter Bjorn and John, then you wonder why Peter doesn't seem to have a surname. But on the other hand it could be a trio of Peter, Bjorn and John, but there is no comma after Peter so probably not. It turns out that this Swedish act are indeed a trio comprising singer and guitarist Peter Moren, bass guitarist, keyboard player Björn Yttling and drummer John Eriksson but hey, what's a comma amongst folks!
The most striking thing about the song is the infectious whistling which was provided by Björn. "After touring I got to be really good at whistling, but at the beginning I was terrible." he told The Guardian. "It was worse if I had a slight cold or a hangover, which happened at a lot of those gigs in the early days. People were like, 'This band sucks – they can't whistle.' Also the whistling was pitched up on the recording, which made it harder to do.
In the same interview, Bjorn said, "I had the idea for the tune on the piano and at first thought it was going to be a jazz song, because it sounded like a Duke Ellington track. Then I played it on a guitar and it sounded more like a pop song. I whistled a placeholder for the melody just so we could remember it, intending to replace it with an instrument later, maybe an organ or something. Then we put the whistle through a tape delay machine. We couldn't afford to record on tape, so we recorded everything with a delay effect. Then it was like: 'Oh, it sounds good, let's keep it.'"
The song is all about finding someone you like and then wanting to know that once the feeling is mutual, would it stay that way if they knew the truth behind your past. Although we don't find out what that past really was, he asks in the song, 'If you knew about me and what I've been through, and what I've done, could you still love me? Would you let me into your world? Would you come into mine?' It has a fascinating amount of candour by saying, let's find out right now.
Young Folks features the guest vocals of Victoria Bergsman who deservedly gets the credit. She was the singer with another local Stockholm band called The Concretes and in the video she portrays the potential future lover who is on the receiving end of the frank question. "We weren't young folks at the time," Bjorn recalled, "we were all hitting 30 or 31 rather than 18 or 19. The song is about people feeling a bit burned out on relationships, and then you meet someone new in a bar, say, and think, 'Maybe this could be something.'"
Once it was recorded, Bjorn recalled, "I remember the first day we played it in a small disco in Stockholm. It felt like every person in the club came up to ask what it was. I can now look back and see that the song was an antidote to something in the air. It belongs to everyone now, they get their own feelings out of it – it's not ours any more. We didn't have a record contract: we took it to some labels in Sweden who passed on it. Things changed when Wichita put it out in the UK and Europe. It came out later in the US, but I think we got on the charts there on import only. We don't even know how many copies it sold. On MySpace it was played over 100  million times. We haven't got rich off it, but it's been good for business. It kickstarted my production career."
The accompanying video was quite compelling basically showing Bjorn and Victoria in cartoon form having a conversation on a park bench. "At some point we talked about making it a duet." Bjorn remembered, "We thought it would be cool – like David Bowie and Bing Crosby or Fairytale of New York – to make it like a conversation and give it a filmic feel. We started writing the lyric into that perspective. Then we talked about who was going to sing apart from Peter. We had other voices on the table before Victoria, but her almost childlike voice combined with Peter's more Beatles-type voice creates a lot of the magic of the song."
We'd been doing the rounds for about five years trying to get a good slot at some weird festival in Stockholm, building the stage on our own, playing Chinese restaurants and as the opening act on tours for different bands. We probably would have quit if Young Folks hadn't become the hit that it did.
It first charted in the UK in August 2006 reaching number 35 but then disappeared, seemingly forever, but it was re-issued the following year and peaked at a much more respectable number 13.
The band also have a hip hop connection after KanYe, or Ye as he likes to be known now, sampled it on his song of the same name and was released on his mixtape Can't Tell Me Nothing. Bjorn: "We performed with him once at a festival in Gothenburg. His DJ, A-Trak, had pitched the whistling up even further. We'd had a gig earlier the same day, so I was already a bit hoarse and it was terrible. I was totally struggling. Kanye made a joke on stage about me, the whistling guy, not being able to whistle."
The band is still active having released nine albums since 2002 with their most recent being Endless Dream in March 2020. The song has featured in a couple of sitcoms as well as being used in a 2010 UK advert for Homebase and, five years later, in the Air New Zealand Safety Safari surfing video.