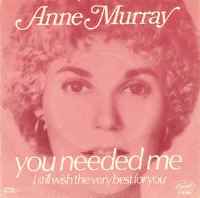 I still can't quite fathom how a great song falls just short of the number one slot and yet a cover, usually never as good, goes all the way to the top. Four good examples of this are American Pie (number two for Don McLean, number one for Madonna), Take On Me (number two for A-ha and number one for A1), How Deep Is Your Love (number three for the Bee Gees, number one for Take That) and A Little Bit More (number two for Dr. Hook, number one for 911) and this week is yet another example – You Needed Me by Anne Murray didn't even make the top 20 when released at the end of 1978 yet Boyzone landed at number one in 1999. Why? That I can't accurately answer but could have a good guess, but I can tell you about the song.
This song was a very lucky find as in as much as it was Anne who found it in an old box of tapes and all that was written on the case was Randy Goodrum which was the name of the writer. She listened to the song and instantly fell in love with it and wanted to record it. She turned to her own producer, Jim Ed Norman for help and Jim did just that. A quick search in the phone book and the number was found.
Goodrum was born Charles Goodrum in Arkansas in 1947 and learned piano at the age of eight. At school he formed a band called Three Kings which also included future American President Bill Clinton on saxophone. In an interview with Songfacts he explained, "I wrote the melody as a sort of a classical-ish feeling piece. I used to write snippets of things and leave them in a pile – my lyric writing developed much later. Music always came easy for me, and so I had tons of musical ideas that I'd written since God knows when. I sat down several times to try to write a lyric to that song, and it just never would hit. Then I was in my music room cleaning up, and I think my wife Gail was in the next room. I sat down at the piano to take a break, and got two or three lines right away. It felt real good, real sincere. So, I dashed out most of the lyrics – at least for the verses – right then. When I get a premise, or I really get onto what I'm doing, I can write pretty fast. And I remember showing it to Gail, and she said, 'Yeah, that's pretty good.' At one point, I got disgusted with it and threw it away. And then I went and got it back and decided, No, I'll get around it. So, then I played it for a few people, and my first publisher, Bob Milsap, told me, 'You know, you could use a bridge or something in this, or a chorus.' So, I wrote the bridge rather than a chorus, and after I did that I went and started playing it for people and demoing it for them, and people said, 'Oh, this needs a chorus.' I said, 'Why? It'll be too long.'"
Anne, who was born in 1945 in Nova Scotia, Canada loved the song because she'd been feeling the pressure of juggling a music career as well as trying to be a good wife to her husband Bill Langstroth and a good mother to her young child  William and this song expressed her emotions perfectly – 'I cried a tear, you wiped it dry,  I was confused, you cleared my mind.' The writer described his song as 'unconditional undeserved love' and that's how Anne perceived it.
You Needed Me was featured on her 12th studio album, Let's Keep It That Way and Anne's record label, Capitol, which was a subsidiary of EMI, had already decided that the title track was to be the first single released from it. Anne wasn't happy and wanted You Needed Me to be the debut release. God forbid they should consult the artist! She explained in an interview with the Canadian journalist Juliette Jagger, "I went to see the president of Capitol Records, Don Zimmerman, at the Capitol Records Tower in Los Angeles and I just told him, 'You've got to do this for me. I just have such a strong feeling about this song.' I had never, ever asked him to do anything for me before. Generally, the label would suggest things and I usually did them, but for whatever reason this particular time he just looked at me and said, 'Okay.' He picked up the phone and stopped the presses on the spot, and well, when it went to number one, we both looked like heroes."
The long player has a dedication which reads, 'This album is for Bill – Love, Anne.' To this day, it remains her favourite of her own recordings.
Boyzone might have shared the same thoughts as Anne Murray as the boy band was disintegrating, and perhaps that is why their manager, Louis Walsh, suggested the song. Mind you, he was part of the problem as he and Ronan Keating had put together a new and younger version of Boyzone in Westlife. "I've gotten to know Ronan Keating and he said his parents really loved it," said Goodrum. "That's okay, you know, it's very difficult to do that song correctly. It's one of those songs that if you overdo it, then you blow it. A lot of my songs are that way." Goodrum went on to write All Over Again which was the title track of Ronan's 2006 album.
You Needed Me remains Murray's favourite of her own recordings and she reflected on it, "Randy wrote the song for his wife and, it's pretty self-explanatory, kind of like, 'I can't believe you love me the way you do.' My understanding is that when he first showed it to her, she sort of said, 'Yeah yeah, it's nice,' which obviously wasn't the response Randy was hoping for," she continued, "So, he crumpled it up and threw it out. I'm still not entirely sure how it found its way to me."