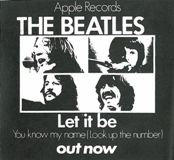 A favourite topic of conversation, not only amongst music fans, but people in general is, 'what is your favourite song of a particular decade or genre and by such and such an artist, the Beatles often being one of the most asked. Peter Asher of Peter and Gordon said I Want to Hold Your Hand, Brian Wilson of the Beach Boys favours She's Leaving Home, Rick Wakeman prefers I Am the Walrus, mine? A Day in the Life. This week's suggestion is Paul McCartney favourite.
By the late summer of 1967, the Beatles were reaping the rewards of Sgt Pepper's Lonely Hearts Club Band which had been released at the beginning of June but were soon back in the studio recording some adhoc stuff and a bit half-heartedly. They had been taking some substances therefore not concentrating fully and EMI were paying for the studio time, so what the heck. I Am the Walrus can be a good indication of their states of mind and so was, You Know My Name (Look up the Number) which was recorded around this time.
Although nearly all Beatles song are jointly credited as Lennon/McCartney, it was more obvious which one wrote the majority, if not all, of the song. You Know My Name was conceived by John.
What inspired the song? John explained in All We Are Saying by David Sheff, "I was waiting for Paul in his house, and I saw the phone book was on the piano with 'You know the name, look up the number.' That was like a logo, and I just changed it. It was going to be a Four Tops kind of song – the chord changes are like that, but it never developed and we made a joke of it. It was a piece of unfinished music that I turned into a comedy record with Paul."
It has a normal intro but when the vocals start 18 seconds in you think, ooh this is weird. In Many Years from Now by Barry Miles Paul recalled his first hearing of it, "John had arrived one night with this song which was basically a mantra and I never knew who he was aiming that at, it might have been an early signal to Yoko. It was John's original idea and that was the complete lyric. He brought it in originally as a 15-minute chant when he was in space-cadet mode and we said, 'Well, what are we going to do with this then?' and he said, 'It's just like a mantra.' So we said, 'Okay, let's just do it'.
They started recording it in 1967 and it featured all kinds of strange noises including the sound of a shovel digging up gravel and it was Mal Evans, the Beatles' roadie, on spade duty. The song also features the Rolling Stones' Brian Jones on alto saxophone who was there on Paul's invitation.
There's a part of the original recording which was edited out to John's chagrin. It was a where John repeated the mantra to a ska backing, but it was restored in 1996 with a new stereo mix which then appeared on Anthology 2.
The first part of the track was done over 14 different takes. Take 10 was originally favoured but then they used bits of take nine and they eventually recorded a further five takes which featured electric guitar, drums, flute, organ and tambourine and it still sounded like a Bonzo Dog Doo-Dah Band outtake!
The second part of the song you hear John saying, "Good evening and welcome to Slaggers, featuring Dennis O'Bell". Slaggers should be pronounced Schlagers which is a German term for a kind of sentimental music and Dennis O'Bell is a sly tribute to the film producer Dennis O'Dell who had previously worked with the Beatles on A Hard Day's Night. He later produced the Magical Mystery Tour and then went on to head up Apple Films.
Another section of the song, which was supposed to be the last section, but the verses were altered during the editing process, was a nod to the wonderful world of  Monty Python and it featured many strange sounds including bongos, harmonica, some cuckoo noises and some very typical silly Python-esque voices. What became the last section was a jazz-piano type piece with an array of incomprehensible vocals.
The almost finished article ran to just over six minutes and John had the idea of releasing it as a Plastic Ono Band A-side, but the other Beatles disagreed and that idea was shelved. John then edited it down to just over four minutes and it was eventually released as the flip side of the Beatles final single whilst they were still together, Let It Be in 1970.
Soon after its release Dennis kept receiving phone calls, he said, "There were so many of them my wife started going out of her mind. Neither of us knew why this was suddenly happening. Then I happened to be in one Sunday and picked up the phone myself. It was someone on LSD calling from a candle-making factory in Philadelphia and they just kept saying, 'We know your name and now we've got your number'. It was Ringo who played me the track and I realised why I'd been getting all these mysterious phone calls."
"We had these endless, crazy fun sessions and eventually we pulled it all together," Paul said. We just did a skit, Mal and his gravel, I can still see Mal digging the gravel. It was just so hilarious to put that record together. It's not a great melody or anything, it's just unique."