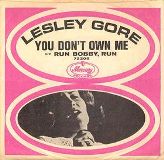 At a gig recently someone asked me for that 'new song' in the chart called You Don't Own Me. Admittedly it was a new version but I did explain that it's an old song which fascinated the lady. So for anyone else who was unaware that the song is over 50 years old, here is the story behind it.
In 1963 an American writer and feminist named Betty Friedan was asked to conduct a survey of her former classmates at Smith College for their 15th anniversary reunion. The results were; many of them were married with children but generally unhappy. This led her talking to other woman far and wide and discovered that this was a fairly common thing. She wrote an article on it and called it the Feminine Mystique. Her idea was to get in published in a magazine or newspaper but none of them would buy her story, so she ended up writing a book. This led to a number of songs being written with similar sentiments, Nancy Sinatra's These Boots Are Made for Walking, Gloria Gaynor's I Will Survive and Madonna's You'll See being good examples of a woman standing up for themselves and showing they don't need their man.
You Don't Own Me was written by Johnny Madara and David White who were a Philadelphia-based songwriter/producer teams of the early sixties, but both had a wealth of experience which started in 1957 and Johnny explained how they met, "I heard this group singing, harmonising, outside, I found out who they were and where they lived and went and introduced myself. It was Danny Rapp, Dave White and a couple of other guys. Dave White starting coming down to my place and we started hanging out together. I had some ideas: he had some ideas. One day I said to him, "The kids are doing The Bop on Bandstand. Let's write a song about it. I was under contract at the time to Prep Records and had just had a record, Be My Girl, which had made the national charts. Prep had me all set up to record again with a producer who was working with Paul Anka, Sid Feller, when I had the idea to write a song Do The Bop. I wanted to do something that had a piano featured like A Whole Lotta Shakin' Goin' On. So, off we go to the recording studio, with me singing lead, I paid for the session, sat in the control room, told the engineer what to do, played the Jerry Lee Lewis record for the musicians and that is how Do The Bop was created." They tried to pitch the song the following year to various record producers, but the bop was going out of fashion very quickly, so it was Dick Clark (of American Bandstand fame) who suggested it be re-titled. Johnny explained the story, " The song became At The Hop and was originally recorded by myself, with Danny and The Juniors (who at the time were called The Juvenairs) singing background.
The pair went on to write many American hits like Chubby Checker's The Fly, the Sherrys' Pop Pop Pop-Pie, the Pixies Three's Birthday Party and the Secrets' The Boy Next Door, but their biggest success, which did cross over to the UK chart too, was Len Barry's 1-2-3.
Between 1960 and 1961 I opened a record shop in the black section of Philadelphia," Johnny explained, "That's where I found a young girl named Maureen Gray. She was 13 years old and came in with her mother. It was called The Gold Record Shop. I had my At The Hop gold record and I put that up above the counter. The thing I enjoyed was I was selling the kind of music I liked, R&B. We carried jazz, gospel and R&B music – that was it. There were no pop records in our shop. We did great business. I bumped into Dave, and I told him that I had met this girl and I asked him to come by and try and write some songs for her. That's how we got started. I had a piano in the back room. Dave didn't like going on the road with Danny & the Juniors, so he started coming in. Then talent kept on coming through the door.
In the early nineties, Maureen claimed that she had recorded the original demo of You Don't Own Me, but Johnny disagreed, "When Dave and I wrote the song, we wrote it for Maureen, that was our idea – she had a big range and the song had all those modulations in it. It was our goal to do it with Maureen, but we never did a demo of the song with her, not that I remember – and I have almost everything that we've ever done. We had cut Maureen for Mercury, but I really don't remember her doing a demo of 'You Don't Own Me'. We may well have played the song for her. There was a girl who did do a demo on it, who was a friend of Quincy Jones. We had played the song for Quincy, and he had loved the song. Then we did a demo with this friend of his whose name was Susan Barrett. After that, there was a Mercury Records convention up in the Catskills, in the mountains in New York State. We were invited along and so was Lesley Gore. Quincy suggested that we play You Don't Own Me for her. She was sitting at the pool and we went over and played it for her with a baritone ukulele. I remember it very clearly. She loved the song. So we went into the main building and found a piano and played it for her again. She said she wanted to record it. So we got together with Quincy and Claus Ogerman, who was the arranger, and we dictated the arrangement to them."
This was all confirmed a few years later when Lesley Gore gave an interview and asked if she remembered what happened. "I met John Madara and Dave White up at the Catskills hotel, I was up there doing a record hop, gratis, for a disc jockey by the name of Gene Kay at WAAB in Allentown. I was sitting at the pool on, I think it was Saturday – the day I was going to perform – and John and Dave came up to me with a guitar, took me into a cabana by the pool, and played me You Don't Own Me. I told them they had to meet me in New York on Monday and we were in the studio probably a week and a half later. It is much to Quincy's credit that he could see what was really involved in that song, because his edict, as far as I know, was to keep me in It's My Party territory – keep it light, keep it frothy, keep it young. You can't hold back a 17 year-old woman… she has got to find a way to spread her wings – and this was a song that allowed me a little bit more freedom vocally. The beauty of that song is that the verses start in a minor key, and then, when you go into the chorus, it goes into the major, and there's such a sense of lift and exhilaration. After seeing how powerful that is, it became a method I've used on a number of occasions. Lesley told the Minneapolis Star-Tribune in 2010 that she was drawn to the song because of its 'humanist quality,' adding, "As I got older, feminism became more a part of my life and more a part of our whole awareness, and I could see why people would use it as a feminist anthem." Two years later the song was used in a video encouraging women to vote, complete with Gore saying, "I'm Lesley Gore and I approve this message."
Lesley went on to spend much of her life working for liberal causes including volunteering for Robert Kennedy in 1968 and, more recently, hosting some episodes of In the Life, a show about lesbian, gay, bisexual and transgender issues. Gore came out publicly as a lesbian in 2005, although she explained on the AfterEllen website that she never really hid it from people, saying, "I just kind of lived my life naturally and did what I wanted to do. I didn't avoid anything, I didn't put it in anybody's face."
In the 1980s, Lesley, like her brother Michael, turned her hand to songwriting and was asked to write some songs for the film Fame. Michael co-wrote the title track with Dean Pitchford which became a number one hit for Irene Cara. The follow-up was called Out Here on My Own which was written by both Gores.
You Don't Own Me has never been a UK hit despite being covered a number of times. Goldie Hawn, Bette Midler and Diane Keaton sang it together in the 1996 film The First Wives Club and it's been heard in both Dirty Dancing, as recorded by the Blow Monkeys and also Hairspray. Other versions include Percy Faith, Brian Poole and the Tremeloes, Bette Midler and Dusty Springfield. Now, thanks to a new Australian singer called Grace (real name Grace Sewell) and rapper G-Eazy (real name Gerald Gillum) it's finally made the UK chart and has had added help by being featured in the House of Fraser Christmas TV ad campaign, being performed by Lauren Murray on X-Factor and being co-produced by the man who handled production first time round, a now 82 year-old Quincy Jones.