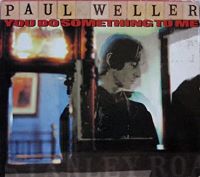 How many times have you to listened to a song and been in two minds as to what it's about? There are a handful of songs where the songwriter has written it from one perspective and later learned that other people have interpreted it a different way leading them, when interviewed, to conclude that the song means whatever you want it to mean. This week's choice is one of those.
Paul Weller is one of those musicians whose popularity hasn't diminished one iota; whether fronting the Jam, The Style Council or a solo career his army of fans have stuck with him. As a solo artist he has chart 37 singles, but only five have made the top 10. Arguably, his best-known song is You Do Something to Me which reached number nine in the summer of 1995.
So, what is it about that song that stands out? "This definitely strikes a chord in people's hearts, a song for lovers," Paul said, "I'm told by so many people they had it played at their wedding, the first dance. Ironically, it's really about unattainable love. But you can interpret it whichever way you want."
It's one of the standouts from the Stanley Road album which has just celebrated its 25th anniversary and, to date, has spent 87 weeks on the UK album chart. It stands out because it's acoustic and it's in a minor key. It resonates with people because people can relate to it. It's the yearning for a love he hasn't got. He knows what he wants but hasn't found it yet confirmed in the first verse – 'I'm hanging on the wire, for a love I'll never find'.
Clearly not biographical as Paul explained, "It came about while I was working on Wild Wood at the Manor in Oxford. There was some sheet music on a grand piano there. I couldn't read the music, obviously, but I could read the chord symbols above it; either an old standard or a classical thing. It had certain chord changes in it that I nicked, or appropriated, should I say, and that kick-started the song. I was just playing the chords as they were written and I thought, 'They're nice.'"
The sleeve for Stanley Road was designed by Peter Blake, the man famous for, among many, The Beatles' Sgt. Pepper's Lonely Hearts Club Band, "Having Peter Blake work on the sleeve for Stanley Road came about through Simon Halfon, who's done all my sleeves," Paul remembered, "I thought someone like Peter would be unapproachable, but he was so down to earth. Simon and I told him what areas of his work we really liked – the collage work, which is his forte. So we brought in bits and pieces, and Peter added stuff. The cover is a painting of me as a kid, taken from an old photo, and in it I'm holding a photograph of me as I was then, in 1995."
Paul had a European tour booked during May this year which was curtailed due to the Coronavirus, and it was to promote his new album On Sunset which is due out this month.