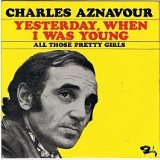 Until he passed away last October at the age of 94, Charles Aznavour was the oldest living male singer to have had a UK number one hit. He only had two UK hits, the beautiful warbling ballad, She topped our chart in 1974 and that was the follow up to the number 50-peak of The Old Fashioned Way (Les Plaisers Demodes). However, one of his best-loved songs, which was recorded by numerous people in a multitude of languages was Yesterday When I Was Young.
Charles wrote the song in 1964 with the Greek-born composer Georges Garvarentz who had moved to France in 1942. He met Charles in 1956 and they began a song writing partnership. The original French version by Charles was called Hier Encore, which translates as Yesterday Again in English. To give it a more worldwide appeal, an English lyric was added by Herbert Kretzmer, the same man who had also written the English lyric to She. The song tells the story of the narrator approaching the end of his life and looking back at their youth and reflecting on the missed opportunities or circumstances that could have been better managed throughout their life. Now that he's older, he realises that he is not able to so many of the things he wanted to back then.
You can (hopefully) see the appeal of the English lyric when you hear the original (in translated form) as, 'Only yesterday, I was 20 years old, I caressed time, I enjoyed life, like one savours love and I lived for the night without counting my days, that were wasting away with time'. Then the English written version, 'Yesterday, when I was young, the taste of life was sweet as rain upon my tongue, I teased at life as if it were a foolish game, the way the evening breeze may tease a candle flame.' Both versions are deep and meaningful.
Charles was born Shahnour Varinag Aznavourian in Paris although that wasn't his parents' planned landing place. They were en route to America and were only passing through France whilst they waited for approval of their US visa from the American Embassy. His family were Armenian and his mother was an Armenian genocide survivor. The family were poor and by 15 Charles had quit school and took some part time roles in films to help support the family. When he was 18 he met Pierre Roche in an illegal cabaret club in Paris and the pair began singing together with Pierre playing piano. When he was 21 he was spotted by Edith Piaf who was so impressed that she invited him to tour with her.
Herbert, who was born in South Africa and is currently 93, is well versed in meaningful songs as his credentials also include the English-language adaptation of Les Misérables. This is evident as the song's fourth verse starts, 'Yesterday the moon was blue, and every crazy day brought something new to do, I used my magic age as if it were a wand and never saw the waste and emptiness beyond' He wrote these lyrics before he reach 40, but you could believe he had written them now, in his 90s
Cover versions of this song are aplenty; The crooners Matt Monro, Andy Williams, Bing Crosby, Johnny Mathis, Mel Torme and Al Martino have done it, contemporary acts like Dusty Springfield, Tom Jones, Shirley Bassey, Glen Campbell and Marc Almond have all done it justice. Foreign language versions? Yes them too, in Italian as Leri Si, in Spanish as Ayer Aún, in Dutch as Hvor tiden går, Finnish as Eilen kun mä tiennyt en and even in Japanese as 帰り来ぬ青春. The country singer Roy Clark is the only one to take a version into the Country singles chart. Dusty's version cropped up in the American novelist and playwright Truman Capote's biopic Infamous.
In 2008, Charles Aznavour recorded an album of duet's called Duos in which he sings a version with Elton John under its original title Hier encore. According to Billboard, there over 90 versions recorded before the song was 10 years old.