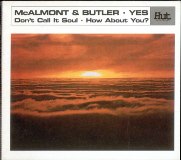 In 2010, the BBC conducted a poll based on listeners & viewers votes to find the greatest guitarist of the last 30 years. The first thing I asked myself, is why only 30 years? Is that when the guitar was invented or are the BBC generally trying to dismiss anything older than that? This would mean no Jimi Hendrix, No Eric Clapton, No Brian May, No Jimmy Page etc. etc. So who would be featured? Well, let me throw some names at you, Nick Zinner was at number 39, Jamie Cook at number 34 and Thurston Moore at number 12. How many of them do you know? Well this week's single is by a man who features at number 24, Bernard Butler.
Bernard was born in Stamford Hill, north London in May 1970. He found fame in early 1992 when he teamed up with Brett Anderson to form Suede. Bernard co-wrote and played on their first eight hit singles until he decided to quit in 1994 after mounting tensions between him and Brett.
Around the same time David McAlmont, who had been a member of Thieves, quit that band following even greater tensions and legal wranglings, so the pair, both on the rebound, forged a musical partnership.
The first song they released was called Yes which was a fusion of soul and rock with a touch of the Phil Spector big sound. Bernard explained how the song came about in an interview with NME in 2013, "It was the first piece of music I wrote after I left Suede. I wrote it as an instrumental with a drum machine and string sampler. Everything was in place, but it didn't have the voice. I wanted to write a piece of music that made me feel good. I'd just left the band and it was a frightening time. Everything I'd done in the past six months had been really dark. I'd come out of a very sad situation and lost a lot of friends, so it was a very liberating song. A couple of people nearly sung on it but never did. Geoff Travis at Rough Trade records said you've got to meet David and this normally meant that he wanted to me to work with someone and David was fantastic with the vocals. I met him at the Jazz Café in Camden and said, 'I've got this song, do you wanna try it out?' He came back to me two days later and sang the first verse. He had no second verse, so I just said 'sing the first one again.' How many good songs do you get when the singer's too lazy to write a second verse?"
Bernard went on to explain the inspiration behind the song, "When you leave a band everything is connected to it like friends. When you leave one in a bad way, you end up on your own. You also don't have a label and all of the things you grow accustomed to in a band. I just wanted to write joyful music in the summer and I'd just been writing on Dog Man Star for the previous six months so that was tough as well. At the time, I was listening to a lot of Scott Walker and Dusty Springfield and Motown. I wanted to write something that was very Bacharach and David with plenty of key changes and strings and a big baseline and that was a big inspiration. David was perfect and we recorded it in two days in France and I did the overdubs myself. The song means a lot to people."
Yes reached number eight in the early summer of 1995 and spent eight weeks on the chart. It was the opening track on the parent album The Sound of McAlmont & Butler which only reached number 33. The follow-up single, You Do petered out at number 17. The reason for this was that neither wanted to tour despite being badgered by the record company. However, they did make a few television appearance but it was not enough.
In an interview with Paul DuNoyer, Bernard was asked where did that collaboration go wrong. His reply: "From the start, really. David was into being a solo artist, writing his own songs, and his biggest problem was that I'd given him a life. I offered to do an album with him, and he was, 'Oh this is very nice but I've got my own career and I won't have time to fit you in.' It really crushed me. And by the time Yes was a hit, he was, 'Oh, you know about that album? D'you fancy doing that still?' I was like, 'no' so he really got the arse then. It depends what kind of person you are. David will pull out any trick to become famous, but it's just not my scene."
David went on to collaborate with Ultramarine and then with David Arnold on a cover of Diamonds Are Forever which stalled at number 39. Bernard charted four solo singles with the highest, Stay, reaching number 12 in 1998.
Three years later Yes was featured in the film Bridget Jones's Dairy 2. It was possibly on the back of this that made Butler and McAlmont resolve their differences and reunite which they did in 2002 for a couple of hit singles, the biggest being Falling which climbed to number 23. They did manage to record a second album called Bring It Back which spent just two weeks on the chart and peaked at number 18.
Bernard recalled his proudest moment, "I remember going to Ally Pally on Bonfire Night and there would be fireworks each year and at the end there would be a finale and normally there would be a piece of classical music like Prokofiev or something. One year I was with my kids there and Yes was the song at the finale and for those three minutes that made people happy which made me very proud.
Oh, in case you were wondering; Nick Zinner was with the Yeah Yeah Yeahs, Jamie Cook was a member of the Arctic Monkeys and Thurston Moore with Sonic Youth. As for the top three in that poll, well Matt Bellamy from Muse was third, Slash came in second and topping the list was the Red Hot Chili Peppers' own John Frusciante.