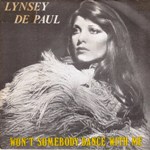 She was a talented singer/songwriter and cartoonist — a product of Hornsey Art College in London, but then her upbringing, in the north London's Cricklewood area, clearly had a lasting effect because she was abused and beaten by her property-developer father which may explain why, despite having a glittering list of celebrity lovers, she died earlier this year, unmarried, at the age of 66, the lady in question? Lynsey De Paul. Her father's father was also abusive and Lynsey said, "Instead of breaking the cycle, my father continued it. When I hear people have had a happy childhood, I think, how is that possible?"
She was born Lynsey Monckton Rubin into a Jewish family in 1948. The Jewish Chronicle once described her as the Jewish Adele of her day and for several years in the 1970s, she was everywhere. It with that facial beauty spot and that inimitable breathy voice for which she best remembered and her writing and piano playing which heralded her as the British Carole King — and, subsequently, as the precursor to Kate Bush. "I've always strongly acknowledged my Jewish roots," she says. "I just didn't want to go to Synagogue because I felt much of it was lip service and I wanted something with more integrity."
Her parents were musical, her father played the violin and her mother the piano, and for several years she learned to play classical music; her parents couldn't bear popular music and didn't want her listening to it either. She was a dumpy teenager and that experience came out in her 1973 top 20 hit Won't Somebody Dance with Me. The Ivor Novello awards were first launched in 1955, but it took 19 years until its first recipient was a woman and that woman was De Paul for the aforementioned song.
In 1972 she was offered an £80,000 deal by Gordon Mills to sign to his MAM record label. "I was told to change my name because they felt it wasn't commercial enough and that it was too Jewish. It was actually a Jewish person who said this. Remember, this was the year of the Munich Olympics tragedy and there was a lot of anti-Semitism about. They said if I didn't change it, I'd be shot on stage!" Her first hit was Sugar Me the following year which reached number five. She followed it with Getting A Drag and then Won't Somebody Dance with Me which was her final hit for the label. After which she wanted to leave because she felt she was being cheated by Mills and it was her then-boyfriend, Roy Wood, who recommended Don Arden, who was having success with the Electric Light Orchestra.
Grammatically incorrect, Won't Somebody Dance With Me featured no question mark on the label so it's a possibility she was asking a rhetorical question. Was the song autobiographical? Sort of! It was written about feeling rejected as a plain-looking teen at a synagogue social but it was based on a personal experience as she revealed in a 1975 interview with Melody Maker, "As a teenager I was really fat but I lost a lot of weight when I was confined to a hospital bed for three months after being hit by a bus. I also suffered some facial damage in the accident, but although I made a full recovery this was clearly a traumatic experience at a time when most of my peers would have been enjoying their first relationships with the opposite sex."
The spoken line, 'May I have the pleasure of this dance' toward the end was uttered by her friend and radio DJ Ed 'Stewpot' Stewart. When I asked Ed how come he did it, he just said, "because we were friends and I was in the right place at the right time." At her only appearance with the song on Top Of The Pops, the line was uttered by that week's presenter, Tony Blackburn.
In 1974 she wrote and sang the theme song from the sitcom, No – Honestly, starring John Alderton and Pauline Collins. It was another Top 10 hit and for it she won another Ivor Novello award.
Her business dealings with Arden soon soured and she had to sue him for what she was owed. In 1976 Arden refused, out of spite, to issue her album, Take Your Time. She stood up to him and a court established that he was in the wrong, but the satisfaction of winning affected her health. Several of the tracks from Take Your Time were officially released on the compilation Into My Music in 2013. It included a song about Roy Wood called Martian Man.
Her love life was much publicised as she was romantically linked with Sean Connery, Ringo Starr, Bernie Taupin, Dudley Moore, James Coburn and West End producer Bill Kenwright. "I didn't lose my virginity, I gave it away to a man much older than I was," she liked to say. "When you're young you expect wonderful things to happen — you think you can own the world," she recalls. "It was so fast I didn't quite know what was happening." But few good memories remained of her romance with Sean Connery whom she'd met at a party in 1989. His second wife, Micheline, was sitting next to Lynsey on a sofa but, she remembered, "That didn't stop him chatting me up and asking for my phone number." She really cared for Connery and intriguingly, she claimed he told her in one call that he was only able to kiss his co-star, Michelle Pfeiffer, while thinking of Lynsey. According to the Mail, The affair ended rather abruptly. The couple met for what Lynsey didn't know was the last time, made love, then he told her he would ring her at the weekend. She never heard from him again.
Later, Lynsey was appalled when she learned that Connery had publicly condoned hitting women; his first wife, actress Diane Cilento, revealed he had beaten her during their marriage. She said, "He never laid a hand on me and I wasn't aware of Sean's violent side when I was with him, but I was quite horrified when I read that he'd said it was OK to hit a woman."
She launched a furious attack in a newspaper interview, saying that she bitterly regretted their affair and that she'd 'like to give him a smack for women in general'. She did not want other girls and women to suffer at the hands of men. In 2007 she released a DVD, called Taking Control — a manual for women to defend themselves against violence. To reinforce the point she spent a year learning martial arts as an example to her viewers. "I don't see men as the enemy," she claimed, "I'm like a pussycat. I would rather curl up in a man's lap and purr and be stroked."
Won't Somebody Dance with Me has been covered by Bruce Johnston of the Beach Boys and Lena Zavaroni as well as being featuring in The Muppet Show, The Mickey Mouse Show and the film The Big Sleep. She co-wrote for other groups most notably the Fortunes' Storm in a Teacup which reached number seven and the number two hit Dancin' (On A Saturday Night) for Barry Blue.
In 1977 she and Mike Moran started writing songs together and performed their song Rock Bottom at Wembley Arena as the UK entry for the Eurovision Song Contest. They had originally written the song for Blue Mink and unfortunately it was not the right material for the Contest, but it actually came second. In 2008, when the contest was held in Azerbaijan, she was on the London jury.
In the last few years of her life she became a director of the PRS – the Performing Rights Society – which collects royalties for musicians. She was also raising money for independent movies — one of which was about Elvis Presley and another about Israeli military pilots.
She died of a brain haemorrhage on 1st October 2014.