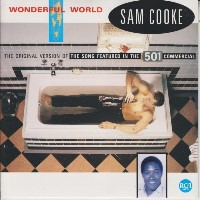 Arguably Ray Charles and Sam Cooke were the two most important and influential soul singers of the late 50s and early 60s. So many singers wanted to be them even the females. Aretha Franklin was so mesmerised and impressed by Cooke's voice that she even bought the same brand of cigarettes he smoked in the hope it'll give her voice a similar sound. Cooke had a pretty short and tragic life but also he was no angel. But it's his music I'm concentrating on and, this week, probably his most popular and enduring song.
Sam, one of five boys, was born Samuel Cook in January 1931 in Clarksdale, Mississippi, but moved to Chicago when he was two. In 1950, at the age of 19 he replaced R.H. Harris in The Soul Stirrers and not long after, three of his siblings joined the group and they signed a deal with Speciality Records. Sam led the group between 1950 and 1956 while his brothers Charles, or L.C, as he was known, began song writing and wrote Sam's first solo hit, You Send Me in 1957. It only reached number 29 in the UK, but topped the Billboard Hot 100 and it was swiftly followed by the self-composed Only Sixteen which went six places higher in the UK. Over the next three years, Sam released a string of US-only hits, but none made the Top 10.
First and foremost, Cooke, the son of a preacher man, was a shrewd businessman who, unlike most of his contemporaries, secured the rights to his own songs and ran his own publishing company. He also launched his own recording company to promote and release other artist's material.
Wonderful World was initially written by Lou Alder and Herb Alpert who had not long begun working together. Adler, who turns 90 later this year, went on to form his own Dunhill record label as well as manage and produce numerous arts and is probably best known for producing Carole King's 1972 masterpiece Tapestry. Alpert, who has just turned 88, would form A&M records with Jerry Most and go on to write, produced and perform hits for himself and many others.
They took their song to Sam Cooke who added and tweaked some of the lyrics and thus earned a writing credit. If you check the record label, you'll notice that the writing credit is Barbara Campbell which was a pseudonym for all three writers but was also Cooke's wife's maiden name.
The song tells of the protagonist not being very bright in his education explaining that he didn't know a lot about history, science or maths, mind you, I'm not too sure how many students these days would actually know what a slide rule is for nor how to use it. I did learn about it at school but knowing I wasn't going into the engineering world, I've long forgotten and wasn't too interested in refreshing my memory. But, what he is saying that he knows how to treat a woman and thinking that if he improved at school he could improve his chances of getting the girl.
Wonderful World, often incorrectly referred to as What A Wonderful World (because that's what he sings), didn't make a massive impact when it charted in 1962 peaking at number 27 in the UK and number 12 Stateside. As fortune would have it, it got a new lease of life some 26 years later when the Levi's 501 Jeans company decided to use the track for its latest ad campaign and the record company re-issued the track. In 1960, when it peaked at number 27, Cliff Richard was a number two with Please Don't Tease, in 1986, when Cooke peaked at number two, it was Cliff Richard again who hindered his ascent to the summit where Cliff was joined by the Young Ones on the Comic Relief track Living Doll.
Sam went on to have other UK top 10 hits with Chain Gang (9), Cupid (7) and Twisting The Night Away (6) and couple of smaller hits in 1963 with Another Saturday Night and Frankie and Johnny but by the end of the year the hits dried up.
As for his personal life, well, it wasn't very personal, it's become common knowledge that Sam was a notorious  womaniser. His first marriage to Delores in 1953 ended after five years later and she died the following year in a car crash. The same year he divorced Delores be married Barbara and Sam's minister father led the ceremony. They had three children, Linda (b: 1953), Tracy (b: 1960) and Vincent (b: 1961) but more tragedy struck when, 18 months later, Vincent drowned in the family swimming pool and Sam and Barbara blamed each other for neglect. Despite being married to Barbara and having a daughter, there were three other women and in December 1964 , he took a prostitute to the Hacienda Motel in Los Angeles. The story goes; she believed he was going to rape her so she stole his money and clothes and fled the premises and immediately called the police. There seems to be two different versions of the story, but the 'official' story is that the manageress, Bertha Franklin, said that an almost completely naked man (Sam Cooke) had burst into her office and she shot him in self-defence. The coroner's inquest believed her testimony of Bertha Franklin and the prostitute with the court ruling that the shooting was justifiable homicide. That means within a few months Barbara Campbell had lost a son and her husband, Sam was just 33. The unofficial version is that the prostitute and the manageress were working together and had planned to rob Cooke, but nothing had ever been proved.
A couple of months later, Barbara was with another man; Bobby Womack. Years later she revealed in an interview, "I welcomed the 19-year-old Mr. Womack into the house as a kind of protector." She was 29 at the time and they married a month later. It didn't go down well with family, friends and fans especially when Bobby was seen in public wearing Sam's clothes. In another interview with Penelope Green in the New York Times, it was revealed that they received hate mail which included a package of a baby doll in a coffin. They had a son which they named Vincent in memory of Barbara's son who had drowned. Womack had started taking cocaine and then began having an affair with Cooke's eldest daughter, Linda who was now around 16 years old but Barbara caught them in bed and shot Womack in the head, but it wasn't a good shot and only grazed his head. Barbara was not charged and the couple divorced in 1970. In his late-teens, Vincent had turned to alcohol and drugs and took his own life in 1986 at the age of 21. A few years later Linda then married Bobby's brother Cecil and became the recording duo Womack and Womack.
In 1986, the same year Wonderful World was re-issued, Sam was inducted into the Rock & Roll Hall of Fame but his award was accepted by Barbara and Sam's father with Mr Cook senior (as was the original spelling) declaring, "I think if Sam were able to be here tonight, he would be thrilled just to see me on this stage."
After her divorce from Bobby Womack, Ms Campbell lived in relative obscurity. She died in April 2021 at the age of 85 but no cause of death was given and it was her and her families express wishes that no public announcement was to be made. The death, however, was confirmed a short while later by a radio DJ called David Washington who had been close friends with Sam, Barbara and Bobby.
A number of my Singles of the Week have a nice story and a happy ending, sadly this isn't one of them.