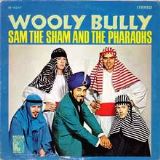 There are many songs with normal sounding titles but have nonsense lyrics and equally there is a stack of songs with meaningless titles but meaningful words. They are usually quite catchy song that stick in your head all day and this week's choice is probably one of them.
The song was written by Domingo Samudio and the majority of the lyrics are the title. Sam took the first three letters of his surname to begin the group name and as for sham, well that word has a different meaning in the UK generally meaning false or bogus, but in the States it means to dance whilst playing guitar.
Sam, who was born in Texas in 1937, had been in the Army in Panama and had become known as Big Sam, after being discharged he returned to the States and formed a group with a few friends who were Ray Stinnett, Jerry Patterson, Butch Gibson and David Martin. During one of their early gigs the band member decided to don some Egyptian outfits which went down really well and thus became known as The Pharaohs, it was inspired by them having recently seen the Charlton Heston and Yul Brynner epic The Ten Commandments. They were spotted one night by a representative from MGM records who signed them to a recording contract.
Work began on recording their first album at Sam Phillips' studio in Memphis but they needed a couple more songs. Sam wanted to write a tribute song about a dance he knew from a few years earlier called The Hully Gully. He recorded a demo and played it to the label who were apprehensive about using the Hully Gully in a title so Sam rewrote the lyric as Wooly Bully – named after his cat.
The song opens with a mixed count-in of 'Uno, dos, one, two, tres, quatro' which Sam explained in an interview with Here 'Tis magazine, "David and I, we're half Spanish and half English, we'd gone to the same high school and we'd just shuck 'n' jive back and forth in both Spanish and English, so I counted it in Tex-Mex. I didn't intend for that to stay there but the producer, Stan Kessler, said, 'Man, that's wild, let me leave that on there.' We argued and he won. I'm kinda glad he did now." An intro that surely inspired Bono when it came to writing Vertigo surely?
One of the few other lines which are not the title is, 'Let's not be L-7, come and learn to dance', an L7 is a slang term for an unhip person, or a square as it's come to be known and basically if you put and L and a 7 together it forms a square.
Sam followed it up with Ju Ju Hand and then Lil Red Riding Hood but neither fared as well. In 1966, The Soul Brothers recorded a sequel called Wooly Bully Again but that didn't trouble the record-buying public. When Sam was contacted about it he showed little interest.
The group broke up in 1968 with Sam attempting a solo career with little success. He reformed the Pharaohs in 1974 which didn't work either. He left the music business and moved to Mexico where he became an interpreter. He has since written some poetry and still makes the occasional appearance. He was inducted into the Memphis Music Hall of Fame in 2016 and despite the song being featured in the 1987 film Full Metal Jacket it's never really resurrected his career.
In an interview in the eighties he reflected, "We did three takes of the song, all of them different but they took the first one and released it. From what I understand, it became the first American record to sell a million copies during the onslaught of the British invasion."