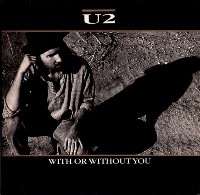 666 may be the number of the devil, but it was a good number for U2 as With or without You was the 666th Billboard Hot 100 Number one and also their breakthrough hit in the States. It also silenced the concert promoter who, in 1985, in Denver Colorado, said to Bono, "I think you might be the biggest group in the world right now for a lot of people, but, remember, you still haven't written a Hey Jude," as Los Angeles Times journalist Robert Hilburn wrote.
It's a well-known fact that U2 came together after Larry Mullen , then 14, posted a note on his school notice board in Dublin simply asking for fellow students if they wanted to form a rock band. Within a few days a number of students gathered at Mullen's parent's house and began playing some Rolling Stones songs. David Evans was recruited, as was Adam Clayton because, apparently, he looked the part and a so-called guitarist called Paul Hewson. It turned out that Hewson couldn't play guitar very well and started singing. He took his stage name, Bono, from a shop sign which was advertising the Bono Vox hearing aid. Clayton once said, Bono couldn't sing that well either, but he was such a charismatic character that he was in." Bono then gave Evans the nickname The Edge explaining that the edge is the border between something and nothing. They were originally called Feedback then The Hype was briefly used, but it was a local musician who suggested U2.
Bono once said that he wanted to write a love song  that dealt with real issues, (don't most love songs?) and With Or Without You is the result. It describes a strenuous relationship the protagonist is in and can't escape from. Was that relationship within the band or of a more personal nature? In a 1987 interview, Bono revealed, "Everybody in the group knows what the line 'and you give yourself away' means. It's about how I feel in U2 at times – exposed." In the book U2 by U2, Bono explained further, "I was at least two people: the person who is so responsible, protective and loyal and the vagrant and idler in me who just wants to run from responsibility. I thought these tensions were going to destroy me but actually, in truth, it is me. That tension, it turns out, is what makes me as an artist."
The song is more complex that one might initially think. In the song Bono sings, 'I can't live, With or Without You', but in the book, Into The Heart by Niall Stokes, he says, This is no silly love song that Bono generally despises. The more you delve, the more you become aware that beneath its surface restraint lies a tangled web of complex anxieties. According to Songfacts, In 2005, Bono called the refrain most important part of the song because it signifies a release of mental tension, "Which is when the 'Aah-aah' comes out, that is what giving yourself away is, musically," Bono said.
It's Adam Clayton's rumbling bass guitar intro that give the song its instant distinctiveness and it was an "immediate hit with live audiences," said Eoghan Lyng in Far Out. Bono often 'raps' some additional lyrics onstage which he later acknowledged that, "the song emanated from a sense of guilt that came from talking to other women, which might have stemmed from losing his mother when he was little more than a boy."
Bono originally intended this as part of a trilogy with two other songs that did not make it onto the parent album, The Joshua Tree. He said he didn't think it made any sense without the other two songs, but the fans, who were none the wiser, loved it and took it to their hearts.
The track was produced by up and coming Daniel Lanois who went on to work with The Neville Brothers, Peter Gabriel and Bob Dylan, and in a Songfacts interview he said, "With Or Without You has a lot of 'yearn' in it, what I get from it is you're ready to accept but you're ready to leave something behind, much like life itself. Something comes your way but there's a sacrifice and you have to leave something else behind."
This was the first U2 single released on the CD single format and it also appeared in a CD Video format which is very collectible as only about 50 copies were made to demo the Philips CDV system.