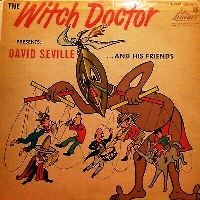 David Bowie hated his 1967-recorded song The Laughing Gnome which was belatedly released in 1973, he tried, unsuccessfully, to stop it being released but the public lapped it up and thus became a top 10 hit. It's not clear why he hated it, but one of its memorable features was the speeded-up voice of the gnome which his then-studio engineer Gus Dudgeon had recorded. In fact, when Dudgeon died in 2002, David sent flowers to his funeral with a missive saying 'Farewell to the Laughing Gnome.' However, David wasn't the first to feature this type of technology, that invention went back to the fifties.
David Seville, who was born Ross Bagdasarian Sr, but chose Seville after the place he'd been stationed at whilst in the Air Force, was a singer, actor and record producer. His first real success came in 1951 when he co-wrote Come On-A My House which became an American chart-topper for Rosemary Clooney. In 1955, he signed a recording contract with Liberty records and had a one-off UK hit with a song called The Trouble with Harry which he recorded under the two pseudonyms Alfi and Harry.
In 1958, David created the Chipmunks who were animated characters with high-pitched voices but also with many human traits. They were created for song purposes which then led to their own cartoon series. His three inventions had names and were called Alvin, Theodore and Simon and all had their own 'personalities' – Alvin was a troublemaker, Theodore was the easily led loveable one and Simon was the intellectual with glasses.
David's son, Ross Bagdasarian Jr, told Bruce Nash in an interview what his father was like and how he created the voices of the Chipmunks, "In late 1957, my family was down to about $200 and my dad decided to take $190 of that to buy a new tape recorder." His father once told reporters, "My mind was a little madder that its normal semi-orderly state of confusion, I looked up from my desk and saw a book called Duel With The Witch Doctor which was written by Jan de Hartog and I realised that all the teenage records that were selling seemed to have one thing in common, you couldn't understand any of the lyrics. So I decided to have the witch doctor give advice to the lovelorn in his own language – a kind of qualified gibberish." So that advice you hear the witch doctor give the man to help win his woman over is, 'Oo ee, oo ah, ting tang, walla walla bing bang.' I think if someone said that to me, I'd swiftly disappear!
How the voices came about was, one day Ross was singing into the new tape recorder but didn't realise it was running at half speed so when he played it back it played a high-pitched voice and Ross then realised he'd created the perfect voice for the witch doctor.
Once he had recorded the track he wondered if his record company would release it. It would seem unlikely that they would, but as luck, for him, would have it, Liberty Records were struggling badly and were on the verge of going under so, as Ross Jr recalled, "Had the people at Liberty not been as desperate as they were they would never have put Witch Doctor out. They thought it was ridiculous, absolute nonsense. My dad said to them, 'Look, you're already close to bankruptcy, you've got nothing to lose' so they figured they would give it a try and, of course, it became a huge hit." It topped the US chart for three weeks and in the UK peaked t number 11. As was so often the case back then, many British artists wanted to covered American stuff and this was no exception. Don Lang and his Frantic Five made a slightly faster version and it beat Seville by getting to number five having both entered the chart in the same week.
Devo did a cover version which was featured in the 1998 film Rugrats and the Danish group the Cartoons did a very Euro-like cover which clearly pleased the UK audience as they had the biggest hit when it entered the chart and peaked at number two in April 1999. It was only held off by the highest entry at number one by the French DJ Quentin Dupieux disguised at Mr Oizo.
Ross Sr died of a heart attack in 1972 at the age of 50, the whole Chipmunk empire, which included videos, books and films, in fact, over 250 licensed products, which are still looked after by Ross Jr and his wife Janice. There was also a female spin-off trio known as The Chipettes. They are called Brittany, Eleanor and Jeanette and are all voiced by Janice Eleanor Miller and their cover of Beyonce's Single Ladies (Put A Ring On It) appeared in the 2009 film Alvin and the Chipmunks: The Squeakquel. It was actually quite funny.