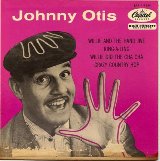 So many musicians get given a title, James Brown, for example, was the Godfather of Soul, Elvis Presley was the King of Rock And Roll, Michael Jackson was the King of Pop, Aretha Franklin was known as the Queen of Soul and Paul Weller is known as the Modfather – although he hates that title, and there are many others, but do you know who was known as Godfather of Rhythm and Blues? My guess would be someone like Paul Jones but actually it was Johnny Otis. Never heard of him? Read on.
Johnny was born Ioannis Alexandres Veliotes in December 1921 in California and in his 90 years on the planet achieved much; because he was a bandleader, singer, songwriter, drummer, vibraphonist, producer, club owner, disc jockey, preacher, talent scout and impresario. He inspired and discovered many singers and musicians alike.
He hit the big time in 1946 when his big band version of Harlem Nocturne opened a lot of people's eyes. On the Billboard R & B singles chart he charted 18 hits including the 1948, nine-week number one, Double Crossing Blues which was credited to The Johnny Otis Quintette, The Robins and Little Esther. He followed it up with the four-week chart topper Mistrustin' Blue which gave Little Esther the lead credit. Today I focus on his 1958 number three hit Willie and the Hand Jive, which was banned by some radio stations in America because they thought, wrongly, as radio bosses do, that is was to do with masturbation. Mind you, with the words Willie and hand together you can understand why!
He was inspired by his hero Count Basie and loved the sound he made but soon realised that he didn't need the typical 16-piece ensemble that many bands of the 1940s and 50s had and so decided to slim it down a touch and bring in other instruments like electric guitar and some backing singers and thus created a sound that became known as rhythm and blues.
The story is very simple, it just tells the story of a fictitious character called Way-out Willie who made his name just by doing a dance with his hands. The sound is reminiscent to that of Bo Diddley and is sung in a chain gang style, a sound that Johnny had heard whilst he was on tour.
He created the Otis Rhythm & Blues Caravan which became the first R&B touring road show and through this system, and his nightclub, he discovered many singers including Big Mama Thornton who recorded the original version of Hound Dog, Etta James, Little Esther, Jackie Wilson, Charles Brown and Hank Ballard. With shows like X-Factor and the like these days, Simon Cowell particularly can be quite blunt to the one who don't show great talent, but how did Johnny deal with it, "I learned quick," he said, "They would come in and the parents would say the same thing, 'Mr. Otis, now we know that you know if junior has any real talent then you'll tell us the truth. And if he doesn't, then—' But they didn't mean that. What they meant was, 'This is the world's answer to the great child star. This is it.' If I would dare to suggest they weren't, then I'd have an enemy on my hands. So I learned how to sidestep that and tell little fibs."
Many audiences assumed Otis was a light-skinned black man, both his parent were Greek which gave him a darker complexion, and not wanting to have problem nor cause trouble Otis said, "We never disabused anyone of that notion." Other people thought he was white, Otis recalled in a 1989 interview with Fresh Air, "In those days, many of the places we played – had they suspected I was white, we would have been arrested," he says. "Your life was on the line. When our bus would cross the Mason-Dixon Line, a pall would fall over the entire show. Because we knew we were down there where we had problems." In that same interview he recalled an incident when he was travelling with a 13-year old Little Esther, who later became Esther Phillips, "We stopped at a gas station to use a restroom and I looked up, and there's a guy with a gun in my belly, and he's shaking and he's all excited because the little black girl went to the white woman's bathroom, and I thought to myself, 'Any death but this.' But she came out and we went on down the road. But those things happened to us all the time." Genetically, I'm pure Greek," he confirmed, "but psychologically, environmentally, culturally and by choice, I'm a member of the black community."
Willie and the Hand Jive has been covered by many act including Eric Clapton, George Thorogood & The Destroyers, Kim Carnes, The Tremeloes, Cliff Richard and the Grateful Dead among others, but not one has ever made the UK charts, not even Otis' version. His only UK chart hit was a cover of the Eddie Cantor track Ma (He's Makin' Eyes at Me) which reached number two in 1957.
Otis continued to perform into his 80s, and, just to add to his repertoire of skills, he also became a radio DJ and later on, an ordained minister and an organic farmer. He was inducted into the Rock and Roll Hall of Fame in 1994 as a producer and songwriter. He died in January 2012 at the age of 90.
A couple of year before he died he said, "What a strange thing has happened as the years went by. The roles reversed. Today, our audience for blues-oriented music is white. And the black youngsters are not interested in it, and is something that pains us for many reasons – not just personally, but when you start to think from a cultural standpoint, how much we seem to have lost over the past 20 years or so in the African-American community, where blues and jazz artistry is concerned."