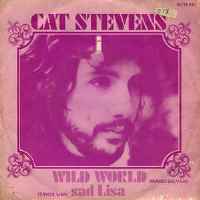 In a recent quiz, I presented a connection round where the artists had successfully changed their name during their career, Snoop Doggy Dogg became Snoop Dogg, Hannah Montana became Miley Cyrus, Shane Fenton became Alvin Stardust and Cat Stevens became Yusef Islam etc. Cat is the subject of this week's Single of the Week as I look into the story of Wild World which has been a UK hit four times, twice top 10 and two other versions which failed to make the top 50, one of them being the its author.
Yusef or Cat or even Steven Demetre Georgiou, as he started life, was born in a flat above his parent's shop in London. His father was Greek and his mother Swedish. He grew up learning piano but once the Beatles came along he quickly developed an interest in the guitar and decided to take it up. Being in London he began playing in many of the coffee bars that were available to him, firstly as a member of a band, but then preferring to entertain solo.
He first graced out chart with I Love My Dog, a song about a real dog he found tied to a lamppost outside is home in London and followed it with Matthew & Son which was inspired by a sign he had seen in a shop window whilst travelling on a bus in London. In 1970, Stevens released two albums, Mona Bone Jakon which opened with his sixth hit single, Lady D'Abanville – written about his then girlfriend, the American actress Patti D'Arbanville. By the time of the second album, Tea for the Tillerman, in November that year he had split with Patti. The third track on side one was Wild World which hundreds of sources cite as also being written about Patti, but it wasn't. Let's sort this out.
Cat had started recording his version of Wild World when the reggae artist Jimmy Cliff heard it and wanted to record a version. When Stevens heard about it and realised it was going to be in a reggae style, he offered to produce it. Once done, Cat returned to finish his own version thus meaning that Jimmy Cliff recorded it first.
Stevens wanted to find peace and happiness in a mixed-up world and that's what inspired the song. "I wrote the song about himself. I was trying to relate to my life. I'd done my career before, and I was sort of warning myself to be careful this time around, because it was happening. It was not me writing about somebody specific," he revealed in The Chris Isaak Hour, a talk show he presented on the Biography Channel in 2009. "Other people may have informed the song, but it was more about me," he continued, it's talking about losing touch with home and reality – home especially."
In a different interview, Cat talked about the song's lyrics saying, "It was one of those chord sequences that's very common in Spanish music. I turned it around and came up with that theme – which is a recurring theme in my work – which is to do with leaving, the sadness of leaving, and the anticipation of what lies beyond. There is a criticism sometimes of my music, that it's kind of naive, but then again that's exactly why people like it. It goes back to the pure childish approach of seeing things almost for the first time. A kid can say things like, 'Why is a cow?' You shouldn't put those words together! But if you do, then it makes you stop and think."
So, how come Jimmy Cliff came to record it first? In in Mojo interview in 2012, Jimmy explained all, "I felt an affinity with Cat Stevens. They tried to market him as a rock act and like me, he was more than that and one day I went to the publisher and he played me this demo of Wild World and he told me that Cat had written it but he didn't like it. I loved it right away so he called up Steve (as Jimmy knew him) and put me on the phone to him. He asked what my key was, I said and he started playing guitar down the phone, he said we have to record it together so he went in and did the track and I went in the following day, helped put on the backing voices with Doris Troy and then it was time to put my voice on and Steve directed me to sing the high notes. He was a really good producer and it was a big hit."
Cat's hits in the seventies included Moon Shadow, Morning Has Broken (with Rick Wakeman on piano), Can't Keep It In, a cover of Sam Cooke's Another Saturday Night and his final hit was (Remember the Days of the) Old School Yard with Elkie Brooks on backing vocals. In 1977, Cat officially converted to the Muslim faith and changed his name the following year to Yusuf Islam. He gave up music and married Fauzia Mubarak Ali in Regent's Park Mosque in September the following year. Together they have a son and four daughters who have given them nine grandchildren.
In 1988, Maxi Priest covered the song and took it to number five and in 1993 a rock version by Mr Big stalled at number 59. After 25 years out of the limelight, Islam was enticed back to music with some encouragement from his religious friends and re-recorded his song Peace Train for a new compilation. His first live appearance came at the Nelson Mandela 46664 concert. In December 2004, he teamed up with Ronan Keating to record a new version of his song Father and Son which went to number two.
In April 2007, the BBC, as part of a BBC Sessions series, broadcast a concert by Islam at the Porchester Hall in London. He sang a mixture of new and old songs including Wild World which resulted in it being downloaded enough times to finally become a hit for the author where it peaked at number 52, but at least it was a hit.
This month marks the 50th anniversary of Tea for the Tillerman and Islam has celebrated it by releasing a brand-new album called Tea for the Tillerman² which features the same 11 songs done in a new and re-imagined style and hit the chart three weeks ago at number four.