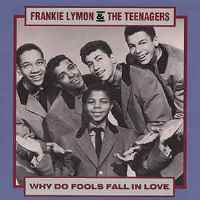 In the mid-fifties, doo-wop was all the rage and one of the few genres that wasn't swept aside by rock and roll. Many of the doo-wop groups were from New York and around that time the street corners in Manhattan were littered with group of boys singing harmony often emulating gospel group like The Dixie Hummingbirds and that is how and where doo-wop originated. The Teenagers did their harmonising on the corner of 165th and Amsterdam. Few doo wop groups were successful in the UK, but this week's act was one of the first.
Frankie Lymon was born in Harlem, New York in September 1942 and, like his parents, sang in church. In 1954, at the age of 12, it was at school that he first heard a local doo-wop group known as the Coupe De Villes and soon befriended their lead singer Herman Santiago who invited him to join the group and changed their name to The Ermines and then The Premiers.
They auditioned for the producer Richard Barrett who liked what he heard and renamed them The Teenagers. He also liked a song based on a poem from a friend of the group, Richard White and played the song, Why Do Fools Falls in Love? to the notorious record label owner, George Goldner. Whilst Goldner liked Herman Santiago's lead vocal, he realised that Frankie Lymon was sensational. The record starts with some wonderfully loony doo wop harmonies and is then followed by Lymon's soaring voice, which had not yet broken. The record reached number six in the US, despite strong opposition from Gale Storm, and they topped the UK charts, with a cheerful cover version from Alma Cogan also making the Top 30.
The Teenagers were Sherman Garnes and Jimmy Merchant who were both African American alongside Herman Santiago and Joe Negroni from Puerto Rico and it was at the audition for Gee records that Lymon became the lead singer. Santiago had turned up slightly late and Lymon said that he knew the part as he had co-written the song. The record label credits the writers as Lymon / Goldner but it should have been Frankie Lymon, Herman Santiago and Jimmy Merchant. Buddy Holly's producer, Norman Petty, was notorious for adding his name to the writing credits in order to gain more money. It appears Goldner had similar thoughts.
Lymon was just 13 when he put pen to paper but he already had some experience of life; "I've been falling in love since I was only five, but I've been a fool about it since I was 11," He explained to the singer Frankie Laine in 1956. The way The Teenagers all dressed in matching outfits set the tone for the soul groups of the seventies like the O'Jays and Stylistics and the screaming fans, usually female was the bench mark for all future boy bands to follow.
Like The Jackson 5 who followed suit around 10 years later, Frankie, like Michael Jackson, grew up in public, "I never was a child, although I was billed in every theatre and auditorium where I appeared as a child star," Lymon explained in a 1967 interview with Art Peters in Ebony magazine. "I was a man when I was 11 years old, doing everything that most men do. In the neighbourhood where I lived, there was no time to be a child. There were five children in my family and my folks had to scuffle to make ends meet. My father was a truck driver and my mother worked as a domestic in white folks' homes. While kids my age were playing stickball and marbles, I was working in the corner grocery store carrying orders to help pay the rent."
Their follow-up hits included I'm Not A Juvenile Delinquent, but that is precisely what Lymon was. He was involved all manner of wheeling and dealing and taking drugs. Nevertheless, Lymon was the first black rock 'n' roll star and the group can be seen in the film, Rock! Rock! Rock!, although the movie wasn't so hot, it didn't have much of a plot. His younger brother, Lewis Lymon, formed The Teenchords and appeared in another rock 'n' roll film, Disc Jockey Jamboree.
The Teenagers split with Frankie Lymon in 1957 and neither had much success on their own. In the mid-Sixties, Frankie Lymon joined the US army and during leave in February 1968, he had a recording session scheduled. He took heroin to celebrate his return to the studio and died from an overdose becoming one of rock 'n' roll's first drug casualties. He was just 25 years old.
For years there have been royalty disputes over the song caused by the aforementioned Goldner who, not only credited himself as a co-writer, but told the Teenagers that only two names were allowed on the credits and they weren't entitled to anything. He later sold the right to American entrepreneur and music publisher Morris Levy. In 1987, the two real co-writers tried to sue Levy who, in turn, threatened to kill them if they took the case to court. The case did go to court and a judge ruled that Levy was entitled to the money, the reason being that the two real writers had taken too long to file their claim. Lymon's share is also a story in itself because he had married three times in his short life but didn't divorce any of them, so all three of them were trying to claim ownership. In the 1998 biopic, Why Do Fools Fall in Love his three wives were played by Halle Berry, Vivica Fox and Lela Rochon.
Many have covered the song; Gale Storm (1956), Four Seasons (1963), Beach Boys (1964), Eddie Holman (1967), Lou Christie (1972), Mud (1978), Diana Ross (1981) and Boyz II Men (2011), but Lymon had the first hit and was also the youngest artist to have a UK number one until this week in 1972 when Little Jimmy Osmond turned up Long Haired Lover from Liverpool.