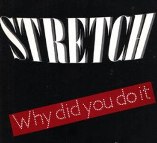 It's amazing how a song title can mislead unless you know the real story behind it, for example, Ace's How Long was not about a romance that had gone wrong, it was about the band ripping off Paul Carrack and him finding out and asking how long it's been going on. Deep Purple's Smoke on the Water is actually written when the band were in a Swiss hotel looking out of their window at the Casino Theatre where Frank Zappa was on the stage. All of a sudden the place caught fire and someone in the audience fired a flare gun and the place burnt down. Between their hotel and the venue was a river and as they looked out of the window it looked like there was smoke coming from the water. This week's subject is a song by the one-hit-wonder group Stretch and their hit called Why Did You Do It. Do what I hear you ask. Read on.
Kirby Gregory and Elmer Gantry, who would become two members of Stretch, first came together in 1969 when they formed a band called Armada with bass player Steve Emery. After three years of grafting without success, they split up and Gregory joined Curved Air and played on their 1973 album, Air Cut.
That same year Fleetwood Mac were scheduling a tour of the States, but they were having personnel problems  which became fairly well documented and things got so bad that it resulted in them being unable to fulfil their concert obligations. But instead of making that information public and cancelling their tour, Mick Fleetwood and their manager, Clifford Davis decided to assemble a band to impersonate them and tour in their place. Davis suggested to Mick that Gantry and Kirby would be ideal talents to be part of a new formation of the group. Mick visited the boys at their home in Tooting and discussed details for an upcoming tour, including the possible line up and the material to be played. Mick asked that he be excused rehearsals, as he was going through heavy personal relationship issues, but that he would join the boys at the start of the tour. In the event, Mick never arrived in America to join them and  the episode became one of the strangest and most controversial chapters in music history and the baffling debacle led to bitter disputes between Clifford Davis and the original members of Fleetwood Mac, both in and out of court.
Only a few days into the tour the audiences were quickly realising that this hastily-assembled group was not the band they had paid to see, and the tour collapsed mainly because there was no female presence, something you would have thought may have crossed their mind! Gregory and the other band members stayed together and formed Stretch later that year.
Realising the money they were now not going to earn from the tour, Kirby was furious with Mick Fleetwood for not going with them and decided to write Why Did You Do It about the shenanigans and to have a go at him. Stretch was completed with the recruitment of bass player Paul Martinez and drummer Jim Russell. Once the single had hit the chart they began recording the album Elastique but halfway though it Martinez was sacked. They eventually finished the album but the single had gone from the chart by then and the album made little impact. The following year they began working on a follow up album but then Russell decided to leave before the recording citing musical differences. He was quickly replaced by future Status Quo drummer Jeff Rich. The album was called You Can't Beat Your Brain for Entertainment and that made little impact as well.  To make matters worse, in 1979 their manager, Davis, decided to withdraw his financial input and the band eventually split up.
Kirby said, "Stretch gave everything in terms of recording and touring but eventually the band felt as though they we were heading backwards. The success of Why Did You Do It? and their live performances meant that early expectations were very high for the group. We remained determined in our efforts and we were having fun but we could not maintain momentum and became frustrated at the lack of support." Elmer and Kirby later admitted that in retrospect that they should have persevered and turned their anger outwards rather than inwards.
The spirit of the band survived with a successful 1998 re-issue of Why Did You Do It? across Europe when it was included in the film Lock Stock and Two Smoking Barrels.
Elmer also appeared as guest vocalist on several albums post-Stretch including the Alan Parsons Project's Turn of a Friendly Card and Eye in the Sky and also on Cozy Powell's Tilt in 1981.
In 2007, 30 years after their last live appearance, Gregory and Gantry reformed Stretch and toured in support of the greatest hits album, Why Did You Do It: The Best of Stretch. They toured successfully supporting the Jeff Healy Band in London and Glasgow and the outcome led to the decision to embark on a long term commitment to unleash Stretch once more as a powerhouse of taste, tone and talent. In 2011 they released a CD called Unfinished Business, a new album of some of Elmer and Kirby's favourite tracks from their years in the business.
They are still on the road and the current line-up includes original members Elmer Gantry and Kirby plus Jumpin' Jim Scadding on bass, Justin Hildreth on drums and guitarist Brett Lamb-Shine who has previously recorded with Thomas Dolby and Lene Lovich.