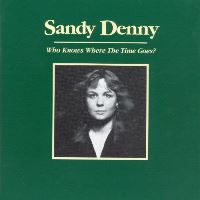 Artist's signature songs will be one that is forever associated with that act and usually one they will start and/or end their live shows with. Moon River was Andy Williams', Give Me the Moonlight was Frankie Vaughan's, Ring of Fire was Johnny Cash's, Happiness was Ken Dodd's and this week's suggestion, Who Knows Where the Time Goes, was Sandy Denny's.
When it comes to surveys of top female voices of the 1960s, Dusty Springfield and Judith Durham will always be up there, but so too is Sandy Denny with her unforgettable breathy huskiness.
Denny was born Alexandra Elene MacLean Denny and raised in Wimbledon and it was her grandmother, Mary Smith MacLean, who became one of her greatest inspirations and the lady who insisted she be called Sandy which was the Scottish shortening of Alexandra. Mary was a ballad singer in her day and it is what inspired Sandy to become a singer.
Denny originally recorded the song she'd written as a demo in 1967, its original title being Ballad of Time. Before she got to record a 'finished' version, somehow Judy Collins got to hear it and decided to record it as the title track of her album in 1968. Denny's early version featured the opening line, 'Across the purple sky all the birds are leaving which, on later version became, 'Across the evening sky all the birds are leaving'. Later in 1968, she was performing solo in the cellar of the Troubadour coffeehouse in London's Earls Court generally singing Tom Paxton, Phil Ochs and Bob Dylan songs, but occasionally throwing in something she's penned herself when she was spotted by Dave Cousins of the folk group The Strawberry Hill Boys. He was so impressed with her performance that he asked her to join his group. They later became the Strawbs and within two weeks they were off to Copenhagen to record the album which contained 12 tracks and was called All Our Own Work and credited to Sandy Denny & the Strawbs. It also included a new version of Who Knows Where the Time Goes which as Dave later revealed, "Sandy played on her own on the Strawbs' version because she was playing in this guitar tuning that I didn't think I could play!" That album was finally released in 1973.
The song is Denny's observation on life opening with the birds leaving, but then wondering 'but how can they know it's time for them to go', the second verse observes the same with people, 'Sad deserted shore, your fickle friends are leaving' realising in the next line 'Ah, but then you know it's time for them to go' and then reflecting on herself in the third verse, 'And I am not alone while my love is near me, I know it will be so until it's time to go' all the time recognising how quickly time passes. Who Knows Where the Time Goes is now 52 years old and for those who heard it first time round will be thinking much the same, where, indeed, has the time gone?
Later in 1968, she was invited to join the folk-rock band Fairport Convention after they fired original singer Judy Dyble. Yet again, she re-recorded the song on their second album Unhalfbricking that featured some beautiful guitar playing by Richard Thompson. Simon Nicol, Fairport's rhythm guitarist, said of her, "She stood out like a clean glass in a sink full of dirty dishes." The album sleeve showed Denny's parents standing outside the gates of their house in Wimbledon and the band lounging around in the garden. In 2007, the version that appeared on the Unhalfbricking version was voted Favourite Folk Track of all time by Radio Two listeners at the folk awards that year which was presented by Mike Harding.
It is generally accepted that the classic version is the one that appeared on Unhalfbricking and the one that is present on most compilations. In September 1973, she performed a live version for a John Peel Sound of the Seventies session on Radio 1 which was eventually released on a triple CD in 1997.
After leaving Fairport Convention, Denny formed a new band, Fotheringay – named after a Fairport track. The guitarist in the band was Australian-born Trevor Lucas whom Denny married in 1973. She was desperate to become a mother and so they had a daughter, Georgia Rose but their marriage only lasted five years. Her later years were traumatic and she turned to alcohol. Not long after the split from Lucas, Denny went to visit her parents who had now moved to Cornwall where after an alleged drinking session she fell down some stairs and hit her head on some concrete. The parents failed to seek medical attention but did alert Lucas who came and rescued their daughter with the intention of heading back to Australia with her. Denny returned to London and went to stay with her friend Miranda Ward. One day Ward found Denny collapsed at the flat and called an ambulance who took her to Atkinson Morley Hospital in London where she died four days later having never regained consciousness; she was just 31 and is buried at Putney Vale Cemetery and Crematorium.
In 1971, Denny was voted Best British Female Singer in Melody Maker and later the same year was invited by Robert Plant to sing on the Led Zeppelin track The Battle of Evermore. She was the only guest singer for the band.
Who Knows Where the Time Goes had been covered by numerous singers, both male and female including, Eva Cassidy, Lonnie Donegan, Nina Simone, Barbara Dickson, Nana Mouskouri, Susanna Hoffs (from the Bangles) and the country singer Charles Louvin. Various versions have cropped up in film and according to IMDB, Simone's version can be heard in the 2002 film The Dancer Upstairs, The Fairport Convention version was used over the closing credits of the 2009 film Don't Worry About Me and Judy Collins' cover can be heard in both the 1968 film The Subject Was Roses and the 1999 film A Walk on the Moon.