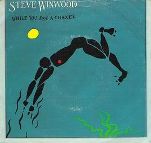 Not too many musicians make a living over so many years and cover so many genres. In the last 46 years, Steve Winwood has done blues, jazz, folk, prog-rock, rock and pop.
Two groups with back to back number ones in 1966 were led by young singers with very mature voices. Scott Walker led the Walker Brothers and Steve Winwood led the Spencer Davis Group. Winwood was just 15 when the band formed in 1963 and they got their break after Island record label owner Chris Blackwell, saw them supporting  Carl Wayne & The Vikings in Birmingham and then signed them, but licensed them to the Phillips label.
After the group broke up, Steve formed Traffic who had two successful years, but when that fell apart, he left to form the Supergroup Blind Faith. In 1970 he attempted a solo career with his first album being Mad Shadows, but after he enlisted the help of former Traffic members Chris Wood and Jim Capaldi, the album was re-titled John Barleycorn Must Die and was released as Traffic thus forcing them to reform.
When that didn't work out, Winwood effectively retired to Gloucestershire where he built his own studio and spent the following two years writing songs but also helping fellow musicians Sandy Denny and the Sutherland Brothers on various sessions.
He released his first solo album proper in 1977, but due to the onslaught of punk it got overlooked and the reviews dismissed it as Passé, despite this it still reached number 12 in the UK.  The following year he began work on his next album which he wanted to be a real solo project and so he played all the instruments, arranged it, produced and engineered it. It took two years and the result was Arc of A Diver. The only contributions were from songwriters George Fleming and Will Jennings and former Bonzo Dog Doo-Dah Band leader Vivian Stanshall who co-wrote the title track.
Prior to recording the album, Jennings and Winwood became good friends and spent a lot of time socially. It helped with the writing as Jennings explained, "If you're writing a play, you're writing for a particular persona, a particular character, and you try to feel as deeply inside them as you can – where are they coming from and what they've been through. It's the same with Steve, While You See A Chance because he was coming out of a whole period with Spencer Davis and Traffic, and then where else do you go? I was up there at his place in rural England, and I was in his life so to speak, and trying to see through his eyes as well as mine. And that's what all those things were about, all the songs we wrote."
The song has often been regarded as an inspirational song, but one of the lines says, 'While you see a chance take it, find romance, fake it', which seems negative, Jennings explained, "Well the next line explains it: 'Because it's all on you.' There's an old English expression called 'Fake it till you make it.' If you don't have romance in your life, meaning in the broader sense, really, something to make life interesting, just imagine it until it's there." Jennings' logic can also be spotted in Whitney Houston's 1987 hit Didn't We Also Have It All which he co-wrote with Michael Masser.
During the recording process, Winwood accidentally erased part of the drum track in the intro. He spent many, many hours trying to replicate it and piece what he had left back together, but in the end decided to leave it without the drum track for the first 29 seconds. Personally I think it makes it more atmospheric and show cases Steve's brilliant keyboard abilities. Steve's comment about it was, "The mother of invention in music is necessity, not Frank Zappa!" The song reached number 45 in the UK but the album reached number 13. Steve's contract with Island records had lapsed but because of the success of Arc of A Diver, he was now in a position to renegotiate his contract.
On Steve Winwood's 1988 album Roll With It, there is a track called Hearts On Fire which describes a boy who is out with his friends when he sees a girl at the bar who he fancies. He chats her up and she comes back with the line 'baby while you see a chance, you better take it'. Rumour has it that this was a true story about how he met his second wife Eugenia.
Steve released further albums, Refugees of the Heart (1990), Junction Seven (1997), About Time (2003) and Nine Lives (2008). He is still writing, recording and performing live. When I met him in 2009 he looked in great shape and was a lovely man to chat to and came across as a genuine passionate musician and not a 'rock star'.
He is currently touring the USA until June but will make one appearance in the UK this year which will be at the Cheltenham Jazz Festival in May. It would have been quite handy for him as he only lives up the road from it, but this year he will be popping back from the States.