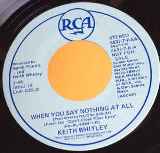 There is an old saying which is actions speak louder than words and invariably someone's body language will give more away than any words could ever do. Very often silence allows you to convey all that you need and want to say and that's exactly what makes this week's suggestion resonant with so many people.
When you Say Nothing At All was written in 1988 by two experienced country songwriters Paul Overstreet and Don Schlitz, Paul's big song was Love Can Build a Bridge as originally recorded by the family group The Judds and covered for a UK number one by Cher, Chrissie Hynde, Neneh Cherry and Eric Clapton, Don has written dozens of songs which were huge on the American country music scene, but his best known in the UK was Kenny Rogers' The Gambler. The pair had success in the UK with Forever and Ever, Amen which became a hit for Randy Travis.
Paul and Don had met up for a writing session and this song was the product of what had been a lousy and uncreative day. They had been working for hours and came up with nothing, essentially they'd hit a brick wall. "We were just joking around humming and saying nothing," Paul told Ace Collins, "As we tried to find another way to say nothing it just led to the song."
They wrote the song there and then and although the sentiment was right, they were not overly impressed and thought it was just OK. In all the anguish and heartbreak he could feel there was some magic in the song and so stuck with it. All they needed was someone to record it.
Enter Keith Whitley, a Kentucky-born singer who got his break at the age of eight when he appeared with Buddy Starcher in a radio show in Charleston, West Virginia. He later formed his own band, The East Kentucky Mountain Boys which featured another future country star, Ricky Skaggs, then in 1974 he became the leader singer with Ralph Stanley's band and earning himself a reputation as a quality bluegrass singer. In 1983 he moved to Nashville but it took him three years before he registered his first hit, Miami, My Amy. He followed it with the Country top 10s Ten Feet Away, Homecoming '63 and Hard Livin'. In 1988 he registered his first of five consecutive country chart-toppers with Don't Close Your Eyes, When You Say Nothing At All became his second and most successful. The other three were I'm No Stranger to the Rain, I Wonder Do You Think of Me and posthumously, It Ain't Nothin'. When Overstreet and Schlitz, who still weren't overly-impressed with the song, played it to Whitley he told them that they had written a classic and proved it to them. "Keith did a great job singin' that song," Schlitz said in an interview with Tom Roland. "He truly sang it from the heart."
He had the potential to be a really major country star but unfortunately, Keith Whitley did not have as much confidence in himself and had turned to drink but no one quite knew why. His closest friends knew he was a binge-drinker but outside of that group, few other's knew and he preferred to drink in private. Following his stint of number ones his drink habit seemed to diminish, but on 8th May 1989 Keith spent the night on his own as his wife, Lorrie, was on the road with her own band, and he began drinking heavily but this time went too far. He died just after midnight of alcohol poisoning, it was later discovered that he was five times over the state limit and just about twice the lethal limit for a human body. He was just 33. Keith's third country number one, I'm No Stranger to the Rain, won the CMA award for Single of the Year and Lorrie was there to accept the award in his memory.
The song was successfully revived in 1995 by Alison Krauss & Union Station when it make number three on the US Country chart and went on to win the CMA Single of the Year. Screenwriter Richard Curtis was always keen to find the right songs to include in his films. Wet Wet Wet's revival of Love Is All Around was integral to Four Weddings and a Funeral, and for the new Hugh Grant and Julia Roberts film, Notting Hill, he wanted the key song to be When You Say Nothing At All. He suggested it to Ronan Keating from Boyzone, who said, "As soon as he mentioned the title, I was hooked." Ronan's version lacked the soul and warmth of the original but at least he did bring a brilliant, and, then, a fairly obscure song in the UK, to the British public's attention.