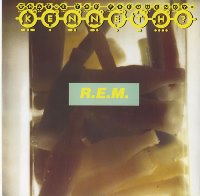 Songs that were written specifically about a person are usually fairly obviously because their name might me mentioned in the title or they can be a little cryptic like Carrie Anne by the Hollies which was written about a lady that the lead singer had a brief liaison with but didn't want to make it too obvious so changed her name by making it rhyme with her real name. This week's choice is even more baffling because you would think the title What's the Frequency Kenneth? might be someone asking Kenneth about a particular radio station or, at least, it would have something to do with Kenneth, but nope, that's not the case.
R.E.M. first came to the UK chart at the tail end of 1987 but they had formed at the beginning of that decade when guitarist Peter Buck met lead singer Michael Stipe at a record shop where Buck was working in their hometown of Athens, Georgia. Their first album to chart was Fables of the Reconstruction but their first two releases Murmur and Reckoning both failed to interest the UK record-buying public.
It's fairly well known that many of R.E.M's lyrics are usually a bit cryptic and often indecipherable, just look at the confusion over what he's singing in The Sidewinder Sleeps Tonight! But the inspiration for What's the Frequency Kenneth? comes from a physical attack on the American CBS News channel reporter Dan Rather which happened around 11pm on 4th October 1986. He was walking home to his apartment in Park Avenue, New York when two men, who were well-dressed, stopped him and asked, 'What's the frequency Kenneth?' to which Rather replied, "You must be mistaking me for someone else." One of the men knocked Rather to the ground and started kicking and punching him but still asked, repeatedly, 'What's the frequency Kenneth?' Moments later a security guard from a nearby apartment intervened and the assailants fled. The police took statements but no one was arrested. Soon after the attack, the media spoke to Rather to find out what happened and he said, "I have no answers. I got mugged. Who understands these things? I didn't make a lot of it at the time and don't now. I wish I knew who did it and why, but I have no idea."
"It was the premier unsolved American surrealist act of the 20th century, it's a misunderstanding that was scarily random, media-hyped and just plain bizarre," is how Michael Stipe described it. Stripe later said, in an interview with Bill DeMain, "I wrote that protagonist as a guy who's desperately trying to understand what motivates the younger generation, who has gone to great lengths to try and figure them out. And at the end of the song, it's completely bogus. He got nowhere."
As no one was arrested how do we know the assailant was William Tager? Well, eight years later there was another incident in New York where a man shot and killed Campbell Montgomery who was an NBC technician. In took place outside the studio of the Today Show and  man was identified as William Tager. He had somehow gained access to the studio carrying an assault rifle, and Montgomery, in an attempt to stop him, was shot. Tager was arrested and reportedly told police that the television network had been monitoring him for years and beaming secret messages into his head. He apparently came to NBC looking for a way to block those transmissions. When Rather saw a photograph of Tager, he identified his attacker. Tager was convicted of murder and sentenced to 25 years in Sing Sing Correctional Facility in New York.
Most of this story is not obvious from the song's lyric which opens with, 'What's the frequency, Kenneth? is your Benzedrine, uh-huh. I was brain-dead, locked out, numb, not up to speed, I thought I'd pegged you an idiot's dream, Tunnel vision from the outsider's screen,' this could well be talking about the attack, but the song repeats the line, 'You wore a shirt of violent green' which is unlikely to be about the colour, but a logo for the band Violent Green who were from Seattle in the mid-90s when Kurt Cobain and Stipe were good friends.
Rather retired from CBS in 2005 and for a short while remained an occasional correspondent. Now aged 90, he lives part-time in New York City and part-time in Austin, Texas. Tager was released from prison in 2010 on grounds of good behaviour and still lives in New York City, where he is closely monitored by parole officers and mental health personnel.
What's the frequency, Kenneth was the first single lifted from the 1994 album Monster and peaked at number 21 in the U.S and number 10 in the UK. The album version of the song contains the added last line, 'Don't f**k with me'. There was an edited version without the line, but many radio stations, especially in the UK, play the album version and generally get away with it because you'd have to listen very carefully to realise what Stipe is singing.
In 1996, whilst the band were performing in New York they were joined on stage by Dan Rather who sang along with them. Peter Buck recalled the occasion in the sleeve notes for In Time: The Best of R.E.M. 1988–2003: where he said, "I like Dan Rather. He's a fine newsman, an interesting person to talk to, and quite a bit nuttier than most of those media types (I consider that a good thing). That said, nothing in my rich and varied life prepared me for the experience of performing behind him as he 'danced' and 'sang' 'What's the Frequency, Kenneth?'"