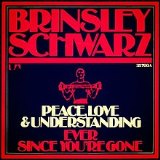 Many singers have titles bestowed upon them by their fans or the media. Elvis was The King of Rock 'N' Roll, Aretha Franklin was The Queen of Soul and Bruce Springsteen became The Boss. Nick Lowe's decoration came from one of his album titles, he's come to be known as Jesus of Cool after his 1978 album. He is a respected figure in the music industry and has been grafting for years. He also has one of the strangest middle names.
He was born in Walton-on-Thames in Surrey in 1949 and began his musical career in 1967 as a member of Kippington Lodge alongside his schoolmate Brinsley Schwarz. The other members were keyboard player Bob Andrews and drummer Billy Rankin. They released a handful of singles on EMI's subsidiary label Parlophone but to little interest. A couple of years later the renamed the band after his school friend and were joined a few weeks later by guitarist and singer Ian Gomm. In 1970 they released the album country-tinged Despite It All which earned them respect on the pub rock scene.
It's often said that Nick wrote many of his best songs whilst in Brinsley Schwarz and one of their most famous songs was (What's So Funny 'Bout) Peace, Love, and Understanding which first appeared on their 1974 album The New Favourites of Brinsley Schwarz. Nick said recently, "People who know how to play rock 'n' roll, this is going to sound a bit po-faced, but it's quite hard to find people who know how to do it properly. I know it's a bit of a cliché, but the roll part of the rock 'n' roll, that's the intriguing bit to me. Otherwise, it's just rock, and rock isn't very interesting to me."
(What's So Funny 'Bout) Peace, Love, and Understanding has been a favourite in all the live shows Nick does either as a member of a band or as a solo career. Apart from appearing on the aforementioned album he re-recorded it as the B-side to the 1978 single American Squirm and it was credited to Nick Lowe and his Sound, but what is the song all about? "It started out as a joke," Nick revealed in an interview with the A.V. Club, "I wrote the song in 1973, and the hippie thing was going out, and everyone was starting to take harder drugs and rediscover drink. Alcohol was coming back, and everyone sort of slipped out of the hippie dream and into a more cynical and more unpleasant frame of mind. And this song was supposed to be an old hippie, laughed at by the new thinking, saying to these new smarty-pants types, 'Look, you think you got it all going on. You can laugh at me, but all I'm saying is, 'What's so funny about peace, love, and understanding?' And that was the idea of the song. But I think as I started writing it, something told me it was too good idea to make it into a joke but something told me there was a little grain of wisdom in this thing, and not to mess it up."
Nick was one of the first acts signed to Stiff records in 1976 and had the first released with So It Goes. His next release was a cover of a Sandy Posey track called Born A Woman and was the lead track on the Bowi EP – a title that was a response to David Bowie's album Low, in which Nick thought 'If he can't spell my name right, I won't spell his right.' In 1978, he was signed to the newly formed label Radar and his first release on that label finally gave Nick his first solo single with the number seven peak of I Love The Sound Of Breaking Glass.
Nick's label mate was Elvis Costello who recorded a version of (What's So Funny 'Bout) Peace, Love, and Understanding but never released it as a single. His version was more energetic and probably more radio friendly as it seemed to get the message of love and peace in troubled times across better. It was released as a single in the States but failed to chart, however it was included on the American-only issue of his 1979 album Armed Forces. Nick has said, "Elvis Costello's version is more earnest than mine," admitting he favours humour over seriousness.
Nick, since 1977, has made a name for himself as a producer too having credits for the Damned's debut album Damned Damned Damned, Elvis Costello's This Year's Model and Armed Forces, a handful of singles for Dr. Feelgood and the Pretenders eponymous debut album. He had further UK hits with Cracking Up, Cruel to Be Kind and a great 1984 song Half A Boy and Half A Man which missed the top 40 completely.
Where Nick really got lucky was when (What's So Funny 'Bout) Peace, Love, and Understanding  was covered by Curtis Stigers and used in the film The Bodyguard of which the soundtrack has sold over 40 million copies, "It was a tremendous piece of good fortune. I made an astonishing amount of money from that," Nick said in The Telegraph.
Nick is still very active by touring and recording. His last album, in 2013, was the Christmas-themed Quality Street: A Seasonal Selection for All the Family which was just wonderful. Worth checking out especially the track A Dollar Short of Happy which was co-written by Ry Cooder.
How does Nick feel about doing his old songs all these years later? "Well, Peace, Love, and Understanding is almost 40 years old," he explained in Interview magazine, "It really comes down to how good the song is; if the song is basically a good tune, it will stand the test of time. And, not only that, it will sort of evolve, almost without you having to do anything about it."
A few years ago Nick wrote a song for Mavis Staples called Far Celestial Shore and in celebration of her 80th birthday Mavis had invited Nick to Nashville to perform it live with her next month.
Oh, if you're still wondering what Nick's middle name is, I'll tell you, It's Drain!