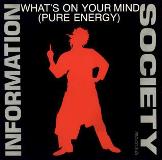 This week's choice will be unfamiliar to many readers as the song was never a UK hit, received very little airplay and the artist is not known in this country, but a late 80s release which may well have fared better had it been released about six years earlier.
The Information Society were a synth-pop quartet comprising guitarist Paul Robb, bassist James Cassidy, vocalist Kurt Harland Larson and keyboard player Amanda Kramer who formed in 1982 in Minneapolis, Minnesota with a sound that would have fitted in perfectly with the likes of Yazoo, Depeche Mode and OMD to name just three, but they were fairly ahead of their time when it came to using samples. Sampling, as we know it i.e. using existing recorded material made by other people began properly in the mid-eighties beginning with The Art of Noise's track Close (To the Edit) which used interpolations of Yes' Leave It, a track from the 90125 album. The Art of Noise must have been Yes fans as the song's title was inspired by the title of Yes' 1972 album Close To the Edge.
It's also surprising that it wasn't a hit because it carries a message that many people could relate to; What's On Your Mind (Pure Energy) tells the story of a man trying to get his wife/girlfriend to open up and say what's on her mind. He could see something was wrong but she wouldn't say. "When we wrote the lyric, we considered it just a collection of emotional impressions," Paul Robb explained in an interview with Song Facts, "When you look back at it now, it's a clear narrative about the difficulty that people have communicating with each other. At the time, we weren't writing it with that in mind, but it's so clear when you just read through the lyrics, it's a very simple and clear-cut story. We didn't really realise what we were writing about. You fall into these grooves – I think it's just the way the human brain works, even when you try to avoid it, you fall into the next groove over. But it's still the same narrative structure, because that's the way the brain works: we like to tell stories."
Looking at the title, the parenthesis didn't seem to link to the body of the song, Pure Energy is what Dr Spock (played by Leonard Nimmoy) uttered in Star Trek. It was in the 26th episode called Errand of Mercy in the first series where Dr Spock and Captain Kirk visit the Planet Organia where its inhabitants are so ahead of their time that there is no need for a physical body and Spock utters the words, "Fascinating. Pure energy. Pure thought. Totally incorporeal. Not life as we know it at all." On the 12″ extended version the track opens with the lines, 'It's worked so far, but we're not out yet,' which is another Star Trek line this time spoken by Dr McCoy in the eighth episode of the second series called I Mudd.
They planned to release the parent album ahead of the single but they ran into problems because none of the dialogue from Star Trek had been cleared with Paramount Pictures. Their record company made several attempts to contact Paramount but were getting no response so eventually, after six months, the label's A&R man managed to contact Adam Nimmoy, Leonard's son, who relayed the message to his father who personally cleared the samples.
The single was released and made number three on the Billboard singles chart where is spend six months. In the UK it fell short of the published top 75 by peaking at number 81. The eponymously titled album made number 25 in America.
Amanda Kramer left the band in 1988 when the song was beginning to happen. She later went on to work with Karl Wallinger and his band World Party and toured as a backing singer for Siouxsie Sioux and Lloyd Cole and then in 2003 joined, and is still with, The Psychedelic Furs.
The band parted company in 1993 when their label, Tommy Boy, dropped them but Harland wanted to continue, so he bought the rights to the name from the other band members and released an album in 1997 called Don't Be Afraid. In 2006 both James Cassidy and Paul Robb decided on a reunion but Harland declined to be a full-time member, but did contribute vocals to a track called Seeds of Pain. They drafted in Christopher Anton as their new lead singer and they added a female touch by bringing in Sonja Myers. In 2014 Harland returned fully and were back to the original male line up but now included VJ Falcotronik. The same year they released an album called Hello World and two years later came Orders of Magnitude an album of cover versions which featured, among others, Heaven 17's (We Don't Need This) Fascist Groove Thang, Exile's Kiss You All Over and the Human League's Don't You Want Me.
What's On Your Mind (Pure Energy) was featured in the 2000 film American Psycho which starred Christian Bale and again, more recently in an episode of the American Medical drama Grey's Anatomy in 2014.