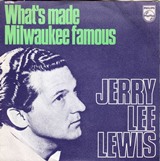 Alcohol takes the blame for many things in this world and often quite rightly so. In this week's choice for Single of the Week, it takes the blame twice in a good way and not such a good way.
When Jerry Lee Lewis first came to the UK in 1958, he was accompanied by his 13-year old wife Myra who was also his cousin. Thanks to one journalist who was waiting for him at London Airport (now Heathrow) he made the fact that she was 13 and his cousin public which completed halted his career and his tour was cancelled after just three dates. He returned to the States and what was seemingly ok before he left was not all right now. Radio stations stopped playing his music and people he knew and trusted abandoned him. He still had a recording contact with Sun record and so kept on churning out songs. That contract ceased in 1960 and Jerry moved to Smash Records but it did little for his career.
In the late sixties, his producer, Jerry Kennedy, thought a change of direction could be needed and suggested he record some country and western songs which he agreed to do. The first was Another Place, Another Time which surprised everyone when it flew up the country chart.
In 1968, a fledgling songwriter called Glenn Sutton was working as a staff producer at Columbia records when he met music publisher Al Gallico. As it happens, Gallico was looking for some new material for Jerry Lee and asked Sutton if he could come up with something. Sutton didn't come up with anything immediately and a few days later Gallico called him and told him he needed a song for a session the next day and asked Sutton what he had. Sutton, knowing he had nothing, and not wanting to lose the chance to write a song for the once-famous rock 'n' roller, looked around his desk and saw an advert for Schlitz beer with the caption 'the beer that made Milwaukee famous'. In an interview with Mick Brown, Sutton said, "I told Al that it was a drinking song, I'd written a lot of drinking songs before then, but I'd never thought of that."
In the 19th century a lot of Polish and German immigrants moved to Wisconsin and set up a number of breweries which included Pabst, Blatz, Miller and Schlitz. The latter was the one came up with the slogan 'The beer that made Milwaukee famous'. Sutton, knowing he had to get the song finished now he had committed, worked through the night and by dawn What's Made Milwaukee Famous with the added twist (Has Made a Loser Out of Me) was finished.
The story of the song is a sad one because the narrator prefers a drink instead of going home to his waiting woman. The song starts with, 'It's late and she's waiting and I know I should go home, but every time I start to leave they play another song then someone buys another round' which says it all. She tells him the relationship cannot survive if he spends so many hours in the pub, which he knows but is unable to help himself. In the end he concedes, 'Now's she's gone and I'm to blame, too late I finally see What's made Milwaukee famous has made a loser out of me'.
When Jerry Lee heard it, it appealed to his instinct and cut it the next day. When released it peaked at number 94 in the Billboard chart. The song was also covered by Sutton's then-wife Lynn Anderson (Sutton produced her sole UK hit Rose Garden) and with much more success by Rod Stewart who, with a slightly retitled What Made Milwaukee Famous with the added (Has Made a Loser Out of Me), took it to number four in the UK as part of a double A-side with a cover of Jimi Hendrix's Angel. Interestingly, in 2006, Rod and Jerry recorded a duet version of the song which appeared on Jerry Lee's album Last Man Standing.
Sutton, it seemed, was more than just a songwriter. He was a performer and did so under the jokey pseudonym Bluewater Dave, the world's oldest living entertainer or as a superhero called Angelman. As Bluewater Dave, he would often put on a rugged, well-worn old man's mask and riff through blasphemous comic routines about the industry, politics and aging. As Angelman, however, he donned a silver mask, body-length blue tights and cape. Off stage it would continue when sometimes he'd arrive at music industry meetings shouting his trademark line 'Put your hands on an angel, and I will bust your ass.'
In April 2007, Sutton had a heart attack and died in his sleep at the age of 69. He was loved by many and as Michael McCall wrote in the Nashville Scene, at his funeral, and at a memorial service hosted by his daughter Lisa Sutton his friends and family—including two ex-wives and a former live-in girlfriend—told ribald stories of his exploits anchored by loving stories of his generosity, kindness and sweet spirit.
What Made Milwaukee Famous was not only Schlitz beer, but a Glenn Sutton song too.