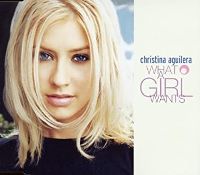 To find out what a girl wants, you could ask the man from the legendary Milk Tray advert who ski-ed down a mountain just to deliver a box of chocolates or you could also ask Shelly Peiken and Guy Roche who wrote the song that was a hit for Christina Aguilera, albeit under a slightly different title. Did Christina want the song? Let's find out.
Peiken is not a known name in this country, but she is also no stranger to the charts. An unsung heroin if you like. She grew up in Long Island and signed a publishing deal with Hit & Run Music and began writing songs for Brandy, Celine Dion, The Pretenders and Britney Spears. She wrote Meredith Brooks' 1997 hit Bitch of which both writer and sing earned Grammy nomination for Best Rock Song, but her first UK success came five years before that when she co-wrote Curtis Stigers' top 10 hit, You're All that Matters to Me.
In 2000, she teamed up with a record producer and songwriter called Guy Roche to write What A Girl Wants. She explained how it all came about in an interview with Songwriting, "I had been living in New York and dating a guy who lived in Los Angeles. We did three years of long distance until I moved to L.A. to be with him. I was pregnant with our child and I was thinking about how patient he was and how much space he gave me. One day I wrote something down about it on a receipt. Songwriters love receipts because it's just easier to pick up a pen and write something down than it is to look in your coat, find your voice memo, press record and save something. I used to get together with my friend Guy Roche, we'd go into a studio and he'd sometimes have a beat up and would be preparing demos. He started playing something and I remembered those thoughts I'd had and that receipt at the bottom of my purse that I had scribbled them down on. I went scavenging for it and I sung the lines along with what he was playing. The funny thing was that it started 'what a girl needs / what a girl wants' and so we were calling it What A Girl Needs. I thought it was kind of hooky, we didn't have the whole thing but we probably had a lot of it except the bridge. I went home and I remember my husband was reading a book and I said 'I need you to hear this little snippet and tell me what you think.' He's not really a pop junkie, he's a composer, but he listened to it and said 'that's really hooky honey, good luck,' and shooed me away. I thought 'if he's going to use one word then 'hooky' is a good one.' We went and finished it and then must have sent it out to 25 record companies for pitching. Finally, it went to Ron Fair who had been working with Christina [Aguilera]. I don't think she was signed yet, he liked it but said 'I like the idea of what a girl wants better than I like the idea of what a girl needs.' I think that's because 'wants' has more yearning whereas 'needs' is more needy. He said 'would you consider changing those around?' I'd have to change the whole rhyme scheme if I switched the concept but it wasn't unreasonable. Ron's a really smart guy and he knows songs. He wasn't some 20-year-old A&R guy saying something of the top of his head because he wanted 10% of the song. I found a way to rework it so everything rhymed and it did feel stronger."
Christina Aguilera was born in 1980 in New York City and, along with Justin Timberlake and Britney Spear, was a member of The Mickey Mouse Club and she sang on the soundtrack of the Disney movie Mulan when she was just 17, but her national television debut came at the age of nine when she appeared on American television show Star Search singing A Sunday Kind of Love where she finished second. Her first UK hit was in 1999 with Genie in a Bottle which had already been released in Europe and charted here on import spending five weeks on the chart and peaking at number 50 before the UK pressing was released and then entered the chart at number one.
"Christina recorded What A Girl Wants and it was following in the footsteps of Genie in A Bottle," Peiken continued in the Songwriting interview. "I think a whole combination of stars collided which would be, she had the pipes, she had a great A&R guy, it was on a label that was giving her a push, she had the momentum of following another number one song and I'd like to think that the song itself catapulted it. I was ecstatic when I heard Christina's version. I'm not always pleased when I hear a record that was made after I loved the demo but, in this case, I was, because they sprinkled fairy dust on it. The demo was very slow and lethargic and I was just happy that Ron saw the potential in it. It's sing-songable, the melody repeats itself and so do some of the words and the title and I have to say my song Bitch does that same thing. I don't know if that's something I do unconsciously, it's not like I'm trying to do that but sometimes I look at them and go, 'What do these have in common?' and it's certainly that laundry list repetition of what you are or what I am or some kind of call to action."
What A Girl Wants went to number one in Canada, Spain and the USA where it knocked off Santana's Smooth to become the first new chart-topper of the 21st century. In the UK it peaked at number three. Christina went on to have three further UK number ones to date – Lady Marmalade in collaboration with Lil' Kim, Mya and P!nk (2001), Dirrty (2002) and Beautiful (2003) which was written by 4 Non Blondes lead singer Linda Perry.
In 2004, Aguilera provided the voice for an animated jellyfish called Christina in the film Shark Tale. She enjoys her home life as she explained to Billboard, "When I'm onstage, there's not a bigger high, when I'm in connection with my voice and my heart and my soul, but at the end of a performance, I want to wipe it all off, get in my sweatpants, make silly noises with my kids and have someone comfort and cuddle me."