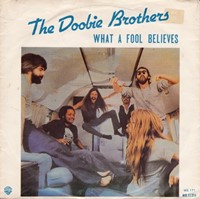 This week's suggestion is a song I bought at the time after hearing it on the Radio 1 breakfast show with Dave Lee Travis. I played it over and over again and still love it to this way, so when I found out some 20 years ago that it was a cover I was shocked. Did you know What a Fool Believes was a cover? Let's find out more.
The Doobie Brothers formed in 1970 in San Jose, California and no one in the group was called Doobie. They weren't even brothers. It all began when Virginia-born drummer John Hartman travelled to California in the hope of meeting Skip Spence of the group Moby Grape with Hartman hoping to join but the Grape had just split. Instead, Spence introduced Hartman to the guitarist and singer Tom Johnston, they got on well and decided to play music together. Within a few weeks they had recruited guitarist Patrick Simmons and bassist Dave Shogren. They began playing a few gigs locally in San Jose but had no name. They had trouble thinking of a moniker and it was only when a neighbour and musician Keith Rosen suggested the name; "Why don't you call yourself the Doobie Brothers because you're always smoking pot?" Tom Johnston recalled. Not all members were aware that a doobie was a slang term for a marijuana joint. None of the members were too keen on it but went with it thinking they would change it in due course, but that never happened. If you've heard the story that they got their name from a children's TV show called Romper Room, which had a character called Do-Bee, that was a story they used when being interviewed on TV or radio in order to stop themselves getting thrown out.
The band got their first UK hit in 1974 when Listen to the Music peaked at number 29. The following year, a former member of Steely Dan's touring band Michael McDonald joined as lead vocalist to temporarily replace Johnston who had been taken ill during a tour, but he remained until 1982. In the summer of 1975 their second hit, a cover of Kim Weston's Take Me in Your Arms (Rock Me A Little While), also reached number 29, then almost four years passed until they were back on the chart with What A Fool Believes which, unbelievably, stalled at number 31.
Michael McDonald had an idea for a song in which the story was going to be about a couple who had split up years previously and somehow, they meet up again. He wanted to rekindle the relationship but she didn't and was too nice to say so, and he found that hard to take. He had written the first verse and then got stuck. He took what he had to their producer, Ted Templeman, who thought it was great and said it would be a definite hit so he needed to finish it. The group's then bass player, Tiran Porter, suggested a songwriter friend from Seattle, Kenny Loggins who had wanted to write some songs for the group anyway.
Loggins, who had been one half of the duo Loggins and Messina, went to McDonald's house and he claimed that, as he approached the house he could hear McDonald playing what bit of the song he had and immediately knew where to take it. They worked together all day on the song and even finished it off over the phone later that same night. Templeman knew exactly what sound he wanted from the Doobie's version and said, "Just to get the feeling right I ended up playing drums alongside [drummer] Keith Knudsen. I just wanted a floppy feel and if you listen to it, it's really kind of a floppy record. It flops around, the drums aren't perfect, nothing's perfect on it. A Rolling Stones record may not be perfect but it's got a feel to it." Templeman was a fan of McDonald's and said, "When I hear him singing those high parts, it just kills me."
They both realised when they were writing it that he had no chance of getting back with her and sympathised with his plight and so Loggins, who recorded the song first, sang it from the female perspective although the opening line, 'He came from somewhere back in her long ago' and concluding the first verse with, 'once in her life' before switching as the next line he sings, 'He musters a smile for a nostalgic tale'.
Loggins' version was never released as a single, only appearing on his album Nightwatch which was released some six months before the Doobie's recorded their version for the Minute by Minute album. What a Fool Believes was the first single released from it.
The song reached number one on the Billboard single chart and the following year won a Grammy for Record of the Year as well as Song of the Year. They were finally inducted into the Rock and Roll Hall of Fame in 2020.