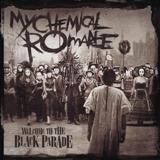 You will often hear about a family being brought together by a tragedy, but rare did a band come together that way. Well, on the morning of 11th September 2001, a struggling comic-book artist from New Jersey, whose only character of note was a cartoon chimp named Breakfast Money, was walking to work in New York when he witnessed an aeroplane slam into the north tower of the World Trade Centre during the terrorist attacks that became known as 9/11. Like anyone, that sort of shock you'll never forget and it will probably change your life forever in one way or another, for Gerard Way, it led him to go home, write a song and then form a band. That band was My Chemical Romance.
"My Chemical Romance was born in that moment," Way told Luke Lewis, "I realised my job was bullshit so I went straight home and wrote my first song to express my feeling." That song was called Skylines and Turnstiles but then needed a band because he discovered that he couldn't sing and play guitar at the same time, so he asked his brother, Mikey, to join on bass and then recruited guitarist Ray Toro and drummer Matt Pelissier. The band's name was suggested by Mikey who had been working in a branch of Barnes & Noble and spotted a book by Irvine Welsh called Ecstasy: Three Tales of Chemical Romance. They recorded a few tracks in Pelissier's attic and within a few months Frank Iero was brought in to replace Toro.
Their 2002 debut album, I Brought You My Bullets, You Brought Me Your Love, was recorded in just 12 weeks but they were signed to a small label called Eyeball who didn't have the budget to promote it well enough, but in 2003 they signed a deal with Frank Sinatra's old label, Reprise and their debut hit, Thank You For The Venom stalled at number 71. At this time original co-founder, Matt Pelissier was replaced by Bob Bryar but Way was going through such a terrible time that the band's life was nearly over after one minor hit, "By 2004, I was doing so many drugs, it was like the end of Scarface," Way revealed. "If I hadn't got clean I would've killed myself, I'm certain of that."  He did get clean and their follow-up hits, I'm Not Okay (I Promise), Helena (written about the Way's grandmother) and The Ghost of You all made the top 30, but their big breakthrough came in October 2006 when Welcome to the Black Parade, the lead track from the concept album, The Black Parade, shot to number one.
"The album is 'The Patient,' who dies of cancer at an early age," Way explained, "I'd like to think that when you die, death comes to you however you want. It comes in the form of your most powerful memory, and for 'The Patient' that memory is a parade I went to with my father." The lead track tells the story of a patient dying of cancer in hospital ward and that journey to death is The Black Parade. Now, Gerard Way's belief is that when your time comes, it comes in the form of your life's strongest memory. This patient is young and died before he could really have any sort of life, so in this case, his strongest and most vivid memory is of the time when his father took him to the city to see a marching band, which is the song's opening line.
During the recording of the accompanying video, two members of the band suffered unfortunate accidents; Way tore some ligaments in his leg after mucking about with another member of the band and Bryar suffered a burn on the back of his leg which became infected. The images are quite vivid as it shows the black parade marching to meet 'The Patient' – played by Lukas Haas who had appeared in 1996 film Mars Attacks!  There is a line in the song which is personal to both brothers, 'Sometimes I get the feeling she's watching over me' which was inspired by their grandmother, Helena.
They had seven more hits singles, including the two top 10s, Famous Last Words and Teenagers, both in 2007. In March 2013, Way announced that the band had split up but gave no reason for it, but a few days later, he explained at a show in New Jersey that it was a moment when his perspective shifted. He said he was uncharacteristically nervous and anxious and in the aftermath, saying, "I hollowed out, stopped listening to music, never picked up a pencil and started slipping into old habits."
In March 2014, their label released a greatest hits package under the moniker May Death Never Stop You and it contained one unheard track called Fake Your Death which was available to download and scraped into the bottom end of the chart at number 63. All members have gone on to other projects both solo and members of bands, but none have yet had the success that MCR, as they became known, had.