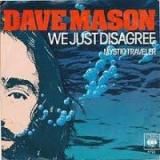 One of the greatly respected band in the late sixties were Traffic who formed in April 1967 in Birmingham and comprised Steve Winwood, Jim Capaldi, Chris Wood and Dave Mason. They disbanded after just two years and Winwood went on to form Blind Faith. They had a brief reunion in 1970 but without Mason who did some session work for George Harrison, The Rolling Stones and Jimi Hendrix before forging a solo career in 1970.
Mason released eight solo albums in the seventies and a handful of minor hit singles in America including Only you Know And I Know, Satin Red and Black Velvet Woman and To Be Free, but, eventually, in 1977, he struck lucky when he landed a number 12 hit with We Just Disagree from the album Let It Flow. It was written by Jim Krueger a guitarist who had joined Mason's band in 1974.
It's a strong song with a strong message and so you would have thought it would be the leadoff single, but the record company, as always, think they know better and decided that So High (Rock Me Baby and Roll Me Away) would be better and so went with that, but that stalled at number 89. Mason explained what it was like when he first heard it, Kruger said to me, 'Hey, I wrote this song, I want you to hear it.' The first time it was kind of like, 'shit! If I was going to write it, that's what I'd be writing." Any song about broken relationships will resonate with the public and this song is all about a couple who have split up but have agreed to stop blaming each other and try and get on.
Mason made the connection, not only in his personal life, but because of encounters with other band members and said of it in an interview with Song Facts, "I did it because I thought it was a great song, It's a great song, a timeless song and I was going to cut it anyway, but I frankly thought it was too good a song to be a hit. It had an unusual chord arrangement behind it, and it stood up – it was a song that when he sang it to me, it was like, Yeah, that's the song. Just him and a guitar, which is usually how I judge whether I'm going to do something. If it holds up like that I'll put the rest of the icing on it."
Krueger, who contributed backing vocals and 12-string guitar on the track, went on to write song for acts like Bob Dylan, Stephen Stills, David Cassidy and Jennifer Warnes. In a 1990 interview with the Green Bay Press-Gazette, Krueger said he left Los Angeles because it was "just too plain aggravating. The most important thing to me is songwriting, and I can write from anywhere. I don't have to be in L.A. I can send a tape anywhere. So I sold the house and left." He sadly died in 1993 from complications of pancreatitis, he was just 43.
What's even sadder is that just nine months after he died, a Florida-born country singer called Billy Dean covered the track and took it to number nine on the Billboard Country chart but never saw its success.
As for Mason, in the mid-nineties he briefly joined Fleetwood Mac and recorded one album, Time which spent one week on the UK chart at number 47. In the mid-2000s he was touring North America and Canada performing at around 100 shows a year. He has already booked in a number of dates in 2018 appearing in Arizona, California, Texas, New York and Hawaii. Dave is now 71 and said in an interview in 2011, "Living is definitely not for the weak or faint of heart; it's a constant work in progress".