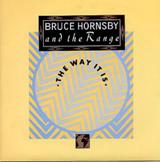 When certain songs arrive on the scene it's very often quickly established what the song's content is about especially if it's of a sensitive or delicate nature. When Luka by Suzanne Vega came along we all knew it was about child abuse, when Phil Collins brought out Another Day in Paradise we knew it was about homelessness and when Bruce Hornsby & the Range told us about The Way Is It were learned that it was about unemployment, but in actual fact there's more to it than that.
It's highly unlikely that if anyone asked you to name the group who were made up of George Marinelli, Joe Puerta, David Mansfield and John Molo you wouldn't know. Well, it's The Range, Bruce Hornsby's backing group which he formed in 1984. Bruce, who was born in Virginia in 1954, learned piano by ear as a kid by copying songs from the records he was listening to. "I really got interested because I loved the Joe Cocker records with Leon Russell on them which led me to the later Leon Russell solo records," he told Lydia Hutchinson. Elton John's first few records I loved. Obviously they were very piano-oriented records with Leon and Elton, and it made me want to play along with them. So I started fooling around on our piano that we had at home, just got into it by ear and gradually got more serious about it later." He went on to study music at the University of Richmond, the Berklee College of Music and the University of Miami eventually graduating in 1977.
The Way It Is looks at the Civil Rights Movement in America as referred to by the line 'The law passed in '64' and that was the law which was supposed to put a stop to public discrimination. It was quite political which is not something you would expect from a man born in Virginia, Bruce explained in an interview with NME, "My mother came from the New England area, and she was a little more enlightened about racial subjects than a lot of people in the South. So I had a different attitude to a lot of my friends whose parents were more conservative. When I was brought up, the vibe I got of Martin Luther King in my town was that he was a real evil man – just the vibe in the air, that he was terrible. And if you grow up in that environment you can't help but be affected by it a little bit. Luckily, I came from a family that guarded us against that conservatism, but sure, I grew up in the thick of all that bad feeling."
It's not typical of a Bruce Hornsby track. For a start there is no chorus, no really catchy hooks, Bruce even said at the time, "I don't think it's commercial enough." He told Steve Pond of Rolling Stone magazine, "I like to go for a sort of anthemic thing, a big chorus, but this is a very even-running song. It doesn't reach the highs and lows that I think of as desirable, almost, in songwriting." He's often been sceptical about his own music and who it appeals to saying, in an interview with Keyboard magazine, "I didn't think the music I was making would interest any major labels. It was just piano, bass, drums a little synth pad and vocals so I didn't think it was your typical radio formula and I still don't. I see it as a novelty record," he continued "There are things that set it apart. I feel the same way about Sultans of Swing by Dire Straits, it goes down easy and isn't that what a lot of pop is about? But at the same time, it's a completely different sound than you'd heard. Even the big piano guys like Elton and Billy Joel, they didn't really solo like that. A pleasing sound with solos."
Hornsby explained more of the song's lyrics 'Some things will never change' is a statement of resignation, but the most important line in that song is the one that comes after that: 'But don't you believe 'em' so I've always been about being strong when resignation is a possibility. Trying to pull up from that and have a positive outlook so that things can change.
One person who was a real fan was Don Henley and began writing with him, Bruce explained how it happened, "He called me up in 1987 right around then and asked me to write with him. I was really flattered by it, and I loved his solo work especially. I thought Boys of Summer was just great and Dirty Laundry too. So I was instantly in for this, and he was the first 'big shot' who called me to write. So he came over to my house, and we sort of instantly became friends, and I gave him this track that I'd had lying around. I'd written a song with this music but I didn't think it was great, so I gave him the track and it seemed to spark something in him right away. He left the house and he was listening to the cassette in the car and I think he called me down the road." That song was The End of the Innocence which Bruce also plays piano on. Bruce said, "It's that outside collaboration that I'm the most proud of."
The Way It Is reached number one in the USA and number 15 in the UK, but was brought to a new audience in 1999 when 2Pac samples the piano on his number three hit Changes.
In 2007, Hornsby collaborated with country singer Ricky Skaggs and recorded a bluegrass album called Ricky Skaggs & Bruce Hornsby, it was well received and led to them going out on some tour dates.
Since 2000, Bruce's backing group has been the Noisemakers who have released six albums the latest being Rehab Reunion in 2016.
He has two sons, Russell and Keith, who are both named after two of Bruce's favourite musicians, Leon Russell and the jazz and classical music pianist Keith Jarrett.