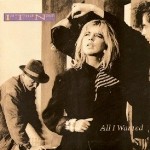 Every once in a while a band comes along and there is forever controversy on how to pronounce their name. One such band, in the late eighties, was In Tua Nua. Unless you are Irish, you could be stuck on how to say it, but basically it's the phonetic spelling of the Irish An Tuath Nua which means 'the new tribe.'
By the late seventies the fishing village of Howth in Dublin had a thriving music scene. In the early eighties, guitarist Ivan O'Shea, composer Martin Clancy and opera singer Miriam Blennerhassett, all ex-members of Vis A Vis who were an experimental bedroom band, teamed up with drummer Paul Byrne, saxophone and clarinet player Daragh Tanham and violinist Steve Wickham of which all three were ex-members of Deaf Actor and began recording together under the name Iphigenie In Tuanua. They added lead singer Leslie Dowdall and bass player Jack Dublin and before long they were using TV presenter Eamon Andrews' recording studio to make music.
In 1984, they were spotted and invited by Bono to sign to U2's Mother label, the first band to do so, and released a track called Coming Thru. Within a few months, like U2, they signed to Island Records and released two singles, the first was Take My Hand which was co-written by the then-unknown singer Sinéad O'Connor, and the second was a cover Jefferson Airplane's Somebody to Love. They began recording their debut album when Wickham announced he was leaving to join the Waterboys and then Island dropped them. The album was never released. Before long, Vinnie left and was replaced by Aingeala de Burca on violin and Brian O'Briain on uilleann pipes.
The following year the revised line up signed a new deal with Virgin records, took part in a Self Aid concert and released their debut album, Vaudeville.
They had significant success in their homeland, but they only charted one single in the UK in May 1988 which was called All I Wanted, a song which was all about having the security of having someone to confide in and trust following a bad experience of a not very caring and understanding father.
In America in 1988 the song became a college radio hit right across the country and although it never made the Billboard Hot 100, it gave them a cult following. They followed it up with the Don't Fear Me Now and toured Europe and the UK even supporting Fleetwood Mac at Nürburgring, a 150,000-capacity motorsports complex around the village of Nürburg in Germany. They only played one Irish date that year which was a secret gig at the legendary Baggot Inn in Dublin to launch the album. In November the band embarked on their first full-blown tour of the US playing 28 dates in 31 days starting in Dallas and finishing in Atlanta. Whilst there, they recorded their third album for Virgin, but once it was finished the band split and the album remained unreleased until 2006. Although they've never officially reconvened some original members reformed in 2004 and occasionally play live together again.
Leslie made a solo album, No Guilt No Guile featuring the single Freedom and after battling and beating cancer, she has since collaborated on many projects with, amongst others, Fiachra Trench, Ronan Hardiman, Sir George Martin, Paul Brady, Mike Hanrahan and Honor Heffernan. As her day job Leslie runs workshops, teaching performance and singing skills to young, aspiring artists.
Paul set up Yellow Moon Studios and got into production. He formed the studio duo Sugar Candy Mountain with Martin Clancy and had a hit in Ireland with Do You Know What Hurts the Children? Since then he has supplied the driving beat behind The Texas Kellys (with Steve Wickham), Dave & The Bebops, Rocky De Valera & The Gravediggers, Shane MacGowan and The Shane Gang and The Guilty Party. Mixing the dream job with the day job, he has his own media company Optophonic incorporating Phonic Studios and I-NV-U Records.
In 2010, the Italian record label, MP & Records, released the albums Vaudeville and The Long Acre on CD with bonus tracks using Paul's digitally re-mastered versions. This proved to be a spark and in 2011 the band decided to go into the studio to re-record All I Wanted in order to have something of their own to kick start some promotion and get things moving again.
In 2011 Martin Clancy recorded under the name the Witness Protection Programme and landed a top 20 hit on the Billboard US Dance/Club songs chart with You Can't Stop the Rain. In 2014, his plan is to put together a live band to perform Witness Protection Programme music and hopes to put talent from Dublin in the line up. The band represented Ireland in the Culture Collide festival last October in Los Angeles, part of a line up and Norway's Datarock.
Though the unlikely career direction for the musician hasn't made money yet, he hopes it will even translate into hard cash. Recently there was a four-page report in News Week which said that there was a remarkable 31% increase year in Digital Club Sales.
Martin said, "I have always said you should follow heart your when it comes to work, and the money will follow you".