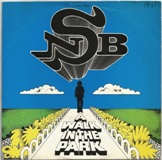 How unlucky can one musician be? Well Nick Straker may well know the answer.
Nick was born Nicholas Bailey in c. 1952 and decided at a young age that he wanted to be musician. In 1969 he joined his first band, a reggae outfit called Stonehenge overseen by the producer Dennis Bovell. Two years later that band, without success, changed their name to Matumbi and signed a deal with Trojan Records.
Nick recalled, "We were at Spencer Park school at the time (it proved to be a fertile breeding ground for musical talent). We did a few gigs, playing an eclectic mix of rock, rhythm and blues and rock steady, but we were seriously lacking in the equipment department, so, more often than not, we just made a horrendous noise! After three years without success Straker left. In 1979 that band had one UK with Point Of View (Squeeze A Little Lovin) which reached number 35.
So what next? Nick explained, "With Dave McShearer, a guitarist friend of mine, I hooked up with bass player Pete Hammond and drummer Phil Towner in a kind of dance band playing working men's clubs, the British Legion etc. Then we met American soul singer Limmie Snell (later of Limmie and the Family Cooking) through connections at TMC Studios in south London and this band became Limmie Funk Limited with Andy Gierus now on guitar. We played mainly in discotheques around the country and toured Holland and Sweden during an incredibly freezing February 1978. We were also recording with Limmie at TMC where we had an arrangement to record and split the percentages of any deal that might have ensued. With producer Simon Cohen we made quite a few tracks, some of which weren't bad; Saturday Night's the Night being one that could have done something with the right promotion."
Nick continued, "I'd left Limmie Funk Limited in mid '78 and hooked up with Tony Mansfield, who was a friend of Phil Towner's and they'd played together with Tony Hibbert. Another guy Clive Gates came on the scene who had evolved around TMC and he actually became our roadie for a time but then joined Mac Kissoon (from Mac and Katie Kissoon) playing guitar and doing the same sort of gigs as us. Tony and I became a kind of mutual appreciation society and the idea was to form a band with Phil and Tony H and put some tracks down. We'd already been involved in production work for other people and thought a collaboration would be exciting." So they did and called themselves New Musik. "We started working with a singer/songwriter called Pete Diaz. Five days a week we travelled up to Coventry and back on the train (they used to run on time then) to rehearse and eventually record with him, but we were also making plans to record our own stuff. The Pete Diaz situation fizzled out by early '79 at about the time we finished the final version of a song I wrote called A Walk in the Park." Nick left New Musik in 1979 just a few weeks before their debut hit, Straight Lines.
Also in 1978 Nick did a little bit of session keyboard work as Dennis Bovell recalls, "I had a band called Young Lions and we did a song called Take Five. Young Lions is a studio group which had Jah Bunny on drums, I was the bass player, the guitar player was John Kpiaye, the keyboard player was Nick Straker, then the horn player I don't remember who he was because he was brought in by Jerry McCabe as a session player. Jerry McCabe was the guy who owned the Whisky A Go Go, and the Astoria, a very good friend, rest his soul. He was very interested in doing a record company called Unigram and we recorded loads of stuff. The studio was across the road from the club, so while he was at work entertaining people there he'd pop down to the studio with a few bottles of wine and we'd do some recording. In that time, we recorded Viola Wills' Gonna Get Along Without You Now. So we had a funk side to us where I had musicians from my old school who played with a group called New Musik. Phil Towner the drummer used to play with Tina Charles, and with the Buggles on Video Killed the Radio Star. He was a mate of mine from school. I got him to be part of my funk section to do that record with Viola Wills. We did a whole album with her and brought her out of backing-vocal-dom, she was singing backing vocals for Joe Cocker; who incidentally did a reggae version of Man in Me with Sly & Robbie."
So in early 1980, Nick put together his own band which comprised Andy Gierus, Dave McShera, Pete Hammond, Phil Towner and Tony Mansfield and planned to release A Walk In The Park as a single. "It's strange, in a way," remembered Nick,  "because I was heavily into fusion and jazz at the time (Weather Report, Herbie Hancock, Miles Davis etc.) so it's hard to reconcile musically. As corny as it sounds it really did start with a walk in a park! At the time I was going out with a girl named Stevie (we were introduced by Tony's wife Maria) who lived in an apartment next to Battersea Park. We'd had some kind of argument one morning and I traipsed off into the park in a melancholy reflective frame of mind (as you do). Then this idea suddenly came to me and, although I didn't exactly see pound signs, I thought immediately that it had some kind of potential. I rushed back home and I think I had the whole thing finished that same afternoon. I remember showing Tony the chord structure which he played on acoustic guitar (he quite liked it as I recall) and we recorded what turned out to be a demo of the song a couple of days later so it was all completed fairly quickly. I sang the lead vocals although, not being much of a singer I don't think I intended for it to remain like that. Someone that we'd been working with (producer, writer, entrepreneur and painter/decorator Roy Trought) took a copy of the track. While he was playing his own songs (which were on the same tape) to Pinnacle Records, he accidentally played a bit of A Walk in the Park. They were interested and it all went from there really. They persuaded me to sing the lead vocals again, and because the odds seemed so great against anything happening, I complied. I remember thinking that it would be a bit of an adventure for a few weeks; you know, a bit of pampering, have photos taken, make a video which we did and it was truly awful – Tony still has a copy and insists on showing it whenever I visit. Needless to say it was never used! Nick continued, "we re-recorded the track at TMC in Jan '79 with the excitable Jeremy Paul producing. The intro and underlying chorus theme was his idea, although we had to interpret quite a lot of his ideas into some kind of acceptable musical form! He injected a lot of enthusiasm and humour into proceedings though, which definitely helped things along. We basically repeated what was on the original version but added more rhythm like claps and syn drums etc. Tony repeated the excellent solo that he'd played on the demo but I seem to remember that he wasn't too pleased with it (his playing rather than the melody) although it sounded fine to me. I triple tracked the lead vocal both to make it sound more 'beefy' and to cover up any pitching problems and Andy Gierus sang backing vocals with me on the choruses. I think we finished the whole thing in a couple of days and then watched, with great amazement and hilarity, Jeremy's, ahem, eccentric approach to mixing. This seemed to involve making everything louder than everything else! We had some loud and meaningful exchanges about this but, because he was such a likable guy, it was all very good humoured. Anyway, he took the track away that night to play to the production company and, sure enough, he came back a couple of days later to attempt mix two. After much to-ing and fro-ing and hysterical screaming matches with the equally excitable people at the company, the final mix was taken down to the annual music industry seminar – Midem – held in Cannes that same month. Quite a few record companies showed interest in the track, but by far the most significant response was from the German label Teldec, with whom a deal was done."
It was originally released on the Pinnacle label in June '79 and championed by Peter Powell particularly on Radio One but it failed to chart. In August the same year it picked up airplay on a radio station in Germany and within a week it entered the German charts at number 45. "Suddenly I'm a disco/pop star," added Nick, "and I'm being propelled into this surreal world like a fish on a bicycle!" Finally Nick Straker makes the chart after missing out three times. "Apart from being totally unprepared for the whole thing personally, I was also totally unprepared musically: i.e. I had an album to make and no songs to put on it. In fact, the next three years were spent trying and failing to write another A Walk in the Park."
Nick explained what came next, "Andy G and I did come up with a couple of decent dance tracks. A little bit of jazz came together during the time when Tony M was producing a band called After the Fire at TMC. Andy and I went in at night after they'd all gone home and used some of their keyboards on the track. It took a while to complete, as it began as a kind of experiment to fuse Euro-disco with Herbie Hancock style jazzfunk, and basically evolved as it went along. There was a hell of a lot of editing to do at the final stage. It was out of tune and badly recorded but had a magic to it that might not have happened had we taken more care.
By 1981 it seems to be all over. "I'd been working with the Dennis Bovell Dub Band and Linton Kwesi Johnson and preferred that to being a 'star'. I'd also been writing with China Burton with whom I had another American dance hit Do you want it right now (recorded by Siedah Garrett and produced by Jellybean Benitez). The enthusiasm had gone. I've got some great memories of that time though, some that are almost physically painful with nostalgia, and many that just make me cringe! Could I do it again? Maybe if I had a personality transplant!"