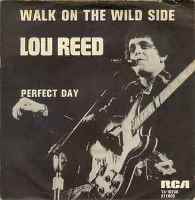 Back in the early 1980s when I was working at Radio 1, I witnessed something I never expected. There was a wonderful executive producer named Doreen Davies who was much loved and respected by virtually everyone who knew her and worked with her. Her role was immeasurable and her favourite line was, "My door is always open" and it genuinely was. She had time for everyone, but this week's suggestion was a record she never liked and gave strict instructions that it was never to be played on daytime radio. Someone broke that rule on the breakfast show. Doreen heard it start as she arrived at Broadcasting House one morning. She marched to the studio, took the needle off the record and instructed the DJ to see her after the show. She deemed the lyric, 'even when she was giving head' too gross for radio play – this was the 1970s and things were very different then.
It had nothing to do with the song being about prostitution that upset her, it was just that line. The song tells us about Holly, Candy, Little Joe, Sugar Plum Fairy and Jackie who are all real people and all with the Andy Warhol connection. Each verse of the song introduces us to someone different. The song opens explaining that 'Holly came from Miami, F.L.A' and hitchhiked her way across the USA. Holly Woodlawn, like Candy Darling and Jackie Curtis, are all real drag queens who appeared in Warhol's 1972 movie Women In Revolt. "I always thought it would be kind of fun to introduce people to characters they maybe hadn't met before, or hadn't wanted to meet," Lou Reed once said.
Holly had a tough upbringing, "My father got a job at a hotel, so we moved from New York to Miami Beach," she explained in an interview with The Guardian in 2008. "I was going to school, getting stones thrown at me and being beaten up by homophobic rednecks. I felt I deserved better, and I hated football and baseball. So, aged 15, I decided to get the hell out of there and ran away from home. I had $27, so hitchhiked across the USA. I did pluck my eyebrows in Georgia. It hurt! My friend Georgette was plucking them and I was screaming, but all of a sudden, I had these gorgeous eyebrows and she put mascara on my eyes. We ran into some marines in Lafayette in South Carolina. They tried to attack me. I was 15 and not used to this stuff. I was sitting in a car with this marine, terrified that he was going to rape me and kill me. I said, 'I've never done this before.' He said, 'You don't wanna have sex with me?' I said it wasn't that I didn't find him attractive, I just didn't want to do it. But he was wonderful. He protected me. While Georgette was in a motel screaming and yelling with 18 marines but having a good time, he said, 'When you're with me, nothing will happen to you.' And they drove us all the way to New Jersey."
The journey continued to New York and then Holly continued the story, "In New York I was living on the street. Then I met Jackie Curtis and Candy Darling, and they'd watch Marlene Dietrich and Greta Garbo movies at 1am. There was this club called Max's Kansas City. Jackie and Candy had just done this movie called Flesh, and they said, 'You have to meet Andy Warhol. He's gonna make you a superstar.' I didn't want to be a superstar. My wig looked like yak hair. One day Jackie put on a show and I was in the chorus. I saw this bag of glitter and a jar of Vaseline, and smeared myself with it and got this boyfriend to throw the glitter on me. The film director Paul Morrissey said, 'I don't know who she is but she's a star.' Next thing Paul's calling me up to star in a movie called Trash, and the rest is history."
One day a friend called me and said, 'Turn on the radio!' They were playing 'Walk On The Wild Side.' The funny thing is that, while I knew the Velvet Underground's music, I'd never met Lou Reed. I called him up and said, 'How do you know this stuff about me?' He said, 'Holly, you have the biggest mouth in town.' We met and we've been friends ever since."
The second verse says, 'Candy came from out on the Island, in the back room she was everybody's darling' – Candy had already been mentioned at the subject of a Velvet Underground tracks called Candy Says. She grew up on Long Island and 'the island' was a regular feature in 'the back room' which was a real room at Max's Kansas City, a club in New York. The third verse tells us of Little Joe, a nickname for Joe Dallesandro, the actor who appeared in the film Flesh, which was about a teenage hustler. In a 2014 interview, he claimed he was still to meet Reed when the song was written and offered that the lyrics were based on his character in the film and not his person.
The Sugar Plum Fairy in verse four was a reference to the actor Joe Campbell, who played a character of the same name in Warhol's 1965 film, My Hustler.
The song was produced by both David Bowie and Mick Ronson and features an iconic bassline provided by future Sky musician Herbie Flowers and the baritone saxophone solo was played by Ronnie Ross who knew David Bowie because he lived near him and when Bowie was a teenager he asked Ross to give him saxophone lessons which he duly did. Bowie arranged for Ross to do the session but didn't want to be there until afterwards. Ross did the take in one and Bowie walked in a surprised him. The 'do-do-do-do-do-' backing vocals were provided by the all-female trio Thunderthighs who were Karen Friedman, Dari Lalou & Casey Synge and had their own hit in 1974 called Central Park Arrest.
The B-side of the single, Perfect Day was just as famous and eventually achieved greater success when it became a top 30 hit in 1995 for Duran, a minor hit later the same year for Kirsty MacColl And Evan Dando and a number one in 1997 when  was recorded by Various Artists as the Official song for Children In Need.
Walk on the Wild Side has also been 'borrowed' by other acts, namely by A Tribe Called Quest who used the bassline in their hit Can I Kick It? and again by Ant and Dec on their 1997 top 10 hit Shout. It has featured highly in various television shows including three episodes of The Simpsons, Beverly Hills 90210 and Master of None.
What happened with all those people long after the hit? Holly continued to act in various films her last being The Lie in 2010 and died of brain and liver cancer in December 2015. Candy Darling died of lymphoma in March 1974 aged just 29. Little Joe Dallesandro was a Florida-born actor and during the 1970s appeared in a few Italian or French-made films before returning to the USA in the mid-80s. Later that decade he appeared in Critical Condition with Richard Prior (1987), Cry Baby with Bruce Willis (1990) and Guncrazy with Johnny Depp (1992). He semi-retired in 2009 and is now 73 and living in Los Angeles. There is one part of him some people will remember but not know it's him and that's on the cover the Rolling Stones 1971 album Sticky Fingers – It's his crotch with the real trouser zip.
As for The Sugar Plum Fairy, actor Joe Campbell, It was revealed in The Guardian in 2015, "In 1955, he entered into a love affair with an older man, with whom he lived for seven years – that older man, Harvey Milk, would later find fame as the highest profile gay politician in the US. His late 60s boyfriend, Billy Sipple, became famous in September 1975, when he thwarted Sara Jane Moore's attempt to shoot Gerald Ford. Campbell himself died at home in California in 2005, after 29 years of a relationship with Stanley Jensen."
Finally, with regards to Jackie Curtis, she began writing poetry and plays and had two small parts in Underground U.S.A. (1980) and A Coupla White Faggots Sitting Around Talking (1981) a long-lost satire. She turned to drugs and the addiction took its toll and she died of an overdose in May 1985 aged just 38.
Lou Reed himself outlived most of the characters he made famous in his song. He suffered from hepatitis and diabetes for many years, but developed liver cancer in around 2012. He underwent a liver transplant the following year but died just five months later from a liver disease. He was 71. He was married to Laurie Anderson who had the memorable 1981, number two hit, O Superman.
His classic song now serves as a memorial to some long-forgotten names from a very different world back then which would be more the norm in the 21st century.