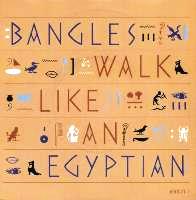 This week's act was one of the most successful all-female acts of the 1980s, but their original name was not a good name so a swift change soon launched their career. But it was an ad in a paper that got them together. Let's find out about the Bangles and their hit Walk Like an Egyptian.
They formed in Los Angeles in 1981 and comprised of lead singer and guitarist Susanna Hoffs, Michael Steele (born Susan Thomas) on bass, guitarist Vicki Peterson and her drumming sister Debbi. As a child, Vicki had various aspirations which included being a nurse, a vet and a cloistered nun, but "Music came to me early," she revealed. "At nine I convinced my parents to buy me an electric guitar (a Rickenbacker copy, but with a case that looked just like George Harrison's!) and I took a couple of lessons at the local music store. I soon found that I was very lazy about practicing scales and that writing my own songs was much more fun. I was the annoying kid who brought her acoustic to sleepovers and had a captive audience to audition the latest song."
In 1980, the sisters put an ad in the Los Angeles newspaper, The Recycler, asking for girls to contact them. It read: "Band members wanted: into the Beatles, Byrds and Buffalo Springfield." When Susanna Hoffs replied, it was clear that they had a strong lead vocalist and they could create magical harmonies. Adding Michael Steele they became The Supersonic Bangs and then The Bangs (an hilarious name for a female group!). As the Bangles, they provided a female take on the great groups of the sixties, and there are nods to The Hollies, The Yardbirds, The Kinks and Fairport Convention throughout their work.
They got their jangly guitars and four-part harmonies in place on their first album, All Over the Place (1984), and they sharpened their sound on Different Light (1986). They had hits with Prince's anthem for the work-shy, Manic Monday which gave them a number two hit and their fourth single of 1986 gave them their next top three hit when Walk Like an Egyptian went to number three despite being inexplicably banned by the BBC during the Gulf War.
So, what is Walk Like an Egyptian all about? It seems that no one in the band was quite sure as Vicki once explained, "It was written by Liam Sternberg and its provenance is still a mystery to me. All I know is that David Kahne, our producer at the time, showed up at rehearsal with a tape of a demo of the song, sung with a droll charm by Marti Jones. I realised that we were never gonna write a song like that and there was nothing remotely like it on our album so far (or anywhere else, for that matter) and I agreed to try it in the studio. We had a sing-off for the verses, with Kahne as head judge. Don't know that I'd ever do it that way again."
The song was originally offered to Toni Basil but she turned it down and, as is often the way, the Bangles needed one more song for the album so they snapped it up. In an interview with Songfacts, Sternberg explained its inspiration, "I got the idea when I was on a ferry boat and saw people struggling to keep their balance. The way they held out their arms and jerked around made it look like they were doing Egyptian movements, and if the boat moved suddenly, they would all topple over." Simple!
The original idea was for Vicki to sing the whole song, but Kahne, the producer, decided to try out each member singing the whole song and then he would decide who would sing which bit. In the end, all of them had a verse with the exception of drummer Debbi. Vicki took the first verse, Steel the second and finally Hoffs the third.
Released as a single in September 1986, it peaked at number three in the UK and went to number one on Billboard and in doing so, the Bangles became the first all-female group who played all their own instruments to reach number one Stateside.
The group had further top 30 UK hits with Walking Down Your Street, a cover of Simon and Garfunkel's 1966 song Hazy Shade of Winter as featured in the film Less Than Zero in which Hoffs made her acting debut and then, in 1989, they had their only UK chart-topper with Eternal Flame which was inspired by Elvis' grave when they visited his Graceland mansion. Walk Like an Egyptian was re-issued in 1990 where it spent a solitary week at number 73.
Tension formed within the band and they called it a day in 1989. Hoffs launched a solo career and had three relatively minor UK hits. The Bangles reformed in 1998 and in 2001 Atomic Kitten took a cover of Eternal Flame back to number one which prompted Hoffs to ask, "Do you think the young kids who buy it know it's our song? in an interview with The Times.
Walk Like an Egyptian did reap a spin off parody version which was nothing to do with Weird Al Yankovic. It was re-titled Walk with an Erection by a group called the Swinging Erudites who began life as a lounge act, formed by Johnny Angel (of the Blackjacks) and Sonny Columbus. They were famously called 'The Worst Band in the World' at a WBCN lunchtime concert. Worth a listen if you've got 30 seconds!