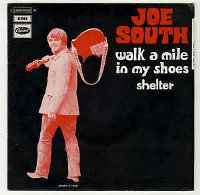 Joe South is one of the unsung heroes of popular country music. A man who, by and large, had a fairly tragic life, but wrote some wonderful lasting songs. He had the right mind-set which was to tell a story in around three minutes, but a story that would be remembered long after the tune may have been forgotten. As an artist, he only managed one UK hit which was Games People Play in 1968, as a writer, arguably his best-known song is Rose Garden, a transatlantic hit for Lynn Anderson, but there was more to him than that.
South was born Joseph Alfred Souter in Atlanta, Georgia on the 28th February 1940. His career began after he was spotted by the music publisher and entrepreneur Bill Lowery. He served his apprenticeship as a session guitar player at the National Recording Corporation alongside Ray Stevens and Jerry Reed. Ray recorded a number of novelty songs as well as some serious ones and this influence must have rubbed off on South as his first recording was Purple People Eater Meets the Witchdoctor that was co-written and originally recorded by the Big Bopper and had appeared in the flip side of his best-known song Chantilly Lace. He then realised he preferred song writing and concentrated more on that by writing I Might Have Known and Gone Gone Gone which were both recorded by Gene Vincent.
As a session guitarist, he played, usually uncredited, on Marty Robbins' El Paso, Tommy Roe's Sheila, Aretha Franklin's Chain of Fools and Simon and Garfunkel's The Sound of Silence. He also recorded the original versions of a number of songs that went on to be hits for other artists, namely Down In The Boondocks (Billy Joe Royal) (Royal recorded some demos for Gene Pitney because he sounded like him), Hush (Deep Purple and Kula Shaker), Rose Garden (Lynn Anderson and New World) and Walk a Mile in My Shoes which nobody had a UK hit with but it was covered by Elvis Presley and Brenda Lee (1970), Jerry Lee Lewis (1972), Bryan Ferry (1974) and Coldcut (2006).
South's version was credited to Joe South and the Believers – the backing group which featured his brother Tommy and his sister-in-law Barbara. It was a hit in the States reaching number 12 on the Billboard Hot 100 singles and well as charting on the Country music chart and number three on the Adult Contemporary chart.
The song saw South taking on the role of a singing preacher who grabbed people attention by delivering a musical reading suggesting the listener take a look at their own lives and make sure they're doing the right thing and keeping their noses out of other people affairs. It also dealt with the need for perspective and compassion in a world where racial tolerance was limited.
The opening verse is surely something any caring person has thought about, 'If I could be you, if you could be me, for just one hour, if we could find a way to get inside each other's mind' then he makes you realise how hard things have been for him by singing, 'Yeah, before you abuse, criticise, and accuse, walk a mile in my shoes.' It just gets you thinking.
He never seemed interested in fame nor the financial rewards the songs brought, he just wanted to get his points across and seemingly points that many agreed with given the diversity of the artists who covered his songs.
In 1968, he released his debut album, Introspect, but soon after he suffered again by having to deal with the death of his brother to suicide and unable to cope, Joe became a recluse and tucked himself away on the island of Maui, the second largest island on Hawaii and confronted his grief and ended up seeking sanctuary with drugs. He returned to Georgia and to recording in 2008 and his last recording was a song called Oprah Cried which was released as a bonus track on the re-release of two of his early seventies albums So the Seeds are Growing and A Look Inside.
South was inducted into the Nashville Songwriters Hall of Fame in 1979, became a member of the Georgia Music Hall of Fame two years later and then inducted into the Musicians Hall of Fame and Museum in 2019. He died of heart failure at his home in Flowery Branch, Georgia on 5th September 2012 at the age of 72.