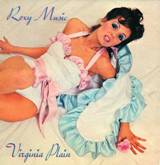 One of the age old pop trivia questions is, can you name the only two hits of the seventies where the title is only mentioned once at the end of the song and the answer is usually Virginia Plain and Up the Junction, but actually they are not the only two. The Dickies' Paranoid, Emmylou Harris' cover of Here, There and Everywhere and Madness' The Prince all do likewise. But let's look at the story behind Roxy Music's debut hit, Virginia Plain.
The band were formed in 1971 and comprised, at various times, Graham Simpson (bass), Phil Manzanera (guitar), Andy Mackay (saxophone/oboe), Paul Thompson (drums), Brian Eno (synthesiser), Eddie Jobson (violin) and John Gustafson (bass). Throughout the mainstay was lead singer Bryan Ferry who, between 1973 and 1978 had a successful concurrent solo career.
Bryan was born in Washington, County Durham, and was a real scholar having left school with nine O-levels. From 1964 he studied fine art at the University of Newcastle upon Tyne and whilst there became a member of a student band called the City Blues. In 1968 he moved to London and got a job as a ceramics and pottery teacher at the all-girls Holland Park School. That's where he formed his first proper band, The Banshees. Within a few months he'd met Graham Simpson and John Porter and became the Gas Board.
In November 1970 he lost his job apparently for holding impromptu record listening sessions. Now wanted to pursue music full time, he auditioned for King Crimson and although Crimson members, Robert Fripp and Pete Sinfield were both impressed with his talent, they didn't feel his voice was right for the material they were writing and performing. However, they did help him get a recording contract with E.G records.
They advertised for musicians and Andy McKay was first to reply and got the job. Another ad was placed, this time for a drummer in Melody Maker and Paul Thompson responded and got the job. Bryan gave the band a new name, he called them Roxy which was a homage to the name of old cinemas and a play on the word rock. Then he learned there was an American band with that name so he stuck a Music on the end.
The band released their debut, eponymous album in the summer of 1972, but there was so single released from it. How come? Bryan explained, "We had just released the first Roxy Music album and our record company, Island, seemed as surprised as we were by its instant success. Their only problem was there was no obvious single so they asked me if I had any other songs knocking about. I did have an unfinished song called Virginia Plain, which we quickly recorded. I vividly remember our roadie driving up and down outside the studio as we tried to record the sound of his motorbike. The song itself is about a painting I did a few years before when I was an art student at Newcastle University. I was interested in stream of conscious writing, and since the songs on the first album hadn't been very wordy, I felt it was time for a bit of verbal dexterity. I suppose nowadays any song with this title would be banned."
So what exactly was in that painting? "Well, the name comes from a brand of American cigarettes," Bryan continued, "and the painting consists of a large cigarette pack, with the motif of a girl, placed at the end of a plain; so the cigarettes are Virginia Plain, the girl is Virginia Plain, and the plain is Virginia Plain. How it translates into the song is rather more complex. The painting was a sort of throwaway water colour and the song has lots of little images and throwaway lines. The painting was done in '64, and although the song was written in '72, it reflects the feeling of that time – I was up in Newcastle, living with a guy who'd helped Warhol to make the Marilyn (Monroe) silkscreens. It's a whole American Dream thing, living up there yet constantly thinking about Warhol's Factory and Baby Jane-Holzer. It's got some other things in it now Vegas, Nevada, Route 66…"
Phil Manzanera explained his approach, "Frequently the group go into the studio to do a new number without telling me how it goes so that I'll play with the spontaneity they like. For Virginia Plain I got into the studio and set up my amp and the time was getting closer and closer to my solo and I still hadn't the faintest idea what I was going to do. And the break arrived and I just went blam! I mean, I could've put my fingers anywhere. I've since tried to reproduce that solo and I can't work out at all."
The song was added to the American issue of the debut album, but in the UK it never appeared until 1977 when their Greatest Hits collection was released and Virginia Plain was re-issued with Pyjamarama (their second UK hit) on the B side to promote the album.
The band officially split in 1976 but reformed, albeit with an amended line up in 1979 to record the Manifesto album and Flesh And Blood the following year. Ever since, there have been many splits and reunions, but Bryan still maintains a solo career most notably the Dylanesque album in 2007, The Jazz Age in 2012 and his most recent album, Avonmore, which also made the top 20.
Virginia Plain has been covered by indie band, Spizz Energi and as a dance version by Slamm who took it to the dizzy heights of number 60 in 1993. Also look out for a cover by the Metal Gurus, who were The Mission under an assumed name.