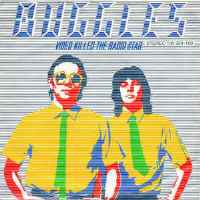 When I received the email requesting this song, the subject line said, "Did video really kill the radio star?" Reading further it was Darryl Marsh who wanted to know, so I swiftly replied, it certainly should have killed some of them! But let's find out how the first video shown on the newly launched MTV in 1981 came about.
The guitarist, Trevor Horn came from Newcastle and the keyboard player, Geoff Downes originated from Stockport and came together after meeting as part of Tina Charles' backing band in the mid-seventies. Horn wanted to establish himself as a producer, but he couldn't find the right songs or the right artists.
He began writing the song after reading a science fiction story about an opera singer in a world that had no sound. He explained in an interview with ddiscog.info, "Before I started the Buggles I was a sort of loser record producer, I spent four years producing records for various people without ever making any money out of it or having any success at all. Mainly I just produced unsuccessful records because I couldn't seem to lay my hands on a good song. Eventually I got so fed up doing things that weren't successful I decided that if I couldn't find a good artist and a good song then I'd write it myself and become the artist, so I wrote this song called Video Killed the Radio Star with Bruce Wooley. I know the name's awful, but at the time it was the era of the great punk thing. I'd got fed up of producing people who were generally idiots but called themselves all sorts of clever names like The Unwanted, The Unwashed, The Unheard… when it came to choosing our name I thought I'd pick the most disgusting name possible. In retrospect I have frequently regretted calling myself Buggles, but in those days I never really thought much about packaging or selling myself, all that really concerned me was the record."
He then teamed up with Bruce Woolley, he and Downes wrote their own songs and then recorded them as a studio band. Downes said in the interview with Songfacts, "I came in and did all the orchestrations, the intro and the bridge section. Once we got it into that shape, we felt it had some potential, and that was it. It just came about like that." Woolley joined The Camera Club and Horn submitted their demo of Video Killed the Radio Star which was first recorded as Bruce Woolley & the Camera Club to Island records and they signed the band.
Back in 1979, there was little in the way of clever technology; video recorders who still a fairly rare commodity and mobile phones were a long way off. People were still using telex machines as mentioned in the 1979 chart-topper I Don't Like Monday's by the Boomtown Rats. The whole premise of Buggles was everything was becoming artificial especially in music where clever keyboard computers were doing everything and putting many musicians out of work. He demonstrates this perfectly in the song including his singing which sound like a robot singing with a megaphone. Trevor stated in his book, I Want My MTV, "We'd seen people starting to make videos and we were excited by that. It felt like radio was the past and video was the future. There was a shift coming."
The two female backing singers on the song are Debi Doss and Linda Jardim. Jardim later became Linda Allen and sang on a promo single by the Northampton Development Corporation in an attempt to boost the town popularity whilst Doss went out on the road as a touring singer with the Kinks.
The Buggles' debut album, The Age of Plastic, included three more chart entries, The Plastic Age, Clean Clean and Elstree which was written about the area Horn was living in at the time. Even before Buggles disbanded in 1982, Horn single-handed replaced both Rick Wakeman and Jon Anderson in Yes and recorded the album Drama in 1980.
Horn, following advice from his wife about looking a bit geeky in videos, decided to turn his attention to full time production and hit the jackpot in the 1980s having worked on all of Frankie Goes to Hollywood's three number ones, as well as ABC, Dollar, Malcolm McLaren, Pet Shop Boys, Seal, Rod Stewart, t.A.T.u, Tina Turner and Robbie Williams. Trevor has producer around 100 UK hit singles.
His son, Aaron, also had a taste of chart success; some 33 years after Trevor first topped the chart, his son did likewise as a member of Sam & the Womp when Bom Bom went to number one in 2012.