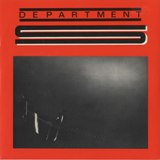 So many songs are written about real people, be it a husband, wife, boyfriend, girlfriend, manager, mother etc and usually a name in the title will reveal much more about the person, but not always. Sometimes you never know who it's written about either because the writer wishes it to remain anonymous or perhaps they don't actually know. How can that be you might think? It's a mystery, Toyah once sang and so too was Vic as sung about by Department S when they were trying to find out if he was there back in 1981.
In April 1981 Department S scored the first of two singles on the UK chart, their debut – and biggest hit – was called Is Vic There. The second was called Going Left Right and then they seemingly disappeared, so who were they, who was Vic and where are they now? I can reveal most, but not all, read on.
It all started in 1978, just as punk was fading and the mod revival was starting, when a group of friends, who were regular gig goers, decided to form a band of their own. The name for the band was to be Guns for Hire. All they needed now was some musical instruments and the ability to start playing them. The main core of Guns consisted of Vaughn Toulouse (whose real name was Vaughn Cotillard), Tony Lordan, and Gary Crowley. The playing side of the project was a consideration, but the lads decided to pre-empt fame by having Guns for Hire badges and stickers made up first. The music could wait…
The Department S website explained what happened initially, 'the stickers gradually turned up on the walls and trains on the London underground system and badges were distributed amongst friends, and then something rather strange happened. One night, at a gig in Aylesbury, a punter came up to one of the (non-existent) Guns and gestured admiringly at his GFH badge. The punter then continued to extol the virtues of Guns for Hire, who, he claimed, he had seen play live only the night before! This called for some positive action. Gary Crowley relayed the story to his boss, Clive Banks, promoter for Nick Lowe and Elvis Costello and after much badgering by Gary, Banks agreed to stump up the cash for the Guns to record a demo. The only problem was that Guns for Hire couldn't play a note between them, even if they had existed! At the news of this upcoming recording session, Vaughn and Tony decided to take on the Guns mantle, while Gary was to be the band's manager. Deciding that having a couple of people involved who could 'play' would be a good idea, Vaughn and Tony enlisted the services of Mike Herbage, a friend of Tony's (who had met, each under the misapprehension that the other wanted to start a fight!) and John Hasler, original drummer with Madness. Suddenly things were moving…'
Gary was a good promoter, I met him in 1979 when he began promoting The Jam for Clive Banks and gave me a free copy of The Eton Rifles. Thanks Gary!
Their debut single which was called I'm Gonna Rough My Girlfriends Boyfriend up Tonight was recorded in a small studio in Camden Town and released on Korova records. They'd play a few gigs but where did they want to go next? Hasler decided to call it a day but the rest decided to continue but felt that the joke had gone on long enough. A name change was called for. After suggestions varying from The Discords to The Signet Committee, the name Department S was decided upon. It was taken from the TV detective spoof of the same name.
The band now comprised Vaughn Toulouse on vocals, Mike Herbage on guitar, Tony Lordan on bass, Stuart Mizon, drums and Eddie Roxy, synth. Vaughn was working for Siouxsie Sioux's manager Nils Stevenson who also went on to manage Department S and in an interview with me, Eddie explained how the song Is Vic There came about, "We were actually at our management offices in Parker St, Covent Garden. Clive Banks was based there as was Dave Hill who managed The Pretenders and Facthna O'Kelly who managed The Boomtown Rats and Bananarama, so, while in the office the phone went off and Leigh Cavanagh answered it, she was the team receptionist and this voice said, 'is Vic there?' So there was the idea for a song. "When recording the song at Nick Lowe's studio in Shepherds Bush we were looking for something to do in the middle eight…. someone came up with the idea of an answerphone, so we called the office and got Leigh to voice the answer machine live on line to the studio.
They built up a repertoire which included six original songs and two covers which were Roxy Music's Editions of You and T.Rex's Solid Gold Easy Action, the latter appearing on the B-side of Is Vic There. The single got 'Single of the week' in Sounds and was co-produced by Dale Griffin, the original drummer with Mott The Hoople who sadly died in January this year. The backing vocals on Solid Gold Easy Action were originally recorded by the newly formed Bananarama, but, as Eddie said, "the girls' vocal ability was, shall we say, in its infancy and so Thunderthighs, who were the backing singers on many seventies hits, including Mott The Hoople's Roll Away the Stone, was called in to do the job properly."
Things hotted up and they signed a new management deal with Clive Banks and a publishing deal with ATV music (which is now owned by Paul McCartney) and their live shows became much tighter. Gary Crowley was good mates with Paul Weller and through Gary they supported The Jam at the Rainbow in Finsbury Park.
They had three appearance on Top of the Pops each with Vaughan holding the microphone upside to his ear like a telephone receiver. Eddie said, "When we sing Vic live we just sing Is Vic There four times without Leigh's voice answering the phone, but because they had to mime on Top of the Pops, Leigh was appearing… but only in voice and the song peaked at number 22.
"Up until this point the whole thing had been a lot of fun," Eddie said, but now suddenly they went from being a relatively unknown indie band to big pop star as there were constantly on tour and had endless press exposure. One of their concerts was an appearance at the New Pop Festival in Rotterdam in front of 200,000 people. "At this time The Jam were the biggest group in the country," Eddie continued, "and swept away all opposition in the NME reader's polls. In the winner's poll, Paul Weller voted Department S best new act, best songwriters, and voted Mike Herbage best guitarist in the country. Egos were growing and fun was conspicuous by its absence."
This led to changes. Some tension grew and there were personality clashes. There were arguments between the band and the management company over the follow-up single. They recorded Clap Now as it had been a live favourite and was one of the group's best songs but it was rejected outright by the record company and management alike so Going Left Right was decided upon as the next single. The group wasn't happy because they felt Clap Now was a much stronger track. The record company then decided to bring in a new producer and chose to fly David Tickle in from the States because he'd been the engineer on Blondie's Parallel Lines. Not only did Tickle take up a substantial amount of the £70k advance that the band had received from signing a major new deal with Stiff records, but he really failed to grasp the ideas and sound that the group was trying to produce. "He was basically a hippie, so much for 'artistic freedom,'" said Eddie.
Things got worse, Tony Lordan left the group and was replaced with Jimmy Hughes who was a former member of The Banned but the band started recording their debut album which went surprisingly smoothly. Going Left Right hadn't sold as well as its predecessor but it did climb as high as number 55. It was a massive beat-driven, aggressive song with brilliant psychedelic guitar, courtesy of Mark Taylor, and trance-like synthesisers. It just wasn't what was getting onto the charts at the time.
The following year Herbage decided to leave and by the summer the band had split. Toulouse became a DJ and went out under the pseudonym Main T and can also be heard on Paul Weller's Council Collective charity project in 1984. He died in 1991 of an AIDS-related illness.
"When we reformed in 2006 it was original members, Mike Herbage, Stuart Mizon and myself plus Mark Taylor who had taken over from me as keyboards in 1981," Eddie told me. "In 2013 Taylor dropped out and Pete Jones from PIL joined, then last year Mizon dropped out, Herbage then remarried and had a baby so he's on an extended sabbatical. When we put the band back together we all agreed that there was no point doing it just to play songs written 30+ years ago, so over time we have successfully added new songs and the new album, When All Is Said And All Is Done came out last month and five songs from it are in our 10 song live set.
So that's the story of the band and their biggest hit, but sadly we'll never know who Vic really was. "As we tour the country," Eddie revealed, "I have met quite a few people whose dads have told them that they are the Vic in the song!"