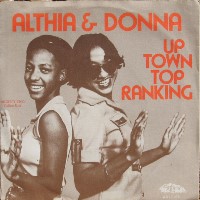 This week's suggestion was yet another song that was championed by John Peel who played it on his late-night Radio 1 show by accident. When I say by accident, I don't mean he didn't realise that he was putting it on the turntable, I mean he did something Paul Burnett (another Radio 1 DJ) often did and that was play the B side by mistake, and from that faux pas, a number one, one hit wonder, was born.
Reggae records that were issued in the UK very often didn't have an A or a B on the label to indicate which side to play and, additionally, had a completely different act on the flip side. What John Peel meant to play was Calico Suit by the Mighty Two who comprised of producer Joe Gibbs and engineer Errol Thompson. Gibbs was the producer of Up Town Top Ranking (not the often mis-written Uptown Top Ranking) and Errol Thompson was the co-writer alongside the performers Althea Reid and Donna Forrest. Following its airing, Peel was inundated with requests for more information and requests for repeat plays.
Joe Gibbs worked in an electronics store and made his first records, usually with Lee Perry, almost as a hobby at his Retirement Crescent premises. He had UK success in 1969 with The Pioneers' horse-racing tale, Long Shot Kick De Bucket. When he fell out with Perry, he teamed up with the engineer, Errol Thompson and they became known as The Mighty Two. They made hundreds of reggae records including work with Dennis Brown (Money In My Pocket), Nicky Thomas (Love Of The Common People), Peter Tosh (Maga Dog), Harry J. All Stars (Liquidator), Freddie McGregor, Prince Mohammed and Sly & Robbie.
Althea is originally from Hughenden in St Andrew, and Donna is from the Hope Road area of Kingston, Jamaica which is also home to the Bob Marley museum. The pair, who were school friends, started out singing on a sidewalk in Kingston before they were spotted by original Inner Circle lead singer Jacob Miller who took them to Joe Gibbs' Studio in nearby Cross Roads to record the song. They were accompanied by Donna's father who also went on tour with the girls as they were underage at the time.
A Jamaican DJ called Trinity made a record about the pleasures of women called Three Piece Suit An T'ing and Gibbs was looking for a female answer version. Thompson came up with the backing track, which was essentially based on the 1967 Alton Ellis tune I'm Still In Love, and Althea Forest then 17 and Donna Reid then 18, were asked if they could write a response. Once completed the DJ Mikey Dread featured the record on his radio show, Dread At The Controls, and the song took off in Jamaica.
Reggae, as a genre, stemmed from Bluebeat which began in the late fifties. Arguably the first 'reggae' song to chart in the UK was Hal Paige and the Whalers' 1960 minor hit Going Back To My Home Town and the first reggae chart-toppers was Desmond Dekker and the Aces' Israelites in 1969.
Up Town Top Ranking's bitchy lyric was in English but the Jamaican patois was as strange as a foreign language to many listeners; 'See me in me heels an t'ing, Dem check sey we hip an t'ing.' That added to its mystique and hence, selling-power. The song pokes a little fun at the stricter attitudes of Rastafarianism yet claiming they are 'strictly roots' meaning they are still true to their origins. The lyric 'See me in mi Benz and ting, Drivin' through Constant Spring' is a reference to driving in a Merc down Constant Spring, the main thoroughfare in Kingston.
When the song topped the UK chart in January 1978 it ended the reign of Wings' Christmas nine-week residency Mull of Kintyre and many will be thankful for that. Up Town Top Ranking was not the only song Althea and Donna recorded, some of their others included Gone To Negril, Love One Another, Puppy Dog Song and Ranking Baby all in 1978 but as none charted they remain true one hit wonders. Their only song, however was revived by another one hit wonder female duo, Ali & Frazier, in 1993 where it peaked at number 33. Further cover versions, that failed to chart, were by Black Box Recorder in 1998 and Estelle and Joni Rewind in 2002. it was also sampled by former 5ive member Abs Breen in his 2002 solo hit What You Got.
Althea, who now lives in New York and is a Queens School old girl, and Donna, who now lives in Florida, were the opening act at the One Love Concert in April 1978 and their last major performance in Jamaica was at Rebel Salute in 2018.