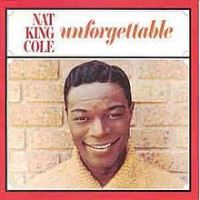 This request came in a few weeks ago but I've been saving until Valentine's week because, not only is it a great love song, but a couple of years ago Good Housekeeping magazine voted it number one on their All-Time Most Romantic Playlist. It is most associated with Nat King Cole who has the most gorgeous romantic voice which is why he was voted in at number three on Radio Two's Voices of the Century programme back in 2000 behind Elvis at number two and Frank Sinatra at number one.
Back in the days when singers rarely wrote their own songs because they were written for them by professional songwriters and each one had their own niche which gave them a unique identity, but there are a small handful who could write in such a wide variety of styles, one good example is Bob Merrill who wrote the light-hearted novelty song How Much is that Doggie In The Window and also wrote People which is most associated with Barbra Streisand – two very different types of song. Another is this week's writer, Irving Gordon who penned comedic ditties like Delaware (Perry Como), I Didn't Like It the First Time (The Spinach Song) (Julia Lee and Her Boy Friends) and Mama from The Train (made famous by Patti Page who had also recorded How much Is That Doggie…) and this week's great love song.
Unforgettable is a very simple song that carries a meaningful message and does so in just 86 words. Its most memorable lines are 'That's why darling it's incredible, that someone so unforgettable thinks that I am unforgettable too' which can easily be applied to all manner of relationships. We assume from the song that the 'darlin' refers to the protagonist's wife or girlfriend but not necessarily. This point is proved when, in 1991, and with the clever use of technology, Nat's daughter Natalie sang the song with her late father (on a screen) with no lyric change at all.
Another tie-in to Valentine's day is that the song's sole writer, Irving Gordon, was born on Valentine's Day 1915. He was born in Brooklyn, New York, to a Jewish family like many songwriters of that era. In the 1930s, he began writing parody lyrics to the popular songs of the day and in 1937, he was introduced to the jazz orchestra leader Duke Ellington who occasionally asked him to write words to his compositions. Gordon once said it was one of the most difficult times as Ellington's compositions were predominantly jazz instrumentals. In 1951, Gordon wrote a song called Mister and Mississippi a title which led to him writing Delaware a few years later where the song name-checks a number of U.S states in parody form. Gordon died on 1st December 1996 at the age of 81.
Nat King Cole, who was born in Montgomery, Alabama in 1919, was signed to Capitol records by its co-founder Johnny Mercer in 1943 and released his debut album, The King Cole Trio, the following year. He recorded this song in 1951 with orchestra leader and elegant arranger Nelson Riddle. Nat played a pivotal role in the label's output that the building itself was often affectionally known as 'the house that Nat built'.
Nat was one of the first African-American stars to host their own television show. On 5th November 1956, his show debuted on the NBC network. It began as a 16-minute variety show which was extended to 30 minutes the following year, but, for some reason, it never found a national sponsor despite a number of Nat's peers, namely, Tony Bennett, Ella Fitzgerald, Frankie Laine and Harry Belafonte all trying their best for him. In the end he decided to end the show just before Christmas 1957.
Nat was first married to Nadine Robinson at the age of 17. He was divorced 12 years later and married singer Maria Hawkins Ellington the following year. They had five children – three biological – daughters Natalie, Casey and Timolin, and two adopted children, daughter Carol and son Nat Kelly.
Unforgettable never made the UK chart first time round because the chart wasn't launched here until 1952. In America, he peaked at number 12 on Billboard but topped the sheet music chart and remained on that listing for 25 weeks.
Its only UK chart appearance was the aforementioned duet with his daughter Natalie when it scraped into the top 20 in 1991. This version won three Grammy Awards in 1992, one of which was especially awarded to Irving Gordon in the category Song of the Year. The song's producer, David Foster, was awarded the Record of the Year trophy.
Dozens of covers have been spawned including versions by Dinah Washington, Aretha Franklin, Brenda Lee, Marvin Gaye, Sammy Davis Jr., Lou Rawls, Engelbert Humperdinck, Roberta Flack, Kenny Rogers and, more recently, Sia, whose version appeared in the 2016 Pixar movie Finding Dory.
Sixty years on, the song has certainly lived up to its title as it is still being recorded by various acts including Michael Buble in 2019 and most recently, in 2021, by the American Jazz, swing and ragtime pianist, Scott Bradlee.