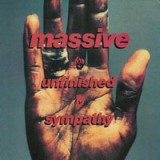 What do Dionne Warwick, The Gun, Mel B and Massive Attack all have in common? They all temporarily amended their name for at least one hit single. Dionne, in 1974, stuck an 'e' on the end of her surname for the hit Then Came You (with the Detroit Spinners), in 1999 Mel B, after she married Jimmy Gulzar, called herself Mel G on the hit Word Up, The Gun, who had also covered Word Up, became The G.U.N. following the massacre at Dunblane and Massive Attack were advised to drop the 'Attack' for their debut hit Unfinished Sympathy due to the Gulf War which was just coming to an end. The latter has endured and 25 years later still sounds as fresh and as uplifting as it did then, let's find out why.
Back in the late eighties there was a Bristol posse known as a sound system called the Wild Bunch who made little impact at the time, but did manage to invent a new music sub-genre known as trip-hop. The trio were 3D, Daddy G and Mushroom, some rather ominous sounding names but 3D was Robert Del Naja, Daddy G is Grantley Marshall and Mushroom is Andrew Vowles and as the eighties became the nineties they changed their name to Massive Attack. In 1990 the Middle East conflict was raging as Allies bombed Iraqi forces and the newspapers were littered with headline words like 'clashes', 'massive' and 'attacks' They chose the latter two words but not as a statement of intent.
Despite the aforementioned being the line-up, 3D, in an interview said, "We haven't really got a line­up. We're not governed by bass, guitar, drums and singer. We're just a loosely-based idea. The difference between now and the Wild Bunch is that we're not fighting for supremacy all the time, we agree to differ. We all know we hate each other and that's the way it is." Daddy G added, "Most of the dance music you see transferred to stage now is just pantomime, because audiences expect to see a 'band', people pad their show out with dancers and get in a few musicians to make it look good. What we're gonna do is go out as a sound system, which is what we are. If we did it any other way we'd just look like a bunch of wankers." Right!
There were comparisons at the time with Soul II Soul which 3D wasn't happy about, "Sure, it's an easy comparison between us and Soul II Soul, but we're sick of it. The real point is that Massive's music is sound system music rather than group of studio trickery music." Maybe the comparison came because another Bristolian, Nellee Hooper, had joined the Wild Bunch and also produced Soul II Soul's debut album Club Classics Vol. I as well as Massive Attack's debut album Blue Lines. He also lent his skills to Bjork's Debut and Madonna's Bedtime Stories. Nellee also spotted the talent of a singer called Shara Nelson who had been singing since the early eighties and had released her debut single, Aiming At Your Heart in 1983 which was credited to Shara Nelson & The Circuit. In 1986 she released the solo single, Can't Get Over You under the name Shara followed by Standing Invitation under the name Sharon Nelson. It was at a gig in Bristol that Nellee spotted her and invited her to provide vocals with the Wild Bunch on a cover of Bacharach and David's The Look of Love. When they changed their name to Massive Attack, Shara stayed with them but not a full time member.
Shara had partially written a song which she had provisionally called Kiss and Tell. Massive Attack's co-producer, Jonny Dollar, heard Shara singing the song to herself at the studio in Bristol and showed an interest. He advised her to keep working on it. Dollar called 3D in for him to hear her and his reaction was, "We thought, there's something there".
In 1828 the Austrian composer Franz Schubert began writing music which he called Symphony No. 8 in B minor, but he died at the age of 32 and the music was unfinished and thus became known as the Unfinished Symphony. A play on words eventually became the title of Massive Attack's debut hit. 3D explained in an interview at the time, "I hate putting a title to anything without a theme, but with Unfinished Sympathy, we'd started with a jam… and added an orchestral score later. The title came up as a joke at first, but it fitted the song and the arrangements so perfectly, we just had to use it."
The song starts with a sauntering drum track very much like the Pet Shop Boys' West End Girls and builds with strings and then suddenly comes to life when Shara's evocative vocals kick in. The song is only enhanced by the various samples used. The opening drum rhythm is borrowed from an instrumental track called Parade Street by J. J. Johnson which had appeared in the 1974 film Willie Dynamite. The keyboard part makes good use of the jazz musician Bob James' track Take Me To The Mardi Gras, and the 'hey hey' male vocals are a direct rip from a Mahavishnu Orchestra and John McLaughlin 1976 track called Planetary Citizen.
When it came to making the accompanying album they had minimal equipment, "When we made Blue Lines," 3D told Dave Robinson, "the only bit of equipment we owned was an EnsoniqliPS keyboard and a Numark I775PPD mixer, the one with an on-board sampler. At the time, there weren't that many engineers who were up on looping. We got through a whole barrage of engineers looking for someone who was good enough. One guy, Jonny Dollar, who'd worked with Neneh Cherry, was really up on the stuff, and he stuck with us for the album." Mushroom added, "A lot of our stuff, our inspiration – a lot of where we come from – revolves around a record collection."
The accompanying video, which was directed by Baillie Walsh, shows Shara continuously walking along a pavement in America completely apathetic to the things she's passing which include pimps, drug dealers, gangs and the occasional biker. It was actually shot at West Pico Boulevard between South New Hampshire Avenue and Dewey Avenue in Los Angeles. Have a look at the Verve's video for Bittersweet Symphony and you may just notice a similarity. Maybe it should have been called Bittersweet Sympathy.
Unfinished Sympathy has had its fair share of exposure and recognition. It was heard to a steamy effect during a sex scene between Sharon Stone and William Baldwin in the 1993 film Sliver, in December 1998 Radio 1 broadcast a programme of the top 100 favourite tracks of all time voted for by their listeners and Unfinished Sympathy was number one ahead of Nirvana's Smells Like Teen Spirit at number two, the Verve's Bittersweet Symphony at number three, Underworld's Born Slippy at four and Radiohead's Creep at five. Additionally in 2002, MTV2 had it at number one in a poll of the best songs ever and it was covered by Tina Turner on her 1996 album Wildest Dreams.
Shara began a solo career in 1993 and racked up seven self-written hits including Down That Road, One Goodbye in Ten and Uptight.
In 2011, something happened in Shara's life and it all went Pete Tong and we'll probably never know why. She began stalking ex-radio 1 and club DJ Pete Tong by bombarding him with nuisance phone calls as well as claiming she was his manager. Tong eventually took out a restraining order and when the case went to court Nelson even gave her surname as Tong and claimed she had been married to him and had his child. Tong confirmed that neither of these statements are correct. The outcome was that she was banned indefinitely from contacting Tong or his friends and family and was issued with a 12-month community order where she had to serve 80 hours of community service.
The last we heard of Nelson as a member of the Peace Collective for the British Red Cross & Shorncliffe Trust who recorded a charity cover of The Farm's All Together Now, but her return was brief as the song spent one solitary week at number 70 on the chart in December 2014.