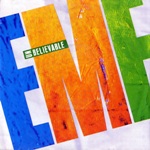 In 1989, EMF managed to do something most bands still can't do and that was to get a record deal, with a major company, without a demo. They succeeded on the strength of just four concerts.
As a teenager, EMF guitarist Ian Dench, "much to my dad's horror," he once said, started a punk band called Die Young, Stay Pretty. "After a few more groups, I got more into playing the guitar and began to realise the technical possibilities of the instrument and started listening to The Doors, Cream and Led Zeppelin. Then I formed a psychedelic dance band, Apple Mosaic. We played dance bass lines and put guitar on top. That lasted for seven years, from the time I was 17 until I was 25. We recorded two albums, but never sold any." It was time to move on.
EMF Hail from the same place as the 93-year old Radio 2 DJ, Jimmy Young, Cinderford in Gloucestershire and were formed in 1989. There has always been, and still is, controversy over the meaning of their name. "Everybody thinks it stands for Ecstasy Motherf**ker," explained Derry Brownson, the band's keyboard player, "but it doesn't. We're just stringing people along. We never do things to shock: we're just taking the piss." Perhaps the fact that the B-side of their debut single, Unbelievable, is called EMF and boasts the chorus, E: ecstasy! M: motherf**ker motherf**ker! F: from us to you!" might have something to do with the confusion. So at the time, probably not to be too controversial, they explained that it stood of Epsom Mad Funkers, a name that derived from one of New Order's fan clubs.
The band comprised; James Atkin (vocals and guitar), Zac Foley (bass), Ian Dench (guitar), Derry Brownson (keyboards) and Mark Decloedt (drums).
"Ian was a great songwriter and he knew what he was doing," commented Atkin to Roy Spencer in Future Music magazine in 1992. "We got (producer) Ralph Jezzard in who had just come off the back of S-Express and Bomb the Bass which was right up our street. He knew how to work with this new sample-based music and it only took us two months to write all the songs for the debut album, Schubert Dip."
Their debut hit, Unbelievable, was written by Dench although credited as EMF and rocketed to number three in the UK chart. This song was about a girl who is 'unbelievable' in the sense that she is very demanding and offers nothing in return and her man feels he can do nothing right when he's around her. Ian explained how it came about, "The morning after a night of heavy elbow-bending with Derry, I was wobbling along on my bicycle, still really drunk, but still feeling pretty good and people were tootling their horns, bleating at me. That's when the melody popped into my head."
"We did a demo in Derry's front room," remembered Atkin, "It sounded funny 'cos it had completely different lyrics and it had all our mates singing in the background. I didn't really think that much of it at the time. We played it to Ralph who had just finished Silver Bullet's 20 Second to Comply and he liked it and suggested a few tweaks here and there."
The track contains the small sampled 'Oh' which was taken off a recording from one of the raunchy comedian Andrew 'Dice' Clay's routines. Clay agreed to the sample after the band bumped into him in a car park in America. It also samples the word 'One' which is contained in the refrain of the song Spin That Wheel by Hi-Tek 3 featuring Ya Kid K. Dench sees sampling as an integral part of EMF's art. "The wonderful part of sampling is the accident thing," he recalled. "You tape things on a whim and put them on a song. After we've written the song, Brownson would go away, tape anything he likes and see which one fits. It's unusual and gives the song a real sparkle. I do some of the taping but Derry does some too."
The song, which really has stood the test of time, as it's now 25 years old, was used by Hallmark cards and played the chorus when the card was opened. It was heard in the movie Coyote Ugly and even in the TV advert for Coco Pops where, interestingly they play the swearing bit just after the accapella title they say 'what the fuck was this' (the bit that sounds like bop to bop), but in all fairness it is fairly undecipherable. An alternate recording, with the refrain 'They're Crumbelievable', was used in an American TV ad for Kraft Crumbles in 2005 and eight years later the Rizzle Kicks sampled it in their top 20 hit Skip to the Good Bit.
On their only American tour, EMF played this multiple times at every show. "It was the only song most of the audience had heard of, " remembered Dench. Tom Jones played this at some of his live shows and even duetted with EMF on a British TV show where he told them about how he sang it in Vegas. According to the band, Jones got them really drunk that night.
They followed up Unbelievable with I Believe which made number six and then half a dozen other hits most of which made the top 40, but they had a top 10 comeback in 1995 when they helped out Reeves and Mortimer on the number three cover of I'm A Believer. Their final hit came just three months after that when Afro king just missed the top 50.
Foley died in 2002 from a drug overdose whilst Atkin became a music teacher and also joined forcing with former Elastica member, Justin Welch, to form ASBO Kid and together have been making some really interesting music.
Will there ever be an EMF reunion? James revealed, "EMF are still in touch and do the occasional gig for Fun, cash and a nostalgia trip."