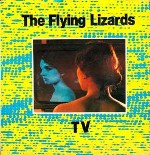 For ever and a day, recording music has been an expensive business, from booking studio time, musicians and a producer to pressing and promoting the product, so they had to sell vast amounts of copies just to recuperate the expenses before anyone made a profit. This wasn't the case in 1979 when The Flying Lizards burst onto the New Wave scene with their second single, a cover of Barret Strong's 1959 Motown track Money (That's What I Want), their first being a cover of Eddie Cochran's Summertime Blues which went nowhere.
It was well publicised at the time that Money (That's What I Want) only cost £12 to made. How come? The group's founder David Cunningham explained, "Well, I've got my own little studio, I've got a little four-track a more-or-less domestic one, a couple of two-track tape recorders and a mixer as well as various other bits and pieces that uses echo and stuff, so for me it's only the cost of the tape."
The group generally comprise David and Deborah Evans, but as David recalled at the time, "I bring in other musicians if and when I need them so then I can just pay them and they're gone." Deborah's vocals on the track are very strange and that's because, by her own admission, when asked why she sings that way, she replied, "Because I can't sing. There are a lot of people in pop music who can't sing", so also claimed, "So you give it the best you've got."
Money (That's What I Want) reached number five and stayed on the chart for 10 weeks, but the follow-up, TV, which was written by Cunningham, Dave Solomon, Deborah and someone known as General Strike, was even stranger. Smash Hits described the parent album, which contained tracks that were written and sung the other two featured female vocalists Patti Palladin and Vivien Goldman, as John Foxx sounding like Three Blind Mice. It also depicted the single as too off beat. It starts off fresh and lovely and beaty and gradually winds up an easily forgettable single. Rosalind Russell in Record Mirror said of it, 'Leaving aside the sleeve notes (such as they aren't), and the Virgin press handout which are either, a) a load of pretentious drivel or, b) a joke, the new album is innovative but patchy. I get the uncomfortable feeling that that he's having a laugh at our expense.'
So, what was TV all about? This is what David said about it, "Yes, well, it may or may not be about TV, I find it hard to tell because it's terribly ambiguous although you can hear the word quite clearly as Deborah would say. There is an interesting fragment on it taken from a real conversation Julian Marshall, who's on it, had with Deborah. He said 'I think you're very very very…' and he found himself unable to finish the sentence. I inserted it into the record and I think it works, I find it quite interesting."
They were treated as a novelty act which David didn't seem to mind. He said, "One thing unique to the UK, there are always novelty records in the British charts." He remembered Laurie Anderson's 1981 hit O Superman saying, "It possibly had a similar sales pattern to Money even though it's a more serious record. Curiously, O Superman was initially offered to me back then, for my small label Piano. The connection was through Peter Gordon, who I knew and worked with, being friends with Laurie. One Ten Records, a small label in New York who had released her early work approached me for a UK release. I turned it down at the time because I thought it was brilliant, and couldn't have possibly coped with a massive hit on my little label. I thought 'This song could be huge!' I ended up being right."
TV did not impress the British public as it failed to reach the Top 40 although it did make the same position in the States as Money did over here. The 1981 album Fourth Wall sunk without trace. The next album, 1984's Top Ten featured another vocalist, Sally Peterson, and was made up of completely emotionless cover versions including James Brown's Get Up I Feel Like Being A Sex Machine, Larry Williams' Dizzy, Miss Lizzy and Leonard Cohen's Suzanne.
In 1995, David released The Secret Dub Life of the Flying Lizards which consisted mostly of material he'd recorded in the late seventies. When asked in 2013 if he ever thought of reviving the Flying Lizards, he replied, "I wouldn't say no. Although it mostly feels redundant in terms of what's going on now. Then again, if something struck me I might, like if I could think of something better than that Gangnam Style thing from two years ago.